Gunkholing with Gizmo: The "M" Bays
Gunkholing with Gizmo: The "M" Bays
By Ben Ellison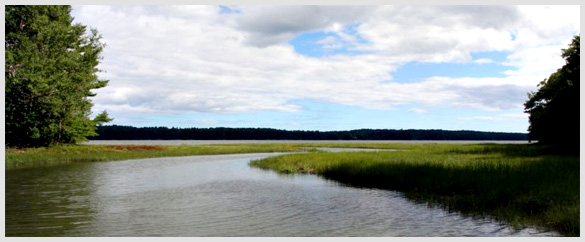 Maquoit Bay Preserve's tranquil waters make for a Magical idyll.
Click here for more photos
.
Photos by Ben Ellison
The thin waters off the town of Brunswick are well worth exploring.
Maquoit Bay, Merepoint Bay, Middle Bay, marsh, and mud! "M" was definitely the letter of the day as I explored the mellow upper reaches of Casco Bay, where these "M" bays are located last August. "Magic" came to mind, too, especially while I shared a blissfully peaceful tidal creek with a great blue heron in the new Maquoit Bay Preserve (1). The Trust for Public Land has done it again, this time helping the town of Brunswick and its local land trust conserve more than a mile of bay frontage and some 167 acres featuring three streams and a mile of trail. The shoreline is surprisingly soft and southern—much more eel grass and egrets than granite and gulls—but there is a rocky outcrop convenient for hauling a small boat or diving into a warm bay. Boating in Maquoit is quite tide dependent, but my track line shows what an outboard can do easily at about two-thirds high. A good shoal water side effect is the dearth of lobster traps and bigger boats (though, in most weather, keeled yachts can anchor comfortably in the deep channels). The waters around Crow Island (2) are similarly quiet—you won't believe the Brunswick shopping strip is only five miles away—and the sweet island is managed by the Harpswell Heritage Land Trust for picnicking and birding. Again my track suggests that the mostly obstruction-free clam flats cover well.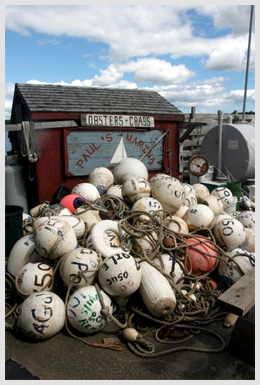 Paul's Marina, home of both the "World's Best
Lobster" and "Casco Bay's Coldest Ice."
Photo by Ben Ellison
Thus it's quite possible, and darn pleasant, to putt-putt or paddle directly from a Crow Island sojourn to cheerfully bustling Paul's Marina (3), home of both the "World's Best Lobster" and "Casco Bay's Coldest Ice." I can't verify either claim, but the sandwich shop does serve a wicked ice-cream cone, and the family operation couldn't be more boat friendly. Another dock-and-dine opportunity is Allen's Seafood and Takeout, on Lookout Point (4). It's mostly a commercial fishing operation, but the view is excellent and the crabmeat fresh. The point also has a nice little beach and one of the three old launch ramps in the M bays, along with Simpson Point (5) and Wharton Point (6). Unfortunately all three are significantly limited in terms of tide, parking, and ramp angle. Last summer, trailer boaters like me found the launch situation especially galling because, while the state had finished building the new Mere Point launch facility (7), it never opened! Picture twin all-tide ramps, floats, bountiful parking, rest rooms, and a mini park—unused due to some obscure DEP permitting issue. There I found a wistful-looking local couple who claimed that the same shore owners who objected to the project originally were still throwing up legal, and thus literal, roadblocks. I don't know about that, but the empty scene did add "Mad" to my M bay lexicon. I look forward to the day when I can update the online version of this column with news of a Mere Point grand opening. Public access to these pleasing bays will then be "Magnificent."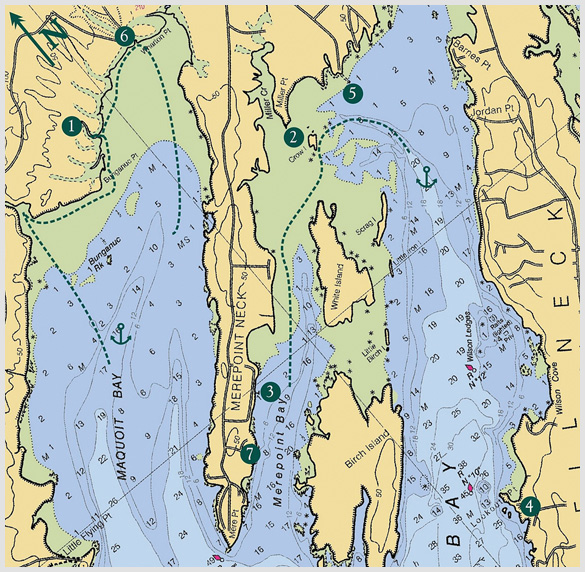 Charlet Key:
1) Maquoit Bay Preserve 2) Crow Island 3) Paul's Marina (207-729-3067) 4) Allen's Seafood & Takeout (207-833-2828) 5) Simpson Point 6) Wharton Point Photo Gallery: The "M" Bays off Brunswick, Maine.

Credits: Chartlet based on 1:40,000 NOAA chart 13290, adapted by Ben Ellison. Not suitable for navigation. E-mail Ben (
gizmo@benetech.net
) about restaurants, parks, and the like that he can visit aboard the M/V
Gizmo
.
Click here
to travel with Ben Ellison and
Gizmo
on other
coastal adventures
on the Maine coast.
[watch: 04011]
Share this article:
2023 Maine Boat & Home Show

Join Us for the Maine Boat & Home Show!
Art, Artisans, Food, Fun & Boats, Boats, Boats
August 11 - 13, 2023 | On the waterfront, Rockland, Maine
Click here to pre-order your tickets.
Show is produced by Maine Boats, Homes & Harbors magazine.