Letters to the Editor — Issue 155
By The Editors
Memories of Sadie
I was interested in Art Paine's article "Two great keel-centerboard options" (Sept/Oct 2018). He writes that Nathanael Herreshoff's final improvement on Alerion was called Sadie, but over the years many variations on this basic design have retained the appellation "Alerion."
My father, Jim Greenway, acquired Sadie early in the 20th century and gave her to me when he thought he was getting too old to sail. Sadie spent her youth and middle age in Cos Cob Harbor, Connecticut, where I learned to sail on her, and where my uncles, aunts, and many cousins sailed her happily many years.
She was stolen in the late 1920s or early 1930s, her white hull painted green, and moved to the Long Island shore. But the thieves hadn't counted on the new aviation age. My father's brother had a sea plane. The two of them flew over the Connecticut and Long Island shores until they spotted Sadie's distinctive profile from the air. And Sadie was recovered and returned to Cos Cob Harbor.
I moved her to Padanaram (South Dartmouth) in Massachusetts in the 1960s, where I enjoyed wonderful sails in Buzzards Bay. Friends would get cross with me when I would say we had to leave the Elizabeth Islands at three in the afternoon. But having no engine, one needed to leave before the southwesterly died. Sadie had a centerboard, which made her ideal for Buzzards Bay shoals. We named our youngest daughter Sadie, and although there may have been Sarahs in our family, our Sadie was named after the boat.
My uncle, John Griswold, was responsible for getting Sadie to the perfect retirement home, the Herreshoff Museum in Bristol, Rhode Island, where she resides today, happy with her memories at 104.
David Greenway
North Haven, ME
---
Beauty and the Beast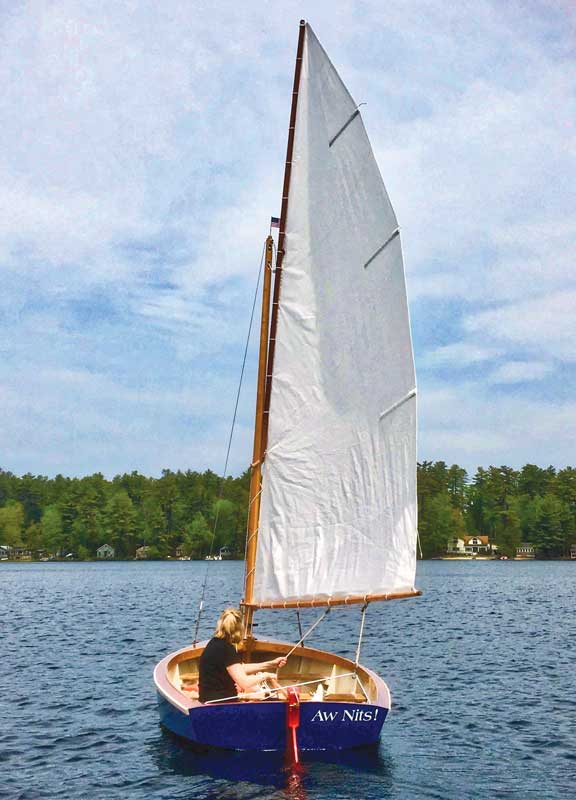 Our newly restored Brutal Beast. Photo courtesy Steve & Molly McCormick We enjoyed Ben Emory's recent piece on the Brutal Beast class of small sailboats designed by Starling Burgess in 1912, and popular in Blue Hill and Brooklin well before World War II. We are pleased to assure Mr. Emory that the Brutal Beast has yet to completely vanish from Maine waters. One famous Brutal Beast now sits dry in the Penobscot Marine Museum. Known as Faint Endeavor, she was reportedly owned and raced by noted writer E.B. White during the 1930s and 1940s at the Center Hill Yacht Club in Brooklin. But a second one remains actively wet in the waters of the Sebago Lakes region where she has patiently instructed our growing extended family in the art of beginner sailing throughout the past decade of summers. We most recently honored her with a full restoration over this past winter, working alongside a friend who is an accomplished builder of wooden boats. After 1,200 hours of loving care she emerged in May with a new Philippine mahogany forward deck radius design, new Philippine mahogany 5200 double-planked bottom, freshly-turned Sitka spruce mast with a crisp new sail and rigging, a rugged centerboard of three laminates of Sepele mahogany marine-grade plywood vacuum-formed with fiberglass cloth and resin, a ton of fairing, sanding, painting and varnish along with countless new bronze screws and mahogany bungs.  
On the final day, as our family admired her beauty, our boatbuilder friend sternly admonished us not to allow her to simply become our family's "trailer queen." She's back in our lake. Having read Mr. Emory's article and subsequently corresponded with him personally, it appears possible to us that our Aw Nits may well be hiding Mr. Emory's Tubby beneath this beautiful restoration. If so, she continues her fine legacy of launching young sailing careers in Maine, and our family is the lucky beneficiary of her continued service. The coincidences are intriguing and compelling.
Mr. Emory reported that his unusual gunter-rigged Tubby was spotted in a Blue Hill barn some 20 years ago. Our Brutal Beast, also unusually gunter-rigged, was sourced from the Blue Hill area very soon after that for short-time use in the January 2001 production of the John Travolta thriller Domestic Disturbance. She subsequently joined a local Blue Hill area family and sailed under the name Tortuga in the waters around Lamoine and Mt. Desert Island, where Mr. Emory reported his last sighting. She is now Aw Nits, named in honor of the late John Morton Jones, our family patriarch who relished challenging her reach into the far corners of our lake where he could often be heard bellowing "Aw Nits! We're in the stays!"
Steve & Molly McCormick
Raymond, ME
---
Another Beast fan
I loved the article in the Sept/Oct 2018 issue about the Brutal Beast. Yes, I raced a few in Marblehead in the 1948-1950 era. I didn't own one, but the folks at the Pleon Yacht Club occasionally would give one to members to race. No deck, no coaming along the rail, Marconi rig. One had to be agile to maintain speed and avoid swamping. 
It was the boat everyone learned to sail in at Marblehead. There was a strong fleet raced from the inside line off the Corinthian Yacht Club. Those were good times in a simpler world. 
Kevit Cook
Northeast Harbor, ME 
Share this article:
2023 Maine Boat & Home Show

Join Us for the Maine Boat & Home Show!
Art, Artisans, Food, Fun & Boats, Boats, Boats
August 11 - 13, 2023 | On the waterfront, Rockland, Maine
Click here to pre-order your tickets.
Show is produced by Maine Boats, Homes & Harbors magazine.