Maine Events - September 2008
Featured September Event: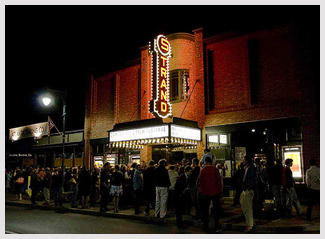 September 25 - 28, 2008:
Camden and Rockland
Camden International Film Festival
The 4th Annual Camden International Film Festival is committed to supporting and generating interest in independent documentary films, showcasing the finest international documentary cinema from the lenses of the world's best non-fiction visual storytellers. CIFF is dedicated to creating an environment miles away from distractions that promotes thought provoking examination of documentary film as an art form as well as an outlet for the independent and informed voice. For film, schedule and ticket information, visit
www.camdenfilmfest.org
.
---
This month: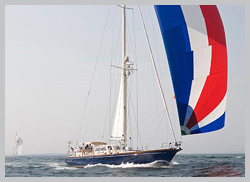 September 5-7, 2008: Boothbay Harbor
7th Annual Shipyard Cup Regatta
The Shipyard Cup draws some of the most magnificent sailing yachts from the world over to gather in our beautiful waters for three days of fun competition. Since the Cup's inaugural regatta in 2002, co-hosted by East Boothbay's Hodgdon Yachts and Southport's Boothbay Region Boatyard, the event continues to grow in size, prestige and popularity. An invitational rally set in the Corinthian spirit, the regatta is open to yachts over 70 feet (21 meters) L.O.A. 207-633-0639;
www.shipyardcup.com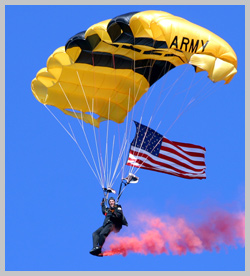 September 6-7, 2008: Brunswick
Great State of Maine Air Show
Naval Air Station Brunswick is proud to present this air show and the men and women of NAS Brunswick are working hard to bring you the finest in thrilling aerial displays and family entertainment. This year, the U.S. Navy Blue Angels Flight Demonstration Team will electrify the crowd with their precision formation flying and high-speed opposing maneuvers. Gary Ward and Randy Harris will fill the sky with heart-pounding action as they race Neal Darnell in his Jet Powered Truck, Flash Fire, and combine to form Team Chaos. There will also be performances by Greg Shelton and Wingwalker Ashley Battles.. The U.S. Army Golden Knights parachute team will delight and amaze the crowd. You'll also see stunning tactical demonstrations by U.S. Navy and U.S. Air Force aircraft, as well as the USAF Heritage Flight. The show promises to provide a full weekend of entertainment for the whole family to enjoy. Admission $8-$12.
www.greaterstateofmaineairshow.com
September 6, 2008: Casco Bay
Rendezvous on Casco Bay Benefit Paddle and Race
Join a kayaking fundraiser in the heart of Casco Bay on September's first Saturday, to benefit Rippleffect's youth and community programs—and make a difference one paddle stroke at a time. It's a great way to explore offshore, meet fellow paddling enthusiasts, support Rippleffect's charitable youth and community programs, and explore the scenic coastal waters of Casco Bay. Choose between two routes and have a casual day on the water, or a race for the prize - for kayakers and open boaters of all abilities. The Fun Route: 3 mile, 1 to 2 hour paddle to Cow Island, where further adventure on our 400-foot zip line, great music, and good local food awaits. This route is recommended for families, nature enthusiasts, and new paddlers. The Race Route: 7 mile, 2 to 3 hour paddle offers a competitive edge for more aggressive paddlers that will ask you to push through a sprint course and an incoming tide - recommended for more experienced paddlers and athletes. 100% of pledge money raised will benefit the youth & community programs of Rippleffect. Registration is limited, so go
www.Kayakrendezvous.com
to learn more and register online. Free use of limited kayaks and gear for first registrants. 207-791-7870;
www.kayakrendezvous.com
and
www.rippleffect.net
September 6, 2008: Trescott
Quoddy Regional Land Trust Annual Benefit Concert and Silent Art Auction
The Quoddy Regional Land Trust will hold its annual benefit concert featuring Jennifer Armstrong, set on a hillside flanked by an apple orchard and community garden at the new amphitheater located at the Cobscook Community Learning Center. Jennifer is a singer and storyteller with a lifetime of involvement in the folk arts. With Scottish bagpipe, fiddle, sit-down square dancing, Celtic, Appalachian and personal tales, Armstrong's performances are said to delight and enthrall audiences of all ages. She is a national touring artist giving performances, workshops and residencies in singing, storytelling and writing. 3:00 pm to 5:00 pm. 207-733-5509;
www.qrlt.org
September 8-9, 2008: Eastport
Paint Eastport Day and the Maine Salmon Festival
The 21st Maine Salmon Festival in Eastport celebrates Maine's Atlantic Salmon Aquaculture industry. This year's two day event includes Paint Eastport Day on Saturday sponsored by the Eastport Gallery. Enjoy seafood chowders of various types, a crab roll lunch, a yacht race, an arts and crafts tent and live music, and the annual salmon barbeque dinner under the tent on the breakwater. Road race for youths and adults on Sunday morning. Architectural tours starting at the Eastport for Pride office Sunday afternoon. Festivities held at the Eastport Breakwater and through the historic downtown area. Free admission and free parking. 207-853-4644;
www.eastport.net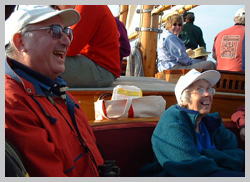 September 9, 2008: Camden
2nd Annual All Day Sail on Schooner Olad
Come take an all day sail with the elegant Schooner Olad through the reaches and islands of Penobscot bay. Look for the Windjammer Fleet and lobster boats at work. Feel free to take some time at the helm or just enjoy the nature and wildlife as the boat sails on. Lunch, snacks, appetizers, and soft drinks will be provided. 9:45 am – 6:00 pm. $115. Camden Public Landing, 1 Bayview Landing, 9/10 Rain date. For more info and details on half-day and full moon sails, visit:
www.maineschooners.com
. 207-236-2323
September 10, 2008: Portland
Cooking for a Cure 2008
Featuring samples from top local restaurants along with live and silent auction and entertainment, this vent is in memory of local Scarborough resident Matt Noyes and raises funds for the Noyes Brain Tumor Foundation which benefits the Brain Tumor Program and St. Jude Childrens Research Hospital. To purchase tickets, make a donation or for more information visit,
www.thenoyesbraintumorfoundation.com
. 6:00 pm - 10:00 pm. Holiday Inn by the Bay, 88 Spring Street.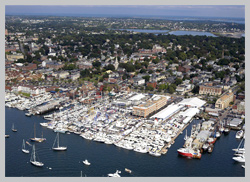 September 11-14, 2008: Newport, RI
Newport International Boat Show
Over 850 manufacturers, reps and dealers - both domestic and international - will be showcasing and selling their products and services at the 38th Annual Newport International Boat Show. Many new models will be unveiled for the first time to the public. Come see, feel and test the merchandise and talk to those who designed and built it. Bannister's Wharf, Bowen's Wharf and Newport Harbor Hotel & Marina. 10:00 am-6:00 pm daily.
www.newportboatshow.com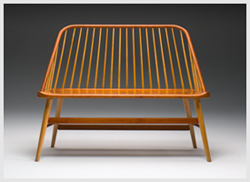 September 12 – November 28, 2008: Rockport
Legacy of Talent: A Moser Reunion Exhibit at the Messler Gallery
Work will be displayed from Thomas Moser Cabinetmakers and seven successful, self-employed professional furniture makers who passed through the Moser workshop early in their careers. The Messler Gallery at the Center for Furniture Craftsmanship, 25 Mill St. - 207-594-5611;
www.woodschool.org
September 13 - 14, 2008: Saco
Going Green Maine Expo
Employing the theme of "Taking Green to the Mainstream", this event is meant to inspire, inform and empower rural and urban citizens alike by presenting a wide range of the best practices, green technologies and strategies for taking action to help create a comfortable, compassionate and sustainable future and livable planet. 10:00 am. Howard Sports Complex, 400 North St., exit 36.
www.goinggreenexpos.com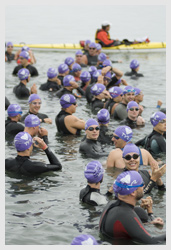 September 13, 2007: Freeport
2008 Lobsterman Triathlon
The Lobsterman Triathlon is one of the premier multisport events in New England, recognized nationally. Held at Freeport's beautiful Winslow Park, this Olympic distance race is a challenging course with a spectacular venue, and outstanding volunteer support. Post-race festivities include a huge lobsterbake and kid's race. The Lobsterman benefits the Jessie B-C Fund, which supports the Maine Children's Cancer Program, as well as other charities. Registration still available.
www.tri-maine.com
September 14, 2008: Rockland
Short Ships Rowing Regatta
This annual friendly race is open to all rowing and paddling craft and features a 3-mile inner harbor course. Racers compete for fun, prestige, and a variety of awards. Racers will start at the Atlantic Challenge pier, 643 Main Street, row out to lighthouse, continue along the inside of the breakwater, and return to AC. Due to TS Hanna, the Short Ships Regatta has been rescheduled for Sunday, Sept. 14th. Should there be further weather threats, we will make a race decision by Wednesday, September 10th. 12:00-2:00 p.m. 207-594-1800;
www.atlanticchallenge.com
September 18 - October 18, 2008: Damariscotta
"At Home In Maine" Exhibition and Opening Reception
at the Firehouse Gallery
New works will be on display from painters Marlene Loznicka, Kate Winn, Lindsay Hancock, and Susan Bartlett Rice at the Firehouse Gallery. Since its renovation in 1997, the gallery's owners and directors have made a commitment to providing excellent contemporary art to an enthusiastic audience. Through a series of exhibitions the gallery provides an eclectic mix of fine artists including many from Maine, New Hampshire and Canada's Maritime Provinces. An opening reception will be held on Saturday, September 20, from 2:00 – 4:00 pm. One Bristol Road.
www.thefirehousegallery.com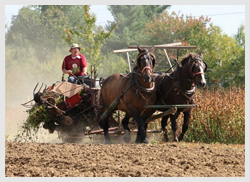 September 19-21, 2008: Unity
Common Ground Country Fair
MOFGA celebrates its 32nd Common Ground Country Fair allowing fairgoers to make connections with a rapidly expanding base of organic farms in the state of Maine. Hundreds of vendors, exhibitors and demonstrators, more than 1,000 volunteers, and roughly 50,000 fairgoers will gather to share knowledge about sustainable living, eat delicious, organic, Maine-grown food, buy and sell beautiful Maine crafts and useful agricultural products, compete in various activities, dance, sing and have a great time. The least hectic days to arrive are Friday and Sunday, and the best times are before 10 am and after 1:30 pm.
www.mofga.org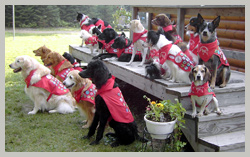 September 20, 2008: Ellsworth
Canine Carnival
The Coastal Crescent Kennel Club and the Downeast Dog Scouts Troop # 159 will host a Canine Carnival to celebrate AKC "Responsible Dog Ownership Day" and their commitment to helping dog owners raise happy, healthy dogs that can be kept for the pet's entire lifetime. Canine Carnival activities include breed rescue groups, animal shelters, educational booths, canine sports demonstrations, Meet the Breeds, Canine Good Citizen testing, dog games and activities, crafts and activities for children, vendors, a canine photo contest and the kick off for the Downeast Dog Scouts Fall Walkathon. From 10 am to 2 pm at Woodlawn Museum, 19 Black House Drive, which is 1/4 mile from US Route 1 on Route 172 (Surry Road). 207-422-3764
September 18 - 21, 2008: Norwalk, CT
Norwalk International In-Water Boat Show
For buyers and dreamers alike, there's something for everyone at this popular fall in-water boat show. The show features more than 750 of the newest and best in luxury motor and sailing yachts, sport fishers, performance boats, sailboats, personal water craft, inflatables, engines, fishing gear, nautical gifts and apparel plus the largest selection of marine accessories in the Northeast. In addition, the whole family can enjoy Free Discover Boating and Sailing rides on Long Island Sound, Kid's Cove activities including sand art, the Wave Slide and an all-new fishing pond. Free boating and fishing seminars from the pros on striped bass secrets, blackfish tips and fly-casting techniques, new Green Boating section and seminars, and other activities in a beautiful, waterside setting. 10:00 am. Norwalk Cove Marina.
www.BoatShowNorwalk.com
September 20 - 21, 2008: Bar Harbor
Art in the Park
The Bar Harbor Chamber of Commerce will host over 35 painters and photographers as they display and sell their original works on the Village Green at the corner of Main & Mt. Desert Streets. Rain or shine. 10:00 am - 4:00 pm. 207-288-5103;
www.barharborinfo.com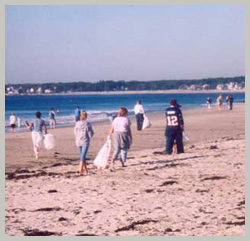 September 20 - 27, 2008: Maine's coastal areas
Maine Coastweek and Coastal Cleanup
Coastal Cleanup is Coastweek's main event, offering Mainers an opportunity to protect their valuable coastline. The largest single volunteer event in the state, Coastal Cleanup involves people of all ages and backgrounds. Volunteers meet at a specified site, pick up trash, and record the type and amount of debris found. Not only does the coast get tidied up, but the data reported. Besides, the overall benefits to the coastal ecology, removing marine debris greatly impacts the wildlife that inhabits these shores, as thousands die each year after eating or getting entangled in six pack rings, ghost nets, and old fishing line. To find out how to participate, visit the Maine Coastal Program's website,
www.maine.gov/spo/coastal/projects/coastweek
.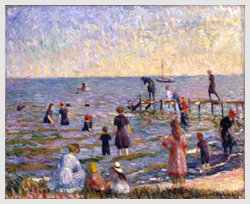 September 25, 2008 - January 4, 2009: Portland
Landscapes from the Age of Impressionism Exhibit at the Portland Museum of Art
Composed of masterpieces from the collection of the Brooklyn Museum of Art, Landscapes from the Age of Impressionism explores the unities of style, color, and light in this all-important international movement. Featuring works by Claude Monet, Eugène-Louis Boudin, John Singer Sargent, George Inness, Childe Hassam, Camille Pissaro, Gustave Courbet, and their peers, this exhibition of 40 works further explores the development of modernist sensibilities in the plein air easel traditions of France and the United States. Seven Congress Square.
www.portlandmuseum.org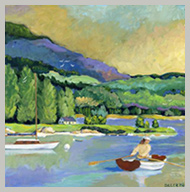 September 26, 2008: Falmouth
Maine Artists at Maine Audubon 11th Annual Art Auction
Celebrating the connection of art and nature, all proceeds from this auction directly benefit Maine Audubon's work to conserve Maine's wildlife and wildlife habitat. The event features silent and live auctions of more than 100 works donated by outstanding Maine artists. 6:00 pm – 9:00 pm. Gilsland Farm Audubon Center.
www.maineaudubon.org/give/mama/index.shtml
September 27, 2008: Wells
Punkinfiddle 2008, A National Estuaries Day Celebration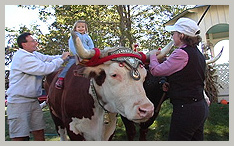 This event fosters stewardship of coastal environments by celebrating the richness of estuaries and Maine's cultural traditions at a beautiful historic farm site. This annual fall festival is all about fiddling and features environmental education, artisan demonstrations, lively music, wholesome food, farm animals and children's activities. In an effort to reduce automobile traffic, admission is $10 per carload. Pack the family into your vehicle and you'll not only save money, but also reduce the impact of our automobile culture on Mother Earth. 10 am – 4 pm. 342 Laudholm Farm Road.
www.punkinfiddle.org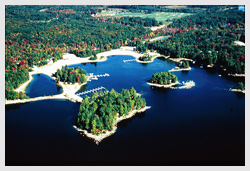 September 27, 2008: Casco
Craft Show and Brewers Festival at Point Sebago Resort
Held annually in conjunction with Oktoberfest weekend at the Resort, the Annual Brew Fest, is the area's biggest party on the shores of Sebago Lake. Traditional costumes will abound during this Saturday celebration featuring Maine made beers, micro brews and wines, live music, and a craft fair featuring over 40 Maine artisans. Enjoy music, German food and the popular Lake Region Community Theatre artisans. 207-364-2070;
www.pointsebago.com/resort/brewfest.html