Pioneer
Ready for another 25 years of expeditions
By Polly Saltonstall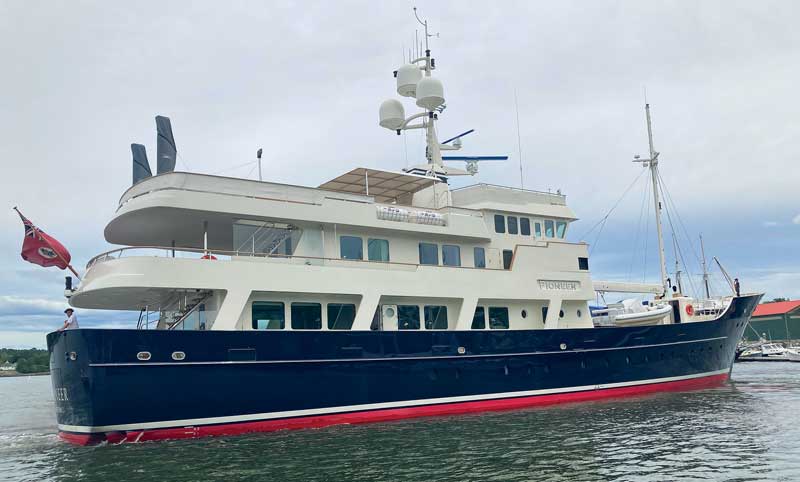 Pioneer was designed as an offshore expedition yacht. She spent 2021 at Front Street Shipyard undergoing an extensive refit. Photo courtesy Front Street Shipyard
Many luxurious superyachts are built to cruise between the Mediterranean and the Caribbean with occasional trips along the U.S. coastline—maybe even to Maine. But there is a special breed of big yacht that is designed for hardier voyages, to places like the Northwest Passage and Alaska.
Pioneer, a 151' expedition yacht designed by Dick Boon of Vripack and launched in 1996 by Palmer Johnson (its original name was Turmoil) is a prime example of this latter type. The first privately owned yacht to circumnavigate North America, the first to navigate the Northwest Passage (twice), with more than 24 circumnavigations under the keel, Pioneer has dodged icebergs and braved offshore seas. But even sturdy boats built for adventure need to come ashore every now and then for a bit of TLC. Pioneer did just that last winter at Front Street Shipyard in Belfast.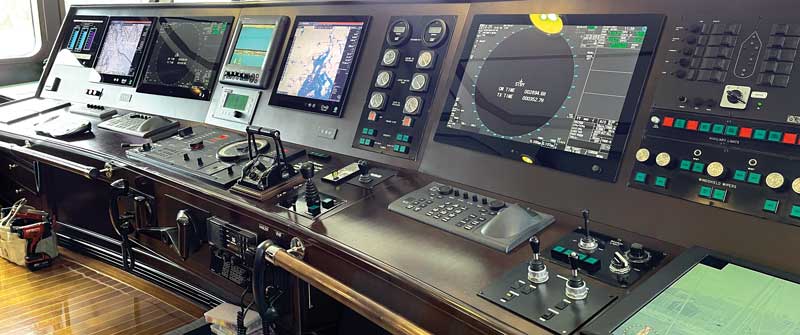 The refit included updating navigation systems on the bridge. Photo by Polly Saltonstall
The yacht had stopped at the yard for minor work a couple of years earlier, and Captain Gareth "Gaz" Nichols said he and the owners were impressed with the yard's ability to do the work on time and on budget. That made Front Street a top choice for this bigger project. Other factors included positive vibes in the local community, and the distance from COVID hot spots—"We did not lose one day due to COVID last winter," Nichols said.
Pioneer features an aluminum hull, three decks, and a high flared bow. The narrow waterline and wineglass transom were designed to keep the boat stable and dry in big seas. Powered by two 819HP Caterpillar diesels, she can travel up to 9,000 miles at a cruising speed of 12 knots without stopping to refuel, according to Nichols. Pioneer carries 9-10 crew and can accommodate up to 11 passengers. Support boats include a 38' RIB and a 38' sportfishing boat.
During his six years as captain, Nichols has taken the boat to Holland, Alaska, the Northwest Passage, and Greenland, as well as spectating at the America's Cup races.
"This is a dream job," Nichols said.
When Pioneer was hauled at Front Street last fall for her 25-year ABS survey, the owner and crew took advantage of the planned maintenance period to update the vessel's paint, systems, and interior.
The work included:
Repairs to five sections of Pioneer's aluminum hull that had developed corrosion, followed by an application of Awlgrip to the entire hull. The boat's bottom also was sandblasted, faired, and repainted, as were the bulwarks, foredeck and superstructure;
A crew from Teak Decking Services sanded the teak and made repairs where necessary;
Front Street's systems team cleaned out Pioneer's air-conditioning system and replaced some sections. They also replaced an extensive amount of the piping in the engine room, dropped the rudders and rebuilt the rudder bearings, and replaced hydraulic cylinders;
Eight heads were renovated, complete with marble counters and floors in some, and new countertops were installed in the galley along with modifications and new varnish on the cabinetry;
The pilothouse dashboard was rebuilt to accommodate new electronic systems, installed by Seaward Technology of Newport, Rhode Island. The boat's antenna mast also was modified to accommodate the new systems.
During my tour of the vessel, I was struck by glowing cherry paneled woodwork, especially on the bridge, an area where you might not expect to see such a fine touch.
Nichols explained that the bridge console had to be rebuilt to fit new radar screens and monitoring systems for gyros and other essential electronics.
"We also got rid of 20 years of retrofitting and wiring," he said.
Nichols was especially pleased with the revamped galley, which includes new mottled gray engineered granite counters.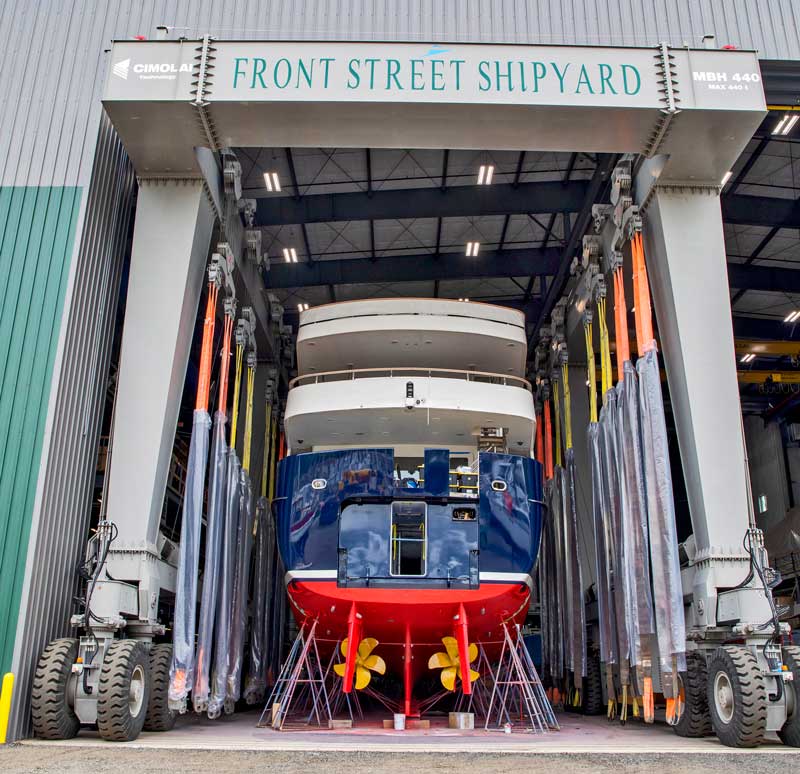 Front Street was able to do most the work on Pioneer inside its cavernous, heated building No. 6. Photo by Billy Black
During the refit, which began in October 2020, Pioneer was housed in Front Street's massive Building 6, where the work was done under cover in a heated space. After launch in June, she cruised the New England coast for a few months before returning to Front Street in the fall for a few finishing touches.
Front Street Project Manager Paul Lamoureaux said Front Street does not have another similarly large project on tap for this winter. Instead, the yard will keep busy with work on mid-range and small boats.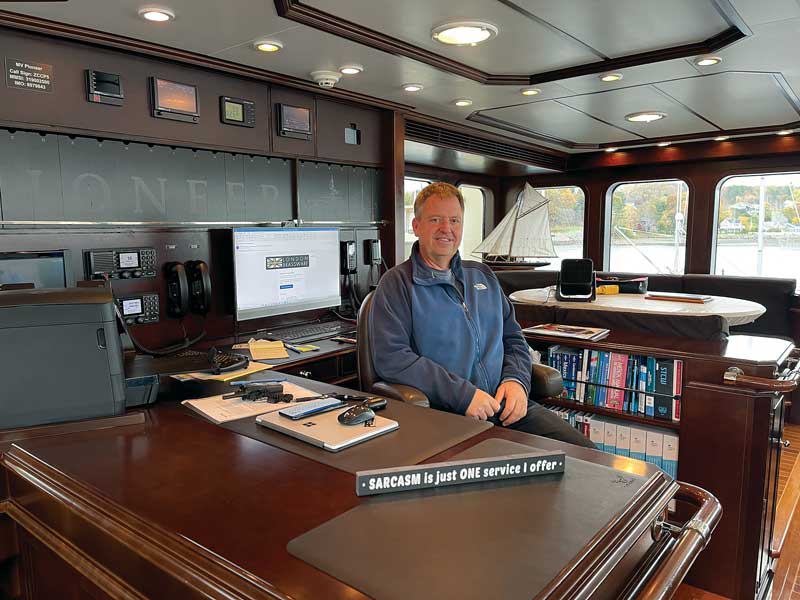 "But it is nice every year or two to get a project like this," he said. "It anchors the business, and as everybody knows, everyone one needs an anchor."          
---
Polly Saltonstall is editor of this magazine.
---
Pioneer
Length:  151' 6"
Beam:  29' 9"
Draft:  8' 10"
Year built: 1996
Designer:
Dick Boon, VRIPACK
Builder:
Palmer Johnson
Refit:
Front Street Shipyard
Belfast, ME
207-930-3740
Share this article:
2023 Maine Boat & Home Show

Join Us for the Maine Boat & Home Show!
Art, Artisans, Food, Fun & Boats, Boats, Boats
August 11 - 13, 2023 | On the waterfront, Rockland, Maine
Click here to pre-order your tickets.
Show is produced by Maine Boats, Homes & Harbors magazine.