An Inventor's Hi-Tech Rowing Shell
By Polly Saltonstall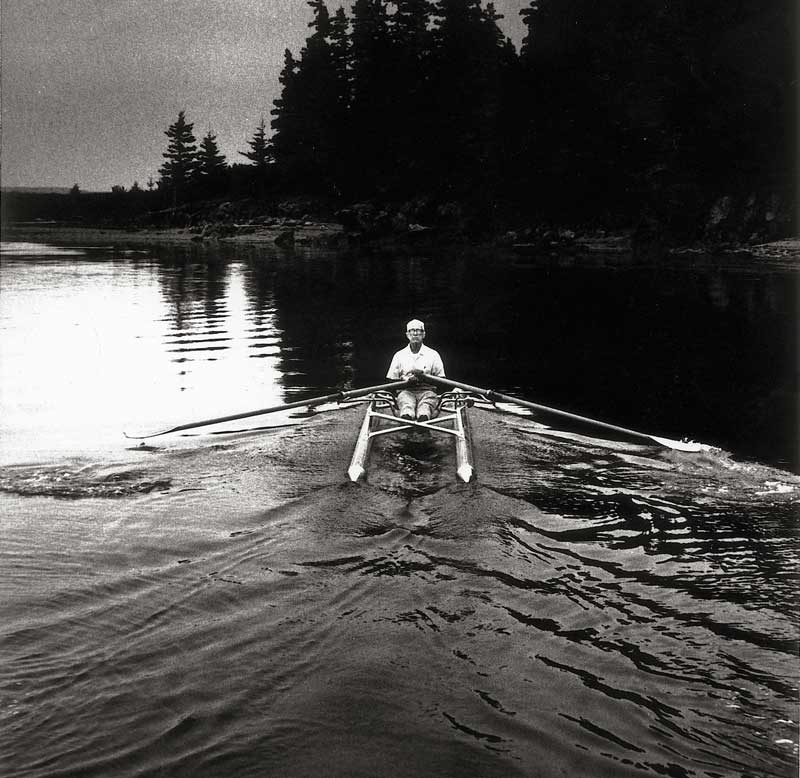 This photograph shows visionary designer R. Buckminster Fuller rowing a multi-hull shell called the rowing needles, which he designed and built to be used on the family's island in Penobscot Bay in 1968.
Fuller, who is perhaps best known as the designer of the geodesic dome, spent summers on the island all his life, and was an experienced sailor and rower, according to his grandson Jamie Snyder, who added that Fuller taught him to row.
"He used to row to the island next door to get mail," Snyder recounted in 2009 remarks made at the opening of a museum show of Fuller's designs. Snyder noted that his grandfather appreciated sleek hydrodynamic rowing shells, but wanted something more stable for himself that would deliver "a real high-performance rowing experience, but without the instability of the traditional racing rowing shell that are still around today."
The first version of the rowing needles featured two narrow aluminum pontoons, with a sliding seat perched up high in the middle.
"It's very sleek, very little drag across the water," Snyder said. "It is quite wonderful to row."
Fuller designed a second prototype and then a third and fourth, the latter two featuring fiberglass hulls. A later version was raced in London against an actual racing shell and won, Snyder said. "That may have been because of the rower. We'll never know. But Bucky would have enjoyed that."
The British architect Sir Norman Foster wrote about the rowing needles in a 2018 article in Vanity Fair, noting that Fuller considered the rowing shell to be "his most refined design—the purest expression of doing more with less." The catamaran shell required little maintenance, elevated the rower above water spray, made getting on and off easy, and was remarkably easy to use, noted Foster. 
Share this article:
2023 Maine Boat & Home Show

Join Us for the Maine Boat & Home Show!
Art, Artisans, Food, Fun & Boats, Boats, Boats
August 11 - 13, 2023 | On the waterfront, Rockland, Maine
Click here to pre-order your tickets.
Show is produced by Maine Boats, Homes & Harbors magazine.