Letters - Issue 101
Issue 101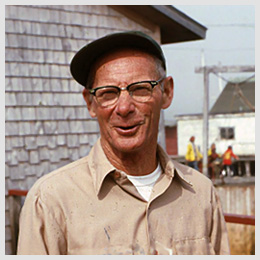 John Leonard, 1913-2008
Sad News
You might want to know that John Leonard of Southwest Harbor, so well profiled in your last issue by Dick Van Ness (
MBH&H
#100), passed on at age 95 on June 2, 2008. He was much liked and will be sorely missed. I hope he saw the piece before he left. For your far-flung readers: John's obituary specified that contributions in his memory can be made to the Southwest Harbor/Tremont Ambulance Fund, P.O. Box 437, Southwest Harbor, ME 04679, or to a charity of one's choice. Your profile of John was a corker, loved the photos too. Thank you for devoting the space.
Eliza Pittston
Southwest Harbor, Maine
A Bell-Ringer Issue
Your spring issue (
MBH&H
#99) rang all our bells. The piece on pressure cooking brought back memories of sailing round the world without the benefit of refrigeration, adding to the contents of the old pressure cooker daily, and setting it to rock for 20 minutes, thus producing the famous sailing staple, "1,000-mile stew." Add to this the pleasure of being reminded of the books we loved and read over and over to our son on that cruise: Arthur Ransome's "Swallows and Amazons" series. To top it off, my husband went to school with Sir Harry Oakes's son but never knew of the Maine connection. Yours will now be the second magazine I read cover to cover.
Vicki Carkhuff Goldstein
Winter Harbor, Maine
Spectre on the Loose
You've got to be kidding. What will Mr. Spectre find to do with all his spare time if he's not gainfully occupied writing "In the Lee of the Boathouse" each issue? Harass his friends and family? Surf the 'net? But seriously, I can see where it might be time for a change, and I suspect that this Peter Bass fella will be good, albeit different. I've been a Bass fan ever since that great April Fool's story he wrote about the multi-hulled lobsterboat (
MBH&H
#94, April/May 2007). I wish him luck, he has big shoes to fill.
Arnie Jenkins
Surry, Maine
Oh, Happiness. Oh, Joy
Oh my gosh! My husband has been dying to stop at China Town in Augusta every time we head through that saddest-of-sad neighborhoods on our way to Sugarloaf. ("The Best Chinese Takeout in the State of Maine,"
MBH&H
#100, July 2008.) Peter Spectre's article has inspired us to give it a try. Thankfully, we will not have to wait till the snow flies, because I have a friend who works in Augusta and we are planning a take-out night! Thank you, thank you.
Marnie Read
Rockland, Maine
(Former-NewYorker-who-craves-but-until-now-has- refused-based-on-experience-to-eat-any-Maine-Chinese-food)
Friends Everywhere
Your latest issue (
MBH&H
#100) had a profile of a man I consider to be a friend of mine: Greg Rössel, a kind and funny man. I took a class he taught at the WoodenBoat School and thoroughly enjoyed both it and him. I suspect that all his former students (and the many fans of his writing and his radio show on WERU-FM) consider Greg to be a personal friend. He's that kind of guy. I'm sure Greg's a bit abashed to get so much coverage, but believe me, it's well-deserved. I'm surprised that
WoodenBoat
hasn't done something similar.
Stephen Willers
Waldoboro, Maine