Hinckley Introduces a Hybrid Poweryacht
By Herb McCormick
Images courtesy Hinckley Yachts

Few boats, if any, share the intriguing, unique, and ongoing saga of the 36-foot Dasher, the very first jet-drive picnic boat launched by Hinckley Yachts, the estimable Maine boatyard that has produced heirloom-quality vessels since their founding in 1928. Built in 1994, Dasher was the progenitor of Hinckley's distinctive picnic-boat line, a long (and much imitated) series of elegant open-air express cruisers—over 1,200 have been built in the intervening decades.
Under any circumstances, Dasher would be an iconic, even historic craft. But since Hinckley reacquired the boat from a private owner in 2017, it has embarked on a fresh journey, representing a second act in its already impressive existence. Dasher has been refit and reconfigured as the prototype to test Hinckley's ambitious, innovative SilentJet hybrid technology, a trademarked combo platter of diesel and electric propulsion unlike anything else cleaving the coastlines. It's like a waterborne Prius that provides mellow, silent running when you want it, and peppy, robust performance when you need it.
"We're in the business of creating powerful memories for our clients," Scott Bryant, Hinckley's vice president of sales and marketing, told me on a sea trial aboard Dasher off the coast of southern New England last fall. "SilentJet takes that concept and ups the game from an experience perspective." Dasher represents the test bed for what Hinckley ultimately aims to achieve. The system, developed in a partnership with Twin Disk, the transmission manufacturer, will first be offered on the company's
40-foot Picnic Boat 40 S (one of three models currently in production) in 2024.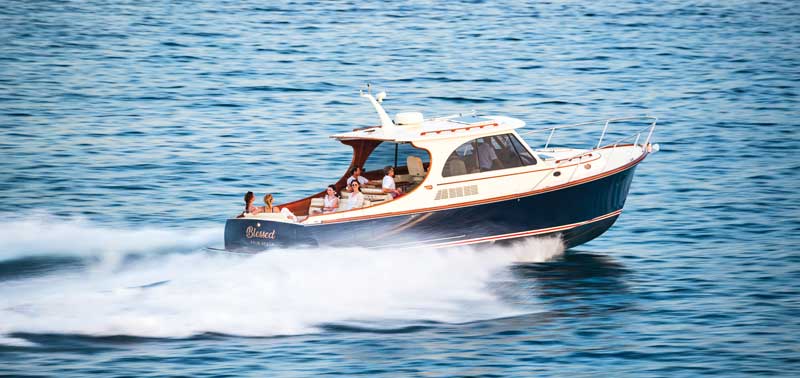 The ground-breaking new system will first be offered on Hinckley's 40-foot Picnic Boat 40 S (one of three models currently in production) in 2024.
The nuts and bolts of the energy, charging, and propulsion package are straightforward: a pair of 90 kW electric motors and a matching set of Cummins 550-hp diesel engines are the hybrid components. There's an 80 kw/hour battery that can be charged either manually shoreside or by the diesels (there is no separate generator). In electric mode, the yacht will run silently at 5-7 knots for 60-90 minutes, depending on how fast you go and the sea state and wind conditions. After switching to diesel power—following, say, a pleasant and quiet hour-long harbor cruise—it takes 30-45 minutes to recharge the batteries (the process takes 8-10 hours on shore power). Under the twin diesels, cruising speeds top off at around 35 knots. With the batteries fully charged, they'll support air conditioning and other systems overnight at anchor.
The numbers are all certainly impressive, but how do they translate to the heady experience Hinckley hopes to provide? Our boat test aboard Dasher, conducted on the heels of a passing cold front in blustery 20-knot northwesterlies, provided some answers.
Perhaps the most impressive aspect of the SilentJet system is the software that allows a seamless transition from electric mode to diesel mode when throttling down or up. (It should be noted that Dasher's hull is a semi-displacement craft while the 40 S is a planing hull, so our spin was somewhat of an apples-to-oranges comparison.) Like its picnic-boat siblings, the SilentJet steering can toggle from a wheel to the company's proprietary JetStick joystick, with the latter providing a rather otherworldly experience when gliding along under electricity alone and answering the helm with a flick of the wrist.
For relatively ancient mariners like myself, it takes a bit of thought to register speed and power consumption in kilowatts as opposed to rpm. That said, to simplify matters, it's around 1,250 rpm, or 7 knots, when the system automatically upshifts from electric to diesel. With the throttle down and boat speeds rising, Dasher felt purposeful and responsive. It's pretty clear the Hinckley design team got things right the first time around.
As a longtime sailor, I found the downshift to all-electric mode to be soothing and familiar; it's like that magical moment on any great sail when you shut off the auxiliary and relish the silence, the only related sound that of the boat slipping through the waves. The change in energy when all is quiet is both literal and figurative. Not only has the power source been altered, so too has the onboard vibe: voices are lowered, breath is exhaled, everyone transits to a more relaxed, conversational state. I have to admit I sort of rolled my eyes when Bryant, the marketing ace, spoke about the "experience perspective." But he was absolutely correct. Aboard Dasher—a powerboat, for heaven's sake—I once again learned that silence at sea is, well, golden.  
---
Herb McCormick is the former editor-in-chief of  Cruising World magazine and yachting correspondent for The New York Times. The author of five nautical books, he lives in his hometown of Newport, Rhode Island.
Picnic Boat 40 S SilentJet
LOA: 42'
LWL: 36' 3"
Beam: 12' 10"
Draft: 2' 2"
Displ.: 25,000 lbs.
Engine: Twin Cummins QSB 6.7 480-hp diesels
2x90KW electric motors
Jets: Twin Hamilton HTX 30
Option: SilentJet
Cruising speed: 7 knots under electric power 
for 60-90 minutes, 35 knots under full power
Builder:
Hinckley Yachts
Share this article:
2023 Maine Boat & Home Show

Join Us for the Maine Boat & Home Show!
Art, Artisans, Food, Fun & Boats, Boats, Boats
August 11 - 13, 2023 | On the waterfront, Rockland, Maine
Click here to pre-order your tickets.
Show is produced by Maine Boats, Homes & Harbors magazine.