Mainely Gourmet
Bagaduce Lunch
By Letitia Baldwin

Try the crab roll at the Bagaduce Lunch. Photos (2) by Michael York
In coastal Maine each spring, the opening of seafood shacks stirs something in the soul. It gives folks hope that warm weather isn't too far off. After being hammered by storms all winter, locals hanker for simple pleasures, such as going out for a crab roll—freshly picked crabmeat packed into a grilled hot dog roll—with French fries and crisp, crunchy coleslaw on the side.
As the weather slowly warms up, the rite of going to a favorite takeout is repeated from Kittery to Calais. Some weekend, take a break from household chores and indulge in a crab basket with all the fixings. While the Pine Tree State is famous for lobster, many Mainers will privately confess that they prefer crab. They'll tell you that Maine crab—if it's freshly harvested, impeccably picked, and not drowned in mayo—is more subtle and delicate in flavor than its fellow bottom-dweller.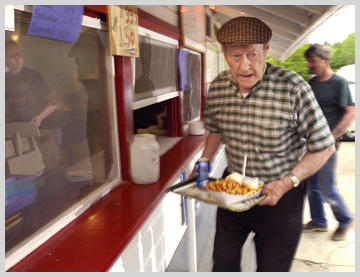 Warm weather, seafood shack, al fresco
meal
-- mm-mmm-good.
. Photo by Michael York
"Crab's got something lobster doesn't have," said Nancy Harmon Jenkins, a well-known food writer who was born and raised in Camden, Maine. (Her latest book, Cucina de Sole: A Celebration of Southern Italian Cooking, is due out in 2007.) "It has a sweetness, and it doesn't get stuck in your teeth." She likes her crab roll in a hamburger bun that has been lightly buttered inside and out, then toasted. "Not too much mayo, please," Jenkins cautioned. "I tend to favor Hellman's, but that's an old family prejudice. I also like a small amount of crunch in the crab roll—from something like wee bits of celery or very sweet onions or even of sour pickles, but very small pieces and a very small amount."
Of course, Jenkins added, the crabmeat must be fresh and expertly picked. In Maine, Jonah and peekytoe (rock) crabs are both used for crab rolls. Peekytoes have smooth shells speckled with small red or purple dots. Their legs are sharply pointed, or "picked," and turn slightly inward. They are preferred because their shells don't split as easily when broken, allowing leg meat to be extracted intact. A byproduct of the lobster fishery, they are harvested close to shore, mostly in spring and summer. These crabs are highly perishable and cannot be shipped live. They are boiled, and the crabmeat is laboriously picked out by hand in a heavily regulated cottage industry.
I recently discovered, during a long summer road trip, that sloppy picking can ruin a crab roll. The crabmeat's freshness, the amount of mayo used, and whether the bun was grilled and buttered were other critical factors in my incomplete, unscientific, and highly subjective sampling of crab rolls at a dozen seafood takeout joints along the Maine coast.
Something about the name Bagaduce Lunch—sweet, straightforward, and sounding from another era—sent me there first. I navigated the roller-coaster of cracked and patched rural roads leading down to the seafood shack, which is perched high above the Bagaduce River in the town of Penobscot. The sudden sight of the modest place, with picnic tables scattered on a grassy point of land, took my breath away. The plain white building with red trim, the sweeping view of the Bagaduce River and reversing falls: it was like a scene on a 1950s postcard. Picnic tables were scattered around the remains of a wharf where coastal schooners once fetched lumber and other goods bound for Boston and beyond.
More than half a century ago, Sid and Bernice Snow opened the seasonal takeout to supplement their income. The business has remained in the same family ever since and is run these days by the Snows' granddaughter Judy Astbury and her husband Mike; their daughter Abby waits on customers. Not much has changed since Bagaduce Lunch first opened in 1947, and the seafood shack on the remote stretch of road had everything that I was searching for—superb crab roll, spectacular setting, and friendly service.
Robert Bowden, of Brooklin, agreed. He'd been going to Bagaduce Lunch since he was a toddler and had fond memories of playing there with his now deceased older brother. "It's real special to me," he said, "because there are not too many places I can recall us being together. We would run out on the dock and throw clam shells in the water. It's incredible to me that it's still the same."
Judy Astbury's Crab Rolls - 1 pound freshly picked crabmeat - Mayonnaise to taste - Butter - Hamburger buns - Salt - Pepper As you would with tuna fish, break up crabmeat chunks into fine pieces and fluff up with a fork. Mix with mayonnaise to taste (Astbury prefers the Kraft brand). Season with salt and pepper. Butter hamburger buns and grill until golden brown. Fill buns with crabmeat mixture, and serve immediately with French fries and coleslaw. Serves 6-8 people.
For More Information Bagaduce Lunch, 19 Bridge Road (Route 176), Penobscot. 207-326-4729. A crab roll costs between $8.00 and $9.00 (subject to change). Open in season, Thursday-Saturday, 11 a.m.-8 p.m.; Sunday-Wednesday, 11 a.m.-7 p.m.
Share this article:
2023 Maine Boat & Home Show

Join Us for the Maine Boat & Home Show!
Art, Artisans, Food, Fun & Boats, Boats, Boats
August 11 - 13, 2023 | On the waterfront, Rockland, Maine
Click here to pre-order your tickets.
Show is produced by Maine Boats, Homes & Harbors magazine.