Review - Ice Blink - DVD
A Family Navigating Life's Ice-Clogged Waters
By Janet Mendelsohn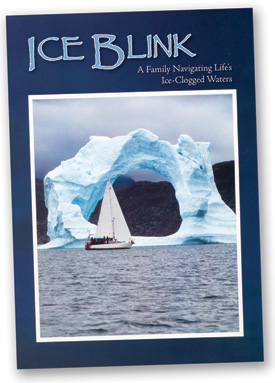 Ice Blink: A Family Navigating Life's Ice-Clogged Waters
Length: 56 minutes. SeaWorthy Productions, 2006. $17.95 (+$5 shipping and handling) Order from:
www.iceblinksail.com
Dave and Jaja Martin are known throughout the sailing community for their seven-year circumnavigation of the globe on their 25' daysailer
Direction
, with two young children born en route. Their book
Into the Light
chronicled the cruise. Their extraordinary lifestyle has become the envy of many, the nightmare of others, and the subject of this recent DVD documentary,
Ice Blink
, which continues their story beyond the circumnavigation. In a blend of travelog, interviews, and family video album, the Martins answer questions about their years of cruising to arctic Norway, Greenland, and Iceland aboard the 33' steel sloop
Driver
, with a family that had grown to five. For boaters and landlubbers alike, the fascinating thing about the Martins is how they turned convention upside down. While many a sailor has ditched the 9-to-5 grind, found a house sitter, and headed for the tropics, few do so for years at a stretch just at that point when most worry about future college tuition bills and saving for retirement. Fewer still venture forth with school-age children, without income for the duration and without a home port. But Dave and Jaja Martin asked themselves, "What would happen if we chose differently?" Two Americans who don't shy from adventure—they are members of the Cruising World Hall of Fame—the Martins outgrew
Direction
with the birth of their third child, Teiga, which led to an attempt at life ashore in Round Pond, Maine. In interviews, they touch on the tough choices they faced. Tension centers around what's best for your family, they tell us, and it was time to take a side road. Their children were growing up without others their own age, grandparents, or cousins; without team sports, such as Little League; without experiencing American public schools. Before the children's college years arrived, it was time to let them experience life in the United States. So the Martins built and designed an environmentally focused house in Round Pond, Maine, by hand, reflecting Dave and Jaja's belief in self-sustainability. Interviews with son Chris and daughter Holly are honest admissions by teenagers of how hard life can be when you live on a boat—no privacy, no space for friends to sleep over—and your parents won't own a TV. Home-schooled by their mom until Chris had reached second grade, the elder children had then attended school in Norway. They had become computer-savvy beyond their parents' abilities, world travelers, and bilingual, but Norwegian is of little use in Maine, said Chris. New friends asked what it was like to live in such a confined space, and the Martin teens wondered what land-based people did with such large homes. The plan, however, was never to stay ashore long. Instead, Dave and Jaja built the house as a place in which to plant roots for their children and to retire to when their sailing days are behind them. Unfettered by others' expectations, they reversed the normal cycle. "Ice blink" is a folk term for the phenomenon of white light seen on the horizon, the reflection of ice on low clouds, long used by sailors to navigate through Arctic waters laced with glaciers and ice floes. The DVD intersperses a Q & A session with Dave's stunning photography of the majestic scenery through which they traveled: splendid fjords, wondrous landscapes of spacious quiet, and wildlife. Naturally glorious beauty shots of
Driver
as the wind fills the sails are interspersed with a few too many views of the children flying from the rigging in bosun's chairs. But the title is most apt when their parents tell stories and share their philosophy about making life choices. In a series of "chapters," Dave and Jaja talk about putting adventure first, retirement later, when they will be beyond their sailing years. They explain that because the two of them embarked on life afloat right out of school, before accumulating material goods and having steady jobs, or having children, they had nothing to give up. Dave says that to support the family he learned how to sell his photographs and their earlier book, and supplemented that with odd jobs, working on boats, cleaning bathrooms during extended periods in Norway and elsewhere. He explains why he bought and overhauled a steel-hulled sloop, sturdily built to withstand icebergs and polar bears. Most of all, the Martins talk about the rewards of the lifestyle they chose: strong family bonds, in-depth appreciation for other cultures, self-confidence gained from overcoming adversity, a global perspective that their children will carry no matter what path they travel or what difficulties life puts in their way. Spontaneity, say the Martins, is always the path they choose.

Share this article:
Digital Edition Available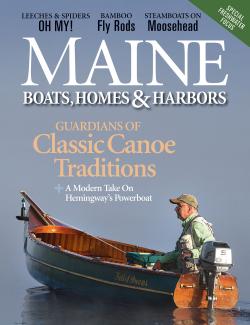 Can't get to the store to buy your magazine? We deliver the stories of Maine's coast right to your inbox. Sign up here for a digital edition.