Innovative 57' express cruiser will merge wood and fiberglass
Innovative 57' express cruiser will merge wood and fiberglass
Friday, November 2nd 2018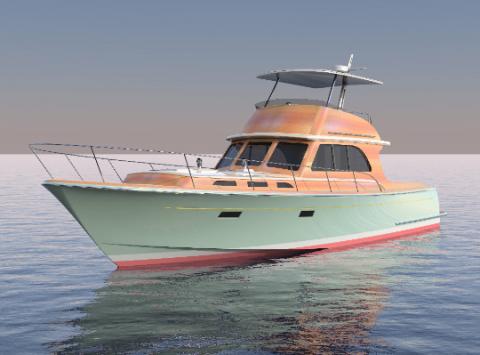 Stephens Waring Yacht Design of Belfast, Maine, has teamed up with C.W. Hood Yachts, and Lyman morse boatbuilding on an innovative 57' express cruiser.
Plans call for the boat to achieve speeds up to 39 knots, while outfitted with luxuries such as a titanium spiral stairway to the fly-deck.
Construction of major components for this custom motor yacht will begin this fall at Lyman-Morse in Thomaston, Maine. The vessel is expected to be finished at C.W. Hood's construction facility in Marblehead, MA. for a 2020 delivery.
"This client originally came to us with a 26-foot repower and refit project," says Chris Hood, founder C.W. Hood Yachts. "Inspired by the style and performance of our earlier designs, the conversation turned to a larger custom yacht. With a few guidelines and a fair amount of latitude, we set out on a 6-month preliminary design and proposal process, resulting in this classic 57 ft. high-performance cruiser."
The yacht's design is a collaborative project between Stephens Waring and C.W. Hood Yachts. The brief was to create a high-performance vessel that brings sophisticated classic lines together with modern design. Engineered with weight-control and strength as a priority, the vessel will feature a production process tailored to meet the demands of a high-quality, contemporary custom yacht. Stephens Waring is providing innovative composite construction details that merge wood and fiberglass into a contemporary build method.
"We are utilizing advanced composite techniques that just happen to use wood as a core," says Drew Lyman, president of Lyman Morse Boatbuilding. "And then we are marrying that core to reasonably-priced fiberglass composites that meet the demands of modern technological build processes."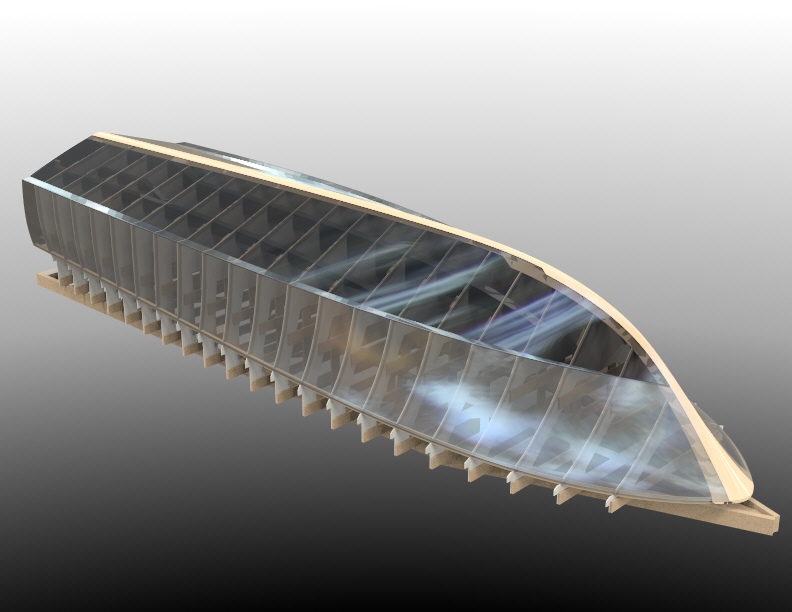 The Express-Classic is designed for weekend cruising and entertaining in the Northeast U.S. and will feature custom titanium hardware, a titanium spiral stair leading to the flydeck, a unique open-format cockpit with direct access to the water and dock, and well-founded accommodations for four. The Spirit-of-Tradition express cruiser will be powered by Penta's IPS 1350 integrated propulsion system.
This 57-foot power yacht is yet another undertaking between Stephens Waring Yacht Design and Lyman Morse Boatbuilding. The companies recently delivered the 66-foot sloop Anna. C.W. Hood Yachts is also the builder of record for Stephens Waring's elegant daysailer, the C.W. Hood 24.
PRINCIPAL DIMENSIONS
LOA: 57 ft – 3 in
LWL: 49 ft – 10 in
Beam: 17 ft – 6 in
Draft: 4 ft – 10 in
Disp, ½ load: 60,000 lb.
Power: Twin Volvo IPS 1350 pod drives