Just Launched - Ginger
Brooklin Boat Yard "Spirit of Tradition" Daysailer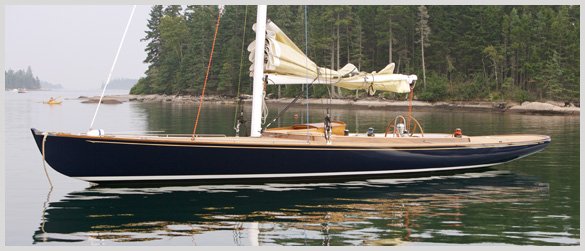 Daysailer
Ginger
built by Brooklin Boat Yard. Photo by Alison Langley
Boat name: Ginger
Model: "Spirit of Tradition" daysailer
Designer: Brooklin Boat Yard Design Associates
Builder: Brooklin Boat Yard
Center Harbor Rd., P.O. Box 143, Brooklin, ME 04616 Phone: 207-359-2236
www.brooklinboatyard.com
Launch Site: Brooklin, Maine
Particulars:
This exciting 50' daysailer combines elements of classic aesthetics with modern hull form and rig. "This melding is nothing new for us," says Robert Stephens of Brooklin Boat Yard Design Associates. "We have specialized in 'Spirit of Tradition' yachts for a number of years, but this boat pushes that envelope." The long, low hull of cold-molded cedar is light enough to deliver planing performance off the wind, while the powerful, backstayless carbon rig supports a huge square-headed mainsail and a non-overlapping jib. Masthead spinnakers and a Code Zero will lend additional sail area as the wind hauls aft.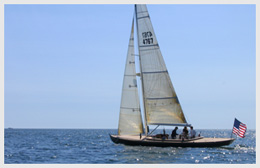 Ginger
sailing on Penobscot Bay.
Photo by John K. Hanson, Jr.
The 4,400 pounds of lead ballast are concentrated in a bulb with organic, flowing lines, ending in a beavertail shape for efficient shedding of the tip vortex. The bulb is suspended at the end of an aft-swept fin, the better to shed the ubiquitous Maine pot warp. The appendages have been designed to provide the necessary stability and control, while minimizing drag to encourage planing. BBY Design Associates' Paul Waring designed and engineered the wood-carbon fin to handle all sailing and grounding loads, utilizing a "crush box" system to minimize damage to the hull in the event of a hard grounding. A welded bronze truss system further reinforces the keel/mast step area. The carbon rudder is a narrow NACA laminar section.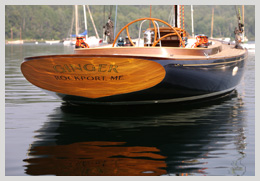 Daysailer
Ginger
built by Brooklin Boat Yard.
Photo by Alison Langley
Should the urge to travel strike, the keel fin is easily removed from the hull to lower the profile and allow the boat to be trailered. Long overhangs reduce wetted surface in light air, while adding to sailing length as the boat accelerates—and they also look great. The spoon bow and heavily raked and radiused transom harken back to the daysailers of the last century, as does a traditional varnished teak companionway, but the cockpit is laid out for efficient crew work and the decs are clean. All lines run below-decks to keep clutter to a minimum; most lines exit the base of the mast. Tasks are concentrated at a pair of winches at the front of the cockpit. Jib and spinnaker sheets are handled at wing pods aft of the cockpit seating; jib sheets are directed aft within the coamings, as is the double-ended main sheet. A light weight electro-hydraulic system controls the adjustable headstay, vang, outhaul, and traveler from pushbuttons near the helm. "It's been a lot of fun to work with this client," said Stephens. "
Ginger
is the third boat that we have designed for him in the last several years, and he has given us the opportunity to explore this genre in new and exciting ways." The owner will daysail
Ginger
out of Camden, Maine, and compete in local races such as the Eggemoggin Reach Regatta, which attracts about 90 classic and Spirit of Tradition boats each year.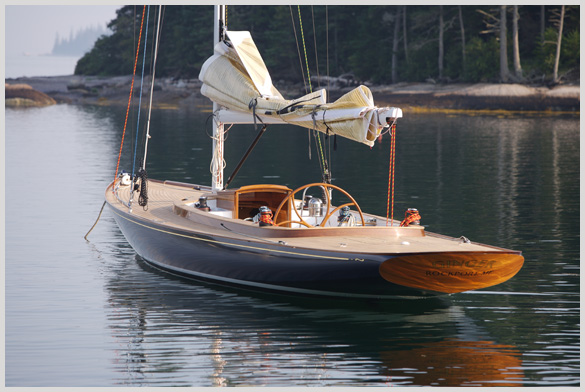 Daysailer
Ginger
built by Brooklin Boat Yard. Photo by Alison Langley
Specifications:
LOA 50' 0" LWL 36' 0" Beam 10' 0" Draft 8' 0" Displ. 9,600 lb. Ballast weight 4,400 lb. Sail Area (upwind) 783 sq. ft. Sail Area (downwind) 1,850 sq. ft. SA/D (upwind) 27.7 SA/D (downwind) 65.5 D/LWL 92
Hull Construction:
Cold-molded wood, four layers: inner layer 3/8" Port Orford cedar strip planking over laminated fir frames; two layers diagonal 1/8" western red cedar, outer layer 3/16" Port Orford cedar, running fore-and-aft. Sheathing of 10 oz fiberglass/epoxy. Awlgrip paint system. Deck: Teak Decking Systems panelized teak deck, laid over plywood sub-deck. Mast and Boom: carbon, by Ted Van Dusen (Composite Engineering, Inc.) Standing rigging: Navtec rod Sails: Stratis, by Doyle Rudder: carbon, by Composite Solutions, Inc. Engine: 12-hp Saildrive 280 Winches/hardware: Harken