An Affinity For the Classics
Vintage car and wooden boat love
By Chrisso Rheault
One thing I've learned about people who like boats is that most of them also like cool cars and bikes, too. Take a glance around a boatyard parking lot, and amidst the trucks and old Subaru or Volvo wagons, you will undoubtedly find an old Honda or BMW bike, or a 1980s Volkswagen bus. Show up anywhere near boats in an old car, and the wooden boat guys will come check it out. 
Like a good boat, a good old car becomes part of the family. There are memories, both good and bad, stories and adventures, but there is also the deep-seated satisfaction from using, and indeed just from looking at, that special machine.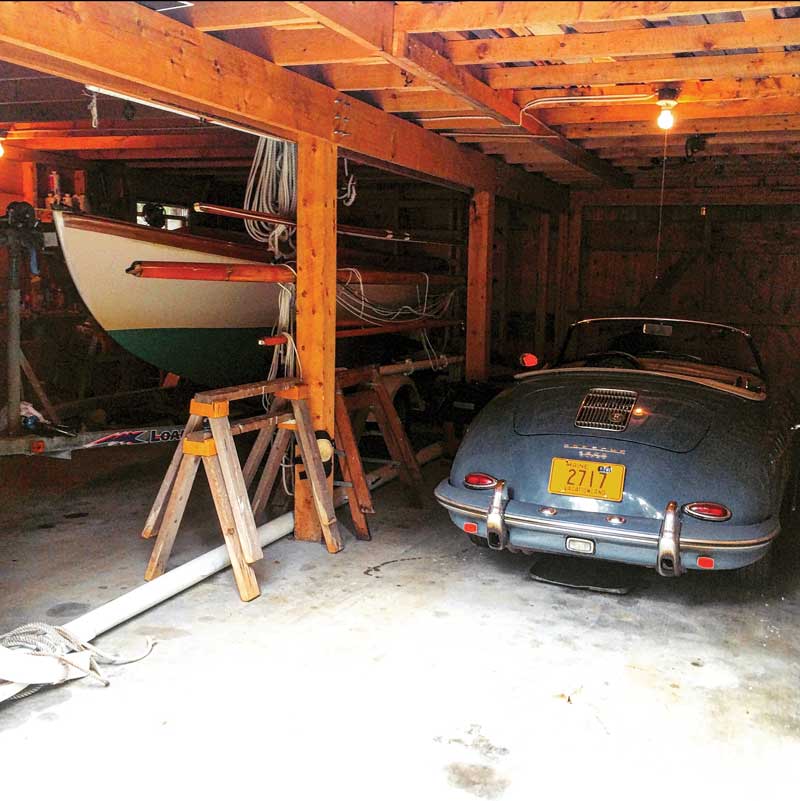 The blue 356 Porsche shares space with the family's Doughdish, Zig Zag, at the end of the sailing season—two well-loved and well-used classics. Photo courtesy Chrisso Rheault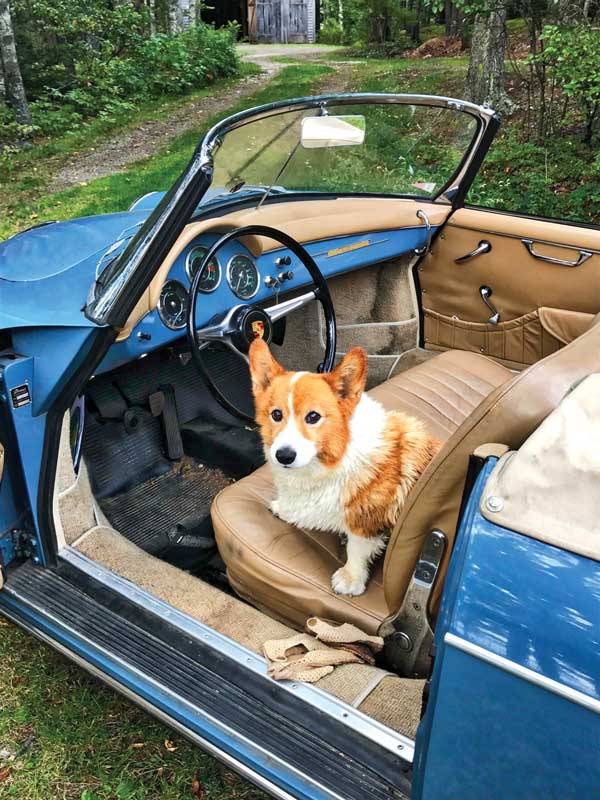 The author's dog makes a fine driving companion. Photo courtesy Chrisso Rheault My family has this pair of afflictions, a love of vintage cars and a love of wooden boats, making summer schedules in Maine tricky. 
One of these loves takes the form of 1950s and 1960s Porsches. Boat people like these cars because they are cousins of early VWs, both Beetles and Buses. The car I am lucky enough to have in my life is a 1960 356 B Roadster. Painted Aetna Blue (Porsche's color name), it is a cheerful and friendly car—a joy to drive and a wonderful piece of the family. To bear out my VW theory, the guy driving a modern 911 Porsche does not notice me, but the person in a 1982 Vanagon gives a big wave.
Like the sailing season, convertible season in Maine is typically short but very sweet. Every peninsula that makes an interesting gunkhole also tends to feature lovely roads that are twisty and suited to spirited driving in an older machine. To complete the comparison, our roads in Maine are not always as smooth as we might like and rocks can jar the experience just the same as when in a boat.
To be clear, like our boats, the Blue Car is no show queen. She only gets washed two or three times a year. The paint is now 35 to 40 years old. The top has two small patches in the canvas and the rear window was replaced after a dog's paw went through it. The driver's seat has a stitched tear where my father ripped the leather, having forgotten about a screwdriver in his back pocket.
Cars in my family are much attributable to my father, who owned many an interesting vehicle. His first car was an Essex that was given to him when he was eight. It did not run but had enough aluminum in the block to be worth $10 at a time when a Model T Ford could be purchased for $9. He did the deal. Some years later in the 1960s, he found himself living in Honolulu and tracked down a 356 Speedster. It was not his first 356, nor would it be his last. He found my Porsche in Michigan in 1987. He and my mother flew out to pick up the car, driving it back from Cheboygan to Maine on the first of many such road trips.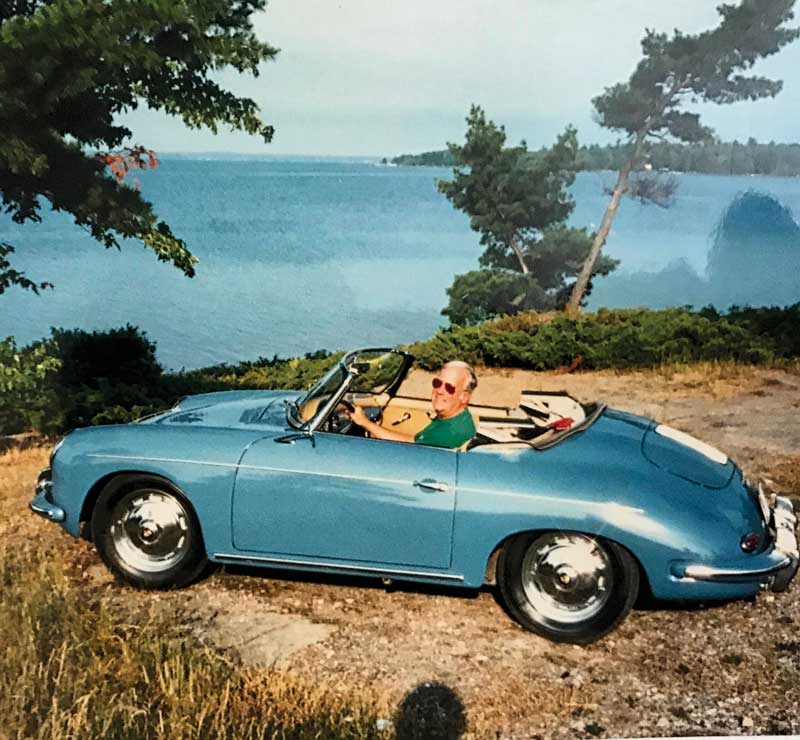 The author's father, Andy Rheault, had just picked up the car in Cheboygan, Michigan, and was headed back home to Maine, when this photo was taken along the shores of Lake Huron. Photo courtesy Chrisso Rheault
Blue Car has been with me for 17 years, and in the family for 30. In that time, it has been a regular driver, a race car, and was even used in photo shoots for fashion magazines. 
It gets driven a lot. Two years ago, Christmas day in Maine was warm and dry enough to take the car out for an afternoon drive, with the top down. Looking over the windshield at the seasonal Christmas star atop Mt. Battie in Camden was surreal.
As intended, the 356 is an ideal track car for the amateur racer. In my early years of ownership, I would drive it out to the Berkshires and race at Lime Rock in Connecticut. I literally would show up and remove my suitcase as the only preparation before taking the track. 
Many top racecar drivers, pro and amateur, have a deep love of boats. I am no top race driver but I understand the connection: getting the best line through a corner requires the same finesse and gentle control as getting the boat to point just that little bit higher.    
---
Chrisso Rheault is a historian, writer, and teacher based in Cushing, Maine. When not enjoying his own boats and cars he helps other people find and enjoy their own.
Share this article:
2023 Maine Boat & Home Show

Join Us for the Maine Boat & Home Show!
Art, Artisans, Food, Fun & Boats, Boats, Boats
August 11 - 13, 2023 | On the waterfront, Rockland, Maine
Click here to pre-order your tickets.
Show is produced by Maine Boats, Homes & Harbors magazine.