Just Launched - Jill
Olin Stephens's favorite Six-Meter design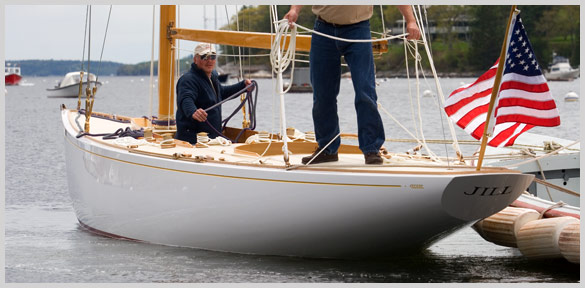 The Six-Meter
Jill
, rebuilt at Rockport Marine and re-launched in May.
Click the image above or scroll down for more images. Photo by Jamie Bloomquist
Launch Details:
| | |
| --- | --- |
| Boat Name: | Jill |
| Specs: | LOA: 36'8", Beam: 6'1", Draft: 5'5" |
| Restoration by : | Rockport Marine |
| Contact: | 1 Main Street |
| | Rockport, ME, 04856 |
| | Phone: 207-236-9651 |
| | Website: www.rockportmarine.com |
| Launch Date: | May 24, 2008 |
| Launch Site: | Rockport, Maine |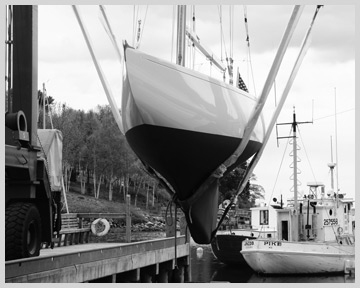 Jill
, Rockport Marine.
Photo by Jamie Bloomquist
Particulars:
On a hazy Saturday in May, a crowd gathered to watch as
Jill
was re-launched in Rockport Harbor after an extensive restoration at Rockport Marine. The restoration was so extensive, that the only pieces that remain that are original to the boat are the ballast keel, the bronze bow fitting, and the flag pole socket. Built in 1931,
Jill
is reported to be Olin Stephens's favorite Six-Meter design; the boat was noted for speed and performance, on and off the wind. The Six-Meter class still thrives, particularly in Europe, although there is a fleet on the West Coast and increasing activity on the East Coast.
Jill
will be actively campaigned by owners Martha Coolidge and Sam Rouse, and is expected to be competitive, despite the boat's age.
Jill
is double-planked with Alaskan yellow cedar inside and mahogany outside. The boat has steam-bent oak frames and a Dynel-covered deck. The mast was also built by Rockport Marine out of Sitka spruce; sails were provided by Doyle Sailmakers.
Image Gallery:
image gallery
Information and specifications supplied by the builder. Every effort has been made to ensure accuracy. However, Maine Boats, Homes & Harbors accepts no liability in the event of any errors of fact or omission.