Just Launched: Mala Conducta
62' fast cruising catamaran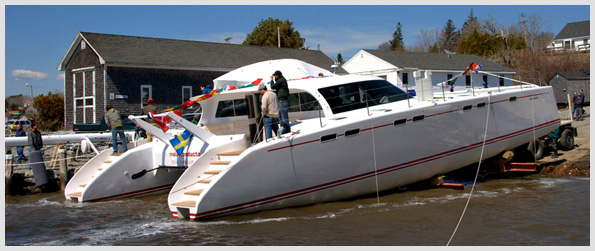 Launch Details:
Boat Name:

Mala Conducta

Specs:

LOA 62', Beam 28'6", Draft Boards Up: 8'10" Down: 1'11",
Mast Height: 76'1" from deck

Sail Area:

Main: 1,334 sq.ft., Solent: 523 sq.ft., Masthead Reacher: 2,259 sq.ft.,
Storm Jib: 162 sq.ft., Blast Reacher: 1,496 sq.ft.

Designed by:

Morrelli and Melvin of Huntington Beach, California

Built by:

Lyman-Morse Boatbuilding, Thomaston, Maine

Launched site:

Thomaston, Maine
Particulars:
Maine is blessed with a number of custom boatbuilders, but we think it's safe to say that none currently work in as many mediums and materials as does Lyman-Morse in Thomaston. Straight fiberglass, SCRIMP, wood, aluminum, stainless steel--they work in them all. Their newest launch,
Mala Conducta
, was built with Kevlar/Eglass prepreg outer skins, with P or Nomex core, and carbon prepreg inner skins. This 62' cruising catamaran will be light, nimble, and fast. In order to build such a complex structure with these high-tech materials, Lyman-Morse had to build four different oven configurations to cure the composites at 160-180 degrees. The deck was built in a female mold in one large piece; it is also a combination of Kevlar/E-glass and carbon fiber prepregs. The boat is expected to reach speeds of more than 25 knots -- not bad for a boat with all the amenities that was built for family cruising.
Mala Conducta
features cutting-edge lithium ion batteries and an E-plex electrical system designed to keep weight down. The E-plex system by Bass Electronics utilizes touch screens, which are located throughout the vessel, to control lighting and electronics.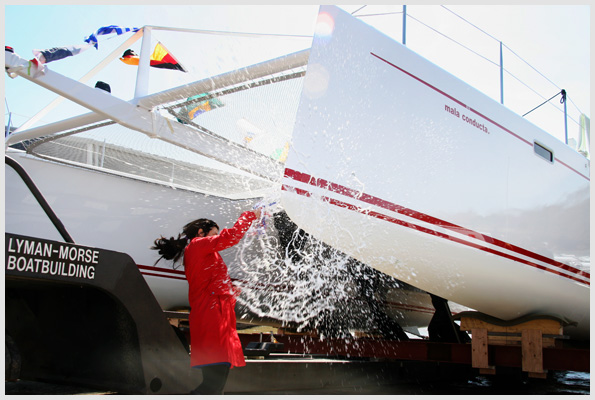 Mala Conducta is christened (with gusto!) just before launching.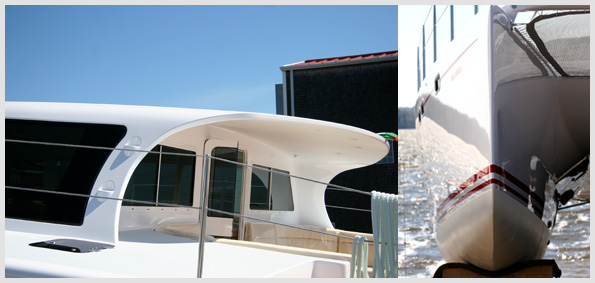 Video:
Information and specifications supplied by the builder. Every effort has been made to ensure accuracy. However, Maine Boats, Homes & Harbors accepts no liability in the event of any errors of fact or omission.