Hinckley Company: Sou'wester 53
A modern, go-fast cruiser/racer
By Art Paine
Photographs by Onne van der Wal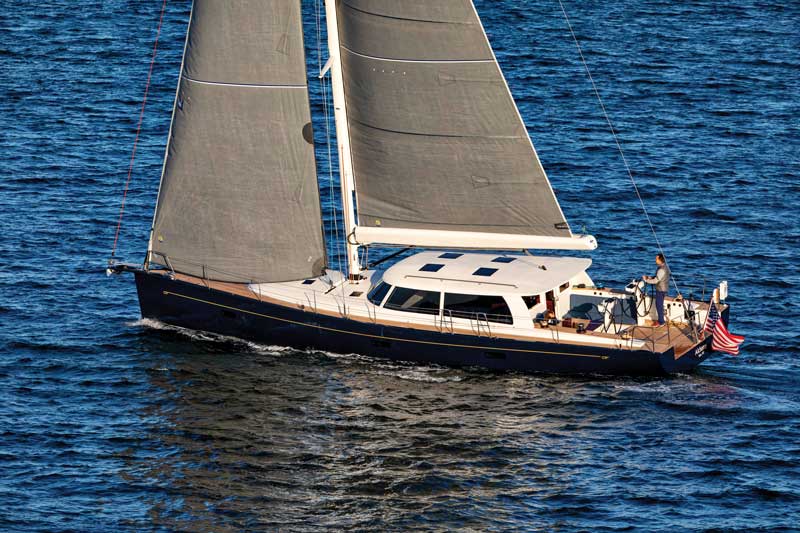 Hinckley's new Sou'wester 53 features a comfortable big cockpit and living spaces that are mostly on one level. The construction of the first boat in the line featured a partnership among three yards. Hinckley built the hull at its plant in Trenton, Maine, Front Street Shipyard constructed the carbon-fiber composite deck and pilothouse, while Brooklin Boat Yard finished off the interior and added mechanicals.
The newly launched Hinckley Sou'wester 53 is the latest in Hinckley Company's long history of experimentation in search of the ultimate luxury cruising (and racing) sailboat. Designed by Bill Tripp III, the 52'4" LOA, carbon-epoxy yacht has a modern look, with its single-level layout and pilothouse with 360-degree views. But Alchemy, which was launched in late August, shares the traditional Hinckley traits of beautiful finishes and nimble performance.
Back in the day, Tripp's father, Bill Tripp, Jr., was among the hottest designers going. He had mastered the Cruising Club of America rating rule, and was known for designing sailboats that beat their handicap in many an ocean race. Tripp's formula, which combined wide beam, ample freeboard, shoal draft and a centerboard, defined the ideal for an exceptionally versatile cruising/racing sailboat. This was at the advent of the fiberglass era and Maine's Henry Hinckley hired Tripp to design his company's first fiberglass model, the Bermuda 40, which was launched in 1959.
After building more than 200 Bermuda 40s, the company decided to break up the tired old molds in favor of newer models, such as the Sou'wester 42. Advanced in many respects—faster, roomier, and lighter—these newer models were still resplendent with the teak, varnish, and traditional joinerwork that made them instantly recognizable as a Hinckley.
Then in the 1990s, Hinckley jumped into the powerboat market with its wildly successful gamble on jet-driven Picnic Boats, rolling the dice on new resin-infusion techniques and intricate composite construction. It was commonly agreed that ultramodern construction methods and materials would also translate to wonderfully efficient sailboats, should that market ever revive.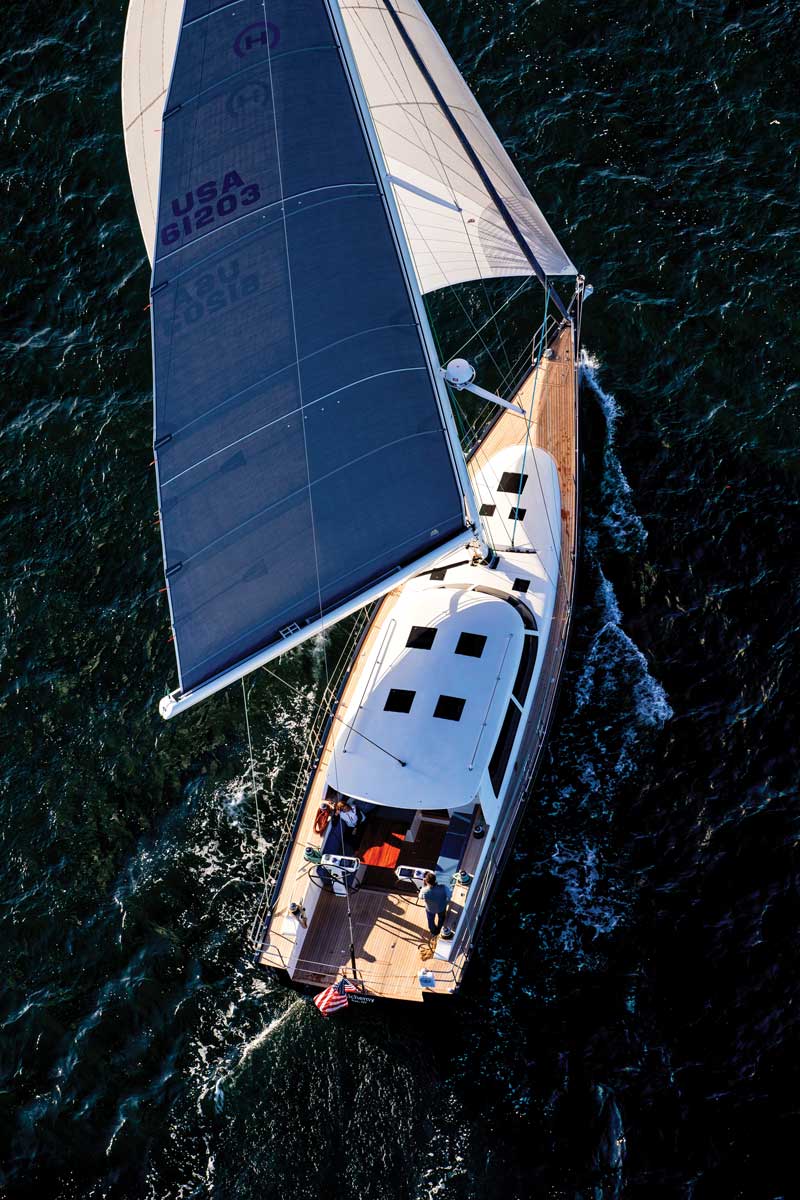 While many yachtsmen flocked to the picnic boats and the larger Talaria power cruisers, others held that the Hinckley Company was, by God, a sailboat builder! In 2014, more than 10 years after the most recent launch of a sailboat, Hinckley announced the advent of the Bermuda 50, designed by Bill Tripp III. Stylish, fast and beautiful, this was predominately a racing boat, despite a semi-retractable keel that could be withdrawn to just over six feet in draft. The molds were configured for resin-infusion, and, just in case, the hull mold was elongated so that in the future, a somewhat larger hull could be constructed. But the Hinckley powerboat line continued to be a raging success, and sail was sidelined once again. Until now.
Anyone as old as me will appreciate that the Sou'wester 53 is remarkably easy to get around in, no matter the condition of aging joints. And in most conditions it will be nearly twice as fast as a
B-40. Peter Smith, lead designer at Hinckley's home base, told me that he had sailed a Bermuda 50 in the Block Island Race and topped 25 knots. Although the 53 is only a little longer and a couple of tons heavier, it has the potential for comparable speeds. The most conspicuous change in this new design is the huge open pilothouse. The front windows are bent around the side, with just a single mullion on centerline. Tripp told me that he'd designed a similar full-race sailboat (Brigadoon) with a similar stand-out pilothouse. The house is even larger on this boat. Both he and the new owner agree that after experiencing the absence of claustrophobic cruising, the benefits are overwhelming.
Tripp spelled out the genesis of his very unique design. One evening, at the American Yacht Club in Rye, New York, he encountered a long-time sailor who was vacillating toward power. This sailor explained to Tripp that he loved the aspect of powerboats where you could pilot from either inside or outside. He didn't like the feeling in ocean-racing boats that you were living down inside, nor did he enjoy ascending and descending the companionway ladder. He loved everything about the Hinckley ethic: the assurance of quality, the service after the sail. Tripp agreed that a good-sized Talaria powerboat might meet the man's needs, but the designer also suggested it might be possible to get most of those features in a sailboat. And it didn't have to be a catamaran.
I asked Tripp about catamarans because of their growing popularity on the cruising scene. Tripp said he kept three boats in mind when trying to please his client, cats being one of them. He also drew on many features of the Hinckley picnic boats, in particular the panoramic views from within a comfortable shelter. Finally, he sought to emulate the classic Phil Rhodes motorsailers. Tripp's father—Bill, Jr—worked for Rhodes in the early days, and he had gained a lasting appreciation for the beauty and comfort of those roomy motorsailers.
The new Sou'wester 53 is less of a racer and more of an ideal cruiser. To an even greater extent than some of the jet boats, it keeps its occupants mostly on one floor level. There are three places to steer from: a steering station in the pilothouse and side-by-side steering wheels in the cockpit aft. Jib telltales are viewable from either windward or leeward, Tripp added. Two steps down to port from the pilothouse is a comfortable guest or captain cabin tucked neatly away. Moving forward to port past a settee and down two steps is the guest stateroom with a queen-size berth and hanging lockers. The separate head with shower is located across the passageway. Forward, the owner's stateroom showcases a queen-size berth with en suite head and separate shower and lockers of various sizes.
In order to get this boat built expeditiously, with the jetboat plant working out-straight, an intriguing confederation was formed. The hull was built at Hinckley's plant in Trenton, Maine, while the carbon-fiber composite deck and pilothouse were handled by Front Street Shipyard in Belfast. The boat was finished at Brooklin Boat Yard, which added the mechanicals and exquisite joinerwork. The interior shines exceptionally, contrasting with the stark, zero-maintenance exterior.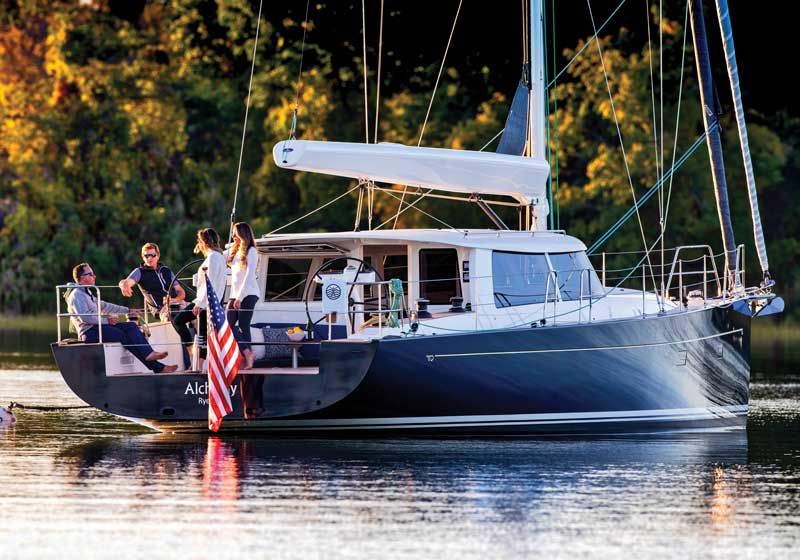 The Sou'wester 53 features a helm station inside the airy pilothouse for inclement weather as well as two stations aft. The living spaces flow seamlessly from the large aft cockpit to the spacious interior which offers standing headroom and 360-degree views.
The Sou'wester 53 gives a hint toward the future for large cruising sailboats.  A boat like this provides real competition for a catamaran. For safe passaging it will be nearly as fast and it can't capsize. It has light and airy common rooms and a sea-shedding cockpit that doesn't even need to be occupied for steering. The divided command structure that mixed the talents of three expert boatyards and numerous special contractors points a way to build boats quickly. Alchemy embodies my hopes that cruising/racing sailboats will rise again. I might've even gone for naming this boat Phoenix.  
---
Contributing Author Art Paine is a boat designer, fine artist, freelance writer, and photographer.
Hinckley Sou'wester 53
LOA:  52' 4"
Beam:  14' 3"
Draft:  8' 3"
Displ. 30,000 lbs.
Sail area:  1,624 ft2
Designer:  Bill Tripp III
Tripp Design Naval Architecture
Norwalk, CT
203-838-2215; www.trippdesign.net
Builders:
Brooklin Boat Yard
Brooklin, ME
207-359-2236
Front Street Shipyard
Belfast, ME
207-930-3740
Hinckley Company
Southwest Harbor, ME
Share this article:
2023 Maine Boat & Home Show

Join Us for the Maine Boat & Home Show!
Art, Artisans, Food, Fun & Boats, Boats, Boats
August 11 - 13, 2023 | On the waterfront, Rockland, Maine
Click here to pre-order your tickets.
Show is produced by Maine Boats, Homes & Harbors magazine.