Gunkholing with Gizmo: Cobscook Bay
Gunkholing with Gizmo: Cobscook Bay
By Ben Ellison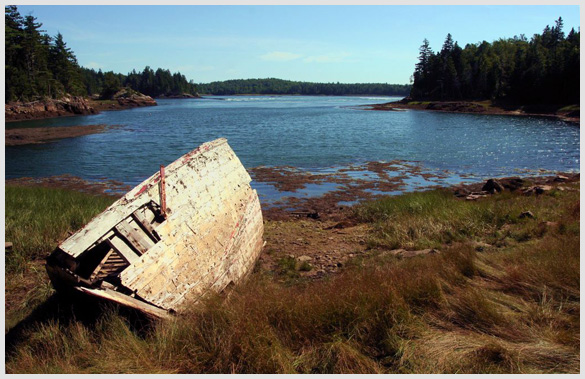 Little traveled, scenic, and wild, Cobscook Bay is filled with possibilities for adventure.
Click here for more photos
.
Photos by Ben Ellison
Cobscook Bay. This trip is just possible by small boat, much better by road.
Is it nuts to drive a 14-foot outboard deep into Cobscook Bay? As you may recall from my piece in Issue #103 (March 2009), the missus and I had indulged deeply in the culture and cuisine of Eastport before rounding Shackford Head (1), and a dash of adventure seemed the perfect aperitif to our further downeast sojourn. Sure, we could have happily poked around the known cruising anchorages in the Pennamaquan River (2), Sipp Bay (3), and Federal Harbor (4); they all remain largely wild and nearly unused, even in August, and all are mercifully removed from the major hydrodynamics caused by 20-foot tides and the area's devilish topography. But yours truly was determined to visit Cobscook Bay State Park (5), come hell or high water. Well, it turns out that high water and even "slack" low are both fairly hellacious in the narrows around the aptly named Falls Island (6), and all time periods between look fit only for whitewater kayakers. While the depths are reasonable and the charts amazingly accurate, the upwellings, whirlpools, and whatnot are, to say the least, challenging. So while you can get a small boat like Gizmo into Cobscook's innermost Whiting Bay—and experience the awesome gravitational power of moon on ocean along the way—I'm not suggesting that you should. In fact, it turned out that you can't leave a boat at the otherwise excellent state launching ramp just north of the park, and tying up anywhere along shore is problematical. We used that situation, and the hope of even slacker water, as our excuse to skedaddle. We exited via the even more sinuous and raucous northern route, which provided a peek at the relatively new Cobscook Falls Conservation Area (7), and a moment of humor. That was when an entire family leapt instantly from "basking-on-smooth-warm-ledge" mode to "look-at-the-crazies-shoot-the-rapids" full attention as we passed by. We did eventually visit the state park by car, and were charmed by its short but scenically vertical nature trail and its wealth of cozy wooded and waterfront sites. The conservation area was harder to find—mind the turn off in West Pembroke (8)—but well worth the long dirt access road. Local volunteers recently put in a lovely shore trail, or you can just bask peacefully by the ever-changing falls, perhaps to be further entertained by a soaring bald eagle or a damn fool boater.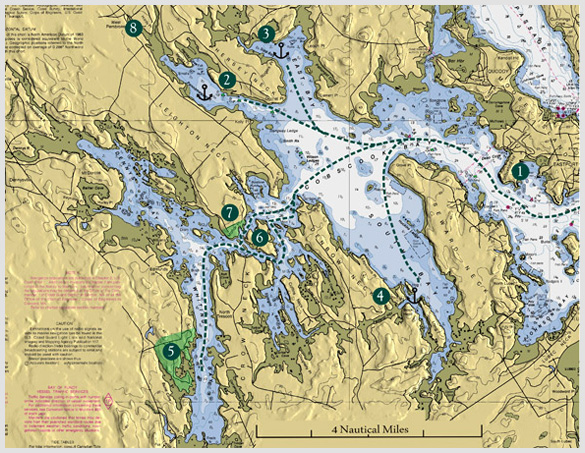 Charlet Key:
1) Shackford Head 2) Pennamaquan River 3) Sipp Bay 4) Federal Harbor 5) West Pembroke Photo Gallery: Cobscook Bay

Chart: based on the 1:50,000 NOAA chart #13394, 3D by Memory Map, adaptation by Ben Elllison. E-mail Ben (
gizmo@benetech.net
) about restaurants, parks, and the like that he can visit aboard the M/V
Gizmo
.
Click here
to travel with Ben Ellison and
Gizmo
on other
coastal adventures
on the Maine coast.
Share this article:
2023 Maine Boat & Home Show

Join Us for the Maine Boat & Home Show!
Art, Artisans, Food, Fun & Boats, Boats, Boats
August 11 - 13, 2023 | On the waterfront, Rockland, Maine
Click here to pre-order your tickets.
Show is produced by Maine Boats, Homes & Harbors magazine.