Adventures - Gizmo - Cross River
Gunkholing with Gizmo: Cross River
By Ben Ellison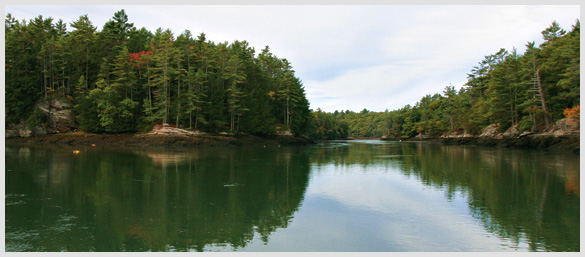 It looks like a river, and it feels like a river, but it's actually a tidal basin
with a deep reach into the mainland.. Photograph by Ben Ellison
Some maps call it Cross River, others Ovens (or Oven, or even Oven's) Mouth River, but a real river it's not. Rather, it's a sinuous and lovely tidal basin that winds almost four miles from the Sheepscot River into the surprisingly wild heart of the Boothbay peninsula. While you'll want to understand the hydrodynamic situation—the maximum ebb and flood currents can run over five knots in the narrows known as Oven Mouth—the truth is that the dramatic passage is so clean and deep that you could easily slip a megayacht into the inner anchorage (1). Venturing farther south, or "up river," is tempting, if you have the right draft and tide, but the anchorage is actually the most pristine section of the bay, with not a building in sight. Plus it's a short dinghy ride to the easternmost of the two bold peninsulas that make up the Ovens Mouth Preserve (2, also inset). Here, thanks to the good folk of the Boothbay Region Land Trust (
www.bbrlt.org
), you'll find many miles of woods and waterfront trails, plus a soaring footbridge over "Ice House Cove" (3). Yes, brave captain, as remote and swirly as the mouth seems now, back in the 1880s large engineless schooners were pulling in here to load ice harvested behind the cove's now broken-down dam. Smaller boats can add a little more excitement and sightseeing to a Cross River visit by approaching via the Back River on the east side of Barter's Island; the channel is skinny and unmarked, but it does closely correspond to the chart. It's also noteworthy that the Trevett Country Store (4; 207-633-1140), just inside the Barter's swing bridge (38' overhead cable clearance), has a float for customers who might want to pick up one of its semi-famous lobster rolls. On the other side of Hodgdon Island is Knickerkane Island Park (5), which, besides having a picnic area and lobster-pound swimming hole, has an excellent boat ramp with floats and ample parking.
www.mainegardens.org
), which opened on 250 acres last summer. The stone work and outdoor art there are to die for; it will be a great pleasure over the years to see the plantings fill in around them.

Credits: Article photos and chart enhancement by Ben Ellison, based on 1:100,000 Bath topo and NOAA Chart #13293. E-mail Ben (
gizmo@benetech.net
) about restaurants, parks, and the like that he can visit aboard the M/V Gizmo.
Click here
to travel with Ben Ellison and
Gizmo
on other
coastal adventures
on the Maine coast.
Share this article:
2023 Maine Boat & Home Show

Join Us for the Maine Boat & Home Show!
Art, Artisans, Food, Fun & Boats, Boats, Boats
August 11 - 13, 2023 | On the waterfront, Rockland, Maine
Click here to pre-order your tickets.
Show is produced by Maine Boats, Homes & Harbors magazine.