Sweet Chariot Music Festival
The Mary Day visits the Sweet Chariot Music Festival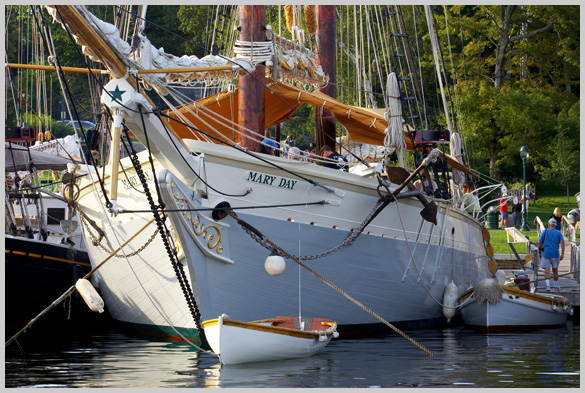 The
Mary Day
at home in Camden. Photo by Jamie Bloomquist
Good morning everyone. As I write this, we are anchored in Blue Hill Bay to take time for a swim call. The hottest day of the summer is supposed to be today so we will especially appreciate the cool sea breeze that has already started. After a great sail yesterday we anchored off a long sandy beach where we picnicked last night and where we are swimming in the "pool" this morning.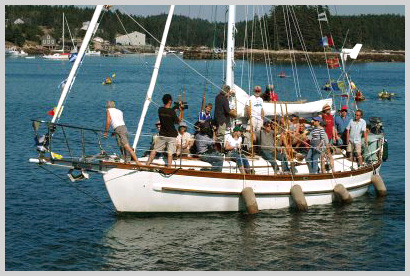 A group of folk musicians being filmed aboard the
Mary Day
in
Burnt Coat Harbor, Swans Island.
Tuesday was a relatively calm day with the yawl boat getting more of a workout than we would have liked. [The schooners that do not have built-in engines use their engine-equipped yawl boats to maneuver when there is no wind. -Eds.] At least the fog cleared off; we were happy to see the islands of Merchants Row. We anchored early in the afternoon in Burnt Coat Harbor on Swans Island and were regaled by the musicians of the annual Sweet Chariot Music Festival as they went chanty-singing around the harbor. As an added treat, the musical entourage stopped by our beloved schooner and spent a half hour aboard, singing and being filmed: a chance to watch musicians at work.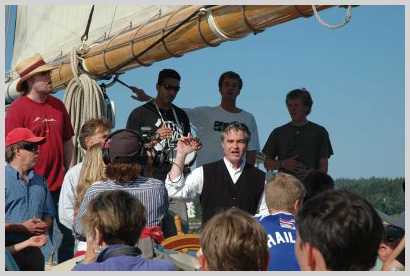 There's nothing like being serenaded aboard a schooner on a
fine summer evening.
We enjoyed dinner on deck and then went ashore for a leisurely walk to the Odd Fellows Hall before the evening show began. Those who attended thought the show was great. The performances were an eclectic mix of traditional and not-so-traditional folk music, humor, African drumming, and more. I am not sure how show producer Doug Day pulls this whole thing together. His imagination is his only limitation; given how wild that is, he is certainly the ideal one to pull off what looks, from the outside, like a miracle of coordination and inspiration. Now that I think about it, the folk music show like this is not so different from a schooner: a joyous celebration of what folks can do when they put their minds to it. Have a great day. Be well. Do good.

Several captains from the Maine windjammer fleet have agreed to write about what it's like for them "behind the scenes" while running a passenger schooner. We will post their missives as we receive them. We also recommend that you come back later to read through them all for a sense of what an entire season is like as it unfolds.
Click here
to follow the schooners on their
coastal adventures
.
Click here
for information about the Maine Windjammer Association.