Red Boutilier - Carrie Ann
A remembrance
By Gretchen Piston Ogden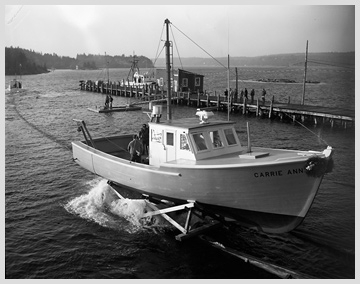 Launching of the dragger, "Carrie Ann"
photo by Red Boutilier
When Everett L. "Red" Boutilier was still alive and writing for us at what was then called
Maine Boats & Harbors
magazine, we eagerly anticipated the arrival of one of his packages in the mail. They always came by "regular" mail, always in a manila envelope, the address always typed by the same typewriter. Inside would be a stack of black-and-white photographs, each with a caption on the back. Sometimes the captions were scrawled in pencil, sometimes typed on that same typewriter and carefully pasted into place or taped on. There would also be a story, the typewritten pages full of indentations, small holes, dark type, light type, type that had been marked out by a row of Xs. Each package was a treasure trove of recent Maine boatbuilding history: When we first discussed running one of Red's stories, unedited, scanned and reproduced exactly as he had sent it to us, I was skeptical. But seeing the row of xxxxxxx in Red's piece, reproduced below, brought back some great memories. They made me want to hold the page to the light to see if I could decipher what was there. His penciled-in corrections in a hand that had just begun to wobble a bit with age reminded me of his querulous voice on the phone. I admit that I am old enough to have used a manual typewriter, bang, bang, bangety bang. I didn't think I missed it one bit. These days, like you, my fingers skitter across a keyboard—it's so easy now. The work looks "perfect," too -- no holes punched in the paper by the overly enthusiastic use of a recalcitrant exclamation point. My deletions are clean and permanent—what's gone is gone. Yet, somehow, compared with Red's, the documents I print out at 600 dpi in the font(s) of my choice lack something. So we reproduced these pages of Red's, original, unedited, just as he would have sent them to us as a reminder of the not so long ago. His personality shines through on the page in a way that is no more. Our offices are much quieter now without all that bangety bang, but our hands are perhaps less strong. Red's work is currently being archived at the Penobscot Marine Museum. This selection of photos is of the wooden dragger
Carrie Ann
, launched in South Bristol, Maine at Gamage Shipbuilders in 1975. Below is an image of the original, unedited text. If you cannot view the image,
click here
.

Share this article:
2023 Maine Boat & Home Show

Join Us for the Maine Boat & Home Show!
Art, Artisans, Food, Fun & Boats, Boats, Boats
August 11 - 13, 2023 | On the waterfront, Rockland, Maine
Click here to pre-order your tickets.
Show is produced by Maine Boats, Homes & Harbors magazine.