Maine Architects Design Furniture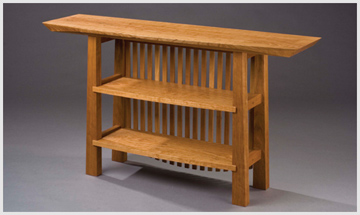 Richard L. Bernhard "Library Table", 2005. Cherry wood, 32 x 56 x 16,
Used here courtesy the Portland Museum of Artphoto by Jim Dugan
"Getting Personal," an exhibit at the Portland Museum of Art, explored the relationship between craft and design by pairing contemporary furniture makers with architects. Twelve individuals or teams of architects contributed 15 pieces to the exhibition, which runs from June 2 through August 26, 2007. In "Getting Personal," architects who either practice in Maine or have done significant projects in Maine were asked to create furniture expressive of their personal design visions. They presented sketches of their designs and, when possible, commissioned Maine artisans to build their pieces. There were no limits placed on materials or degree of functionality.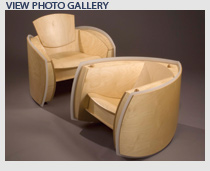 View a gallery of selected pieces
The resulting collaboration not only expressed the personal aesthetics of the architect, but also explored the limits of materials. In many cases, the projects became journeys of collaboration between architect and artisan as each explored the conflicts and synergies among design, materials, and craftsmanship. The original sketches will be presented along with the final executed designs to map the path from idea to object in a variety of materials including wood, concrete, and steel. According to the museum, the relationship between furniture design and architecture is longstanding and intimate. Over the course of the twentieth century, architects of note, such as Frank Lloyd Wright, Mies van der Rohe, and Eero Saarinen turned their hand to designing furniture. "Getting Personal" will be shown in conjunction with another at the museum, titled "Frank Lloyd Wright and the House Beautiful," on view June 28 to October 8, 2007. The pairing was intentional, since Wright was known for his attention to interior details as well as for his buildings themselves.
Roll over numbers to view thumbnails
Participating architects and artisans include: Richard L. Bernhard, A.I.A., working with Geoff Warner; Peter Bohlin, F.A.I.A. and Robert Miller, A.I.A., L.E.E.D., A.P., working with Milltech Group; Christopher Campbell, A.I.A., working with Brian Lazarus of Opus One Furniture; Phil Kaplan, A.I.A., working with Jon Meade; John Silverio, A.I.A., working with Cam Pierel; Brigitte Shim, F.A.I.A.Intl., R.A.I.C., O.A.A. and Howard Sutcliffe, M.R.A.I.C., O.A.A., working with Nienkämper; Scott Teas, A.I.A., working with Jim Millay; Steven Theodore, R.A., working with Tom Brokish; John Turk, A.I.A., working with Stephen Turk;
Sam Van Dam, A.I.A.,
working with Cold Mountain Builders and Rockport Steel; Carol A. Wilson, F.A.I.A., working with Mark White; and, William Hanley, A.I.A., working with Jim Davis of Atlantic Builders. The exhibition was organized by Phil Kaplan, A.I.A. and Richard Bernhard, A.I.A. for the Center for Furniture Craftsmanship in Rockport, Maine.
MUSEUM INFORMATION:
The Portland Museum of Art, Maine's largest art museum, showcases fine and decorative arts from the 18th century to the present. From Winslow Homer and Andrew Wyeth to Pablo Picasso and Claude Monet, the Museum features three centuries of art and architecture. The Museum is located at Seven Congress Square in downtown Portland. Hours are: 10 a.m. to 5 p.m. Tuesday, Wednesday, Thursday, Saturday and Sunday, and 10 a.m. to 9 p.m. on Friday. Memorial Day through Columbus Day, the Museum is open on Mondays from 10 a.m. to 5 p.m. Museum admission is $10 for adults, $8 for seniors and students with I.D., $4 for youth ages 6 to 17, and children under 6 are free. The Museum is free on Friday evenings from 5 p.m. to 9 p.m. Museum Café and Store. For more information, call (207) 775-6148 or visit portlandmuseum.org