Herreshoff Fish: A Good Catch
Sailing perfection in a manageable size
By Ben Emory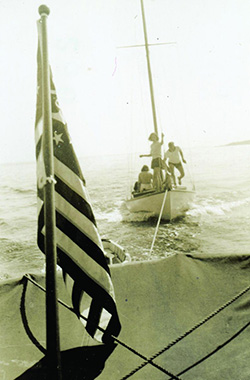 The author's parents, aunt, and uncle sailed together as often as possible. In this 1939 shot on Eggemoggin Reach, they were in their late twenties. Photo courtesy Ben Emory
"Best boat I ever owned; I never should have sold her," my father told me often, referring to the Nathanael Herreshoff-designed and -built Fish class sloop he had sailed on Eggemoggin Reach just before and after World War II. As he taught me to sail in a Herreshoff 12½ in the same waters, he would describe how the Fish was an enlarged version of the 12½, three and half feet longer on the waterline (20'9" overall), and twice as heavy. In expanding the 12½ design, Herreshoff increased the rig, lengthened the bow overhang, which visually is especially pleasing, and added a small cuddy, which provided welcome protection at the forward end of the cockpit. Dad was not alone in his high praise. L. Francis Herreshoff, a yachting superstar like his father, Nathanael, wrote of the Fish class in 1970 that they were "much better boats than any built since." Francis wrote those words 54 years after the first Fish were completed in 1916 for racing at Seawanhaka Corinthian Yacht Club on Long Island Sound. About 40 were built, most in 1916, 1917, and 1925. A large percentage have vanished or deteriorated badly, but others of these cultural treasures have been restored and are actively sailed. During decades of sailing a wide variety of boats, my mind has occasionally gone back to this boat that so delighted my parents. They would joyfully recount adventures on the boat, including being chased by a bull during an island picnic and wading knee deep in Benjamin River mud when they had to get ashore following a stranding. The greater speed of the Fish compared to a 12½ made for more interesting day sails because more distance could be covered. The greater length and heft gave the Fish the rewarding feel of a more powerful boat. Then in 2009 came a telephone call that eventually led me back to the Fish and to a new level of sailing pleasure. Alec Brainerd, who runs Artisan Boatworks in Rockport, Maine, got directly to the point. Dad's old Fish boat, Alec told me, had been found in Connecticut. It needed a complete restoration, but would be worth the effort because more history was known about that particular Fish than any other. A fine old wooden boat is much more than just a boat, it also represents people, heritage, and stories-provenance means something.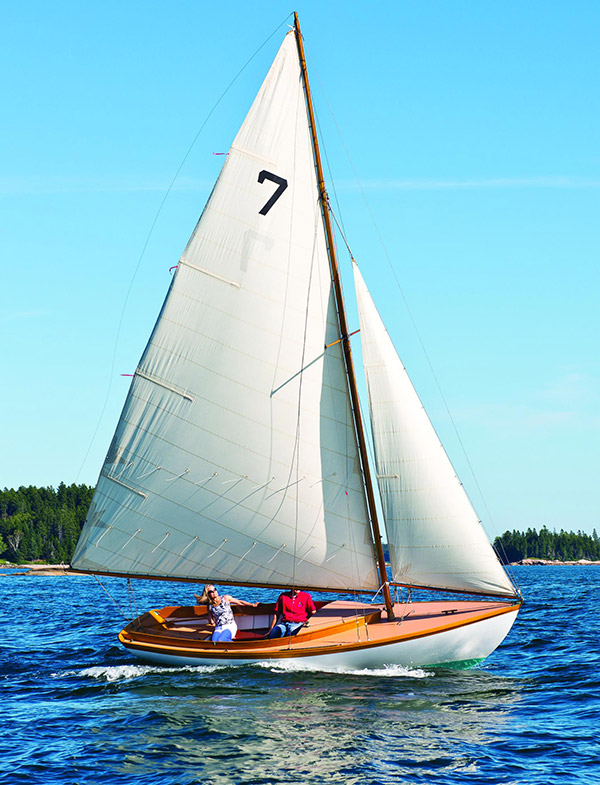 The author and his wife, Dianna, on a daysail aboard
Perch
last summer, off Center Harbor. Photo by Benjamin Mendlowitz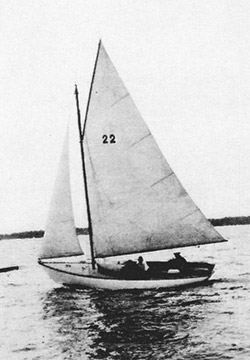 Sculpin
in 1929 with gaff rig at Mattapoisett, shortly before conversion to marconi rig. Photo courtesy Ben Emory
Sculpin
(the original name of Dad's Fish) had been in the gaff-rigged fleet at Seawanhaka, then went to Mattapoisett, Massachusetts, where it was converted to Marconi rig. It returned to Long Island Sound under the ownership of John Foster Dulles, who later was President Eisenhower's Secretary of State, before arriving in Maine under Dad's ownership. Subsequent owners included Mystic Seaport before the boat eventually arrived into Alec's shed and ownership, awaiting someone lucky enough to enjoy both the restoration process and the subsequent time on the water. I looked, I dreamed, and I dithered. The timing was not right for me, but I wondered whether sometime I might find another already restored Fish. Fast-forward to mid-summer 2014. With all five grandsons in residence, my wife Dianna and I welcomed the arrival of a restored Fish, not
Sculpin
, which remains at Artisan Boatworks, but
Perch
. While lacking a builder's plate,
Perch
almost certainly was one of the boats built in 1925 for the Warwick Country Club on Narragansett Bay, in Rhode Island. Unlike the earlier boats constructed for Seawanhaka, the Warwick versions were built with Marconi rigs and the lovely varnished molded sheer strakes for which Herreshoff is famous. By the early 1930s
Perch
, then named
Sail Fish
, was racing at Cold Spring Harbor Beach Club on Long Island Sound along with
Sculpin
.
Perch
was superbly restored in 2005 at MP&G in Mystic, Connecticut, and impeccably maintained. I found her in May 2014. I was casually exploring Internet listings for smallish wooden daysailers, and was astounded to see a listing for a restored Fish pop up. I bought her sight unseen, after lengthy conversations with people who knew this boat, and about Fish boats in general. Within 48 hours of
Perch
's arrival in Maine, Brooklin Boat Yard had the boat rigged and the bottom painted, and had moored her in Center Harbor at the exact spot where a photo shows Dad's Fish boat in 1939. The wheel turns. Center Harbor is Herreshoff heaven, with a substantial fleet of Herreshoff-built boats, reproductions, and boats inspired by Herreshoff. Our Fish was warmly welcomed to this fleet, and Brooklin's famed wooden boat photographer Benjamin Mendlowitz and offcenterharbor.com videographer Steve Stone lost no time in scheduling photographic sessions out on Eggemoggin Reach. And no wonder,
Perch
and her sister Fish boats are indeed art-as significant as beautiful buildings, fine furniture, and exquisitely crafted musical instruments.

The lovely Fish underbody is revealed in this circa-1929 photo of
Sculpin
out of the water at Mattapoisett. Photo courtesy Ben Emory
When I row away from
Perch
, I am entranced by the interplay of light and shadow on the lovely curves of her white hull and the gleam of her varnished wood. On board, I examine with pleasure and admiration the fitting of floors, frames, planking, and all the other pieces of wood, the species of each piece chosen for the particular use to which it is put.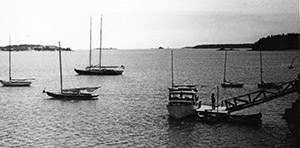 Sculpin is shown at left in 1939, off of what is now WoodenBoat's dock in Brooklin, Maine, on Eggemoggin Reach. Photo courtesy Ben Emory
What most captivates me about
Perch
, though, are her sailing qualities. A full-keeled, relatively heavy boat, her speed has surprised me, and even surprised the legendary Herreshoff expert Maynard Bray as he watched me sail past him one afternoon. Upwind there is just enough pressure on the tiller to make steering to windward a joy. I had heard reports of heavy helm, but others who have sailed Fish had told me that does not have to be so. Perhaps my relatively flat mainsail, beautifully made by East Boothbay sailmaker Nat Wilson, himself an enthusiastic Fish owner, is one reason for the delightful feel of the helm. With her big main the boat is excellent in light air. Although some might find
Perch
a tad more tender than expected as the wind picks up, a single reef quickly takes care of that and makes the helm even lighter. The boat is absolute bliss to sail.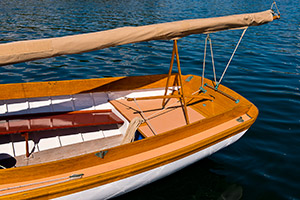 Perch
is exceptionally comfortable to sit in and steer, given all the space at the tiller as well as the deep cockpit. There is room to sit on the after deck with one's back against a boat cushion with legs under the tiller, braced against the other coaming. Photo by Benjamin Mendlowitz
That the Fish class is one of Nathanael Herreshoff's outstanding designs is attested to by the copies and offshoots that it has inspired in both wood and fiberglass. Joel White designed a centerboard version. Near exact fiberglass copies were built some years ago and known as Petrels, and Cape Cod Shipbuilding has produced two fiberglass variants over many years. Perhaps best known, the Pisces is nearly identical in appearance to the Fish boats but was tweaked in design by Maine's own Chuck Paine and is crafted in both cold-molded wood and fiberglass by Jean Beaulieu's Classic Boat Shop in Tremont. It is so popular that more Pisces have now been built than original Fish boats. One Fish owner even had the late Olin Stephens design a 33-foot cruising sloop based on the lines of the Fish. As the Fish class enters its second century, the boats' enduring qualities and owner satisfaction are proven. We who are privileged to acquire one of these masterpieces are fortunate indeed that skilled craftsmen are still available in Maine and elsewhere to restore and maintain them properly.
---
Ben Emory is a life-long sailor who splits his time between Salisbury Cove and Brooklin. When not on the water he has spent decades actively involved in Maine land conservation. Watch a video of
Perch
under sail, Courtesy Off Center Harbor.
http://www.offcenterharbor.com/?p=19948