Art of the Polar Regions
Exhibits inspired by their cold, ephemeral beauty
By Janet Mendelsohn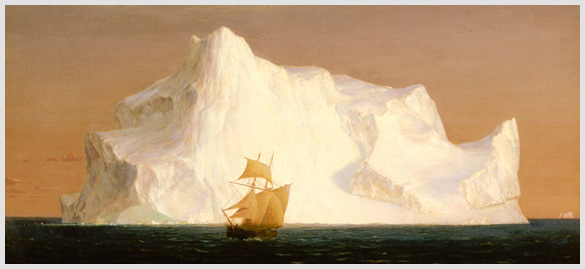 Iceberg, 1891,
Frederic Edwin Church (American), 20 x 30 inches.
Click here or on the image above to view more artwork.
.
Thousands of scientists from more than 60 nations are currently studying the earth's polar regions as part of the monumental effort known as the International Polar Year, which runs from March 2007 to March 2009.
www.ipy.org
Their research on changes in ice and snow cover, sea levels, and the consequences for humans and ecosystems, both terrestrial and marine, when compared with three previous IPYs may ultimately alter our behavior and multinational policies. Yet fascination with earth's icy extremes is far from a recent phenomenon or limited to science. At least since the mid-1800s, adventurers have attempted to reach the "top" and "bottom" of the planet, and their journeys have captivated armchair travelers. Now, in exhibits inspired by IPY, the Portland Museum of Art in Maine and the Peabody Essex Museum in Massachusetts present Antarctica and the Arctic as seen through the eyes of explorers and artists.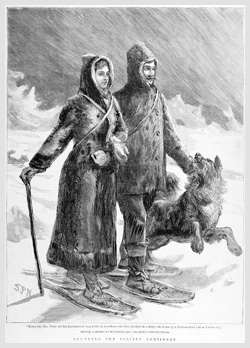 Rounding the Glacier Continent
from
The Graphic,
circa 1893,
engraving, 16 1/8 x 12 3/16 inches
The exhibit "To the Ends of the Earth, Painting the Polar Landscape" at the Peabody Essex Museum
www.pem.org
in Salem, Massachusetts, through March 1, 2009, features more than 50 paintings, drawings and photographs that capture the stark and often stunningly beautiful polar regions. Here is the extraordinary isolation experienced by men in vulnerable wooden ships dwarfed by glaciers in a frozen sea. Cut off from civilization for months or years at a time, the expeditions required unparalleled resourcefulness and stamina. A surprising number of painters accompanied them to capture the experience. Foremost among these during the nineteenth and early twentieth centuries were William Bradford and Frederick Edwin Church, two masters of the maritime landscape, who evoked romantic images based on their own experiences and sometimes on others' eye-witness accounts. Early modernist works by Rockwell Kent and Lawren Harris are more personal responses to the vastness and ethereal light, as is George Marston's
Aurora Borealis
.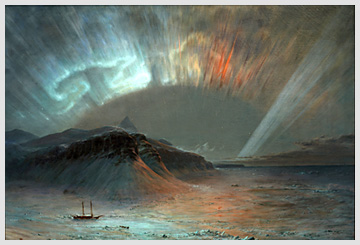 Aurora Borealis
Painted in 1908 during Sir Ernest Shackleton's first expedition, Marston's landscape becomes particularly gripping when we learn that the artist was on the subsequent Shackleton expedition when their ship,
Endurance
, crushed by the ice pack, sank in 1915, leaving captain and crew stranded. Marston sacrificed his oil paints to help caulk the hull of a small boat—the small boat that Shackleton used when he left most of his stranded crew and set sail with a small contingent in search of rescuers. That a voyage across frigid seas in search of help ranks among the most difficult and amazing ever undertaken. "Taken as a body of work, the landscapes represented here serve as a requiem for a way of understanding the region that can no longer be sustained," said curator Sam Scott in the PEM's exhibition catalog. Many are heroic in size and imagery. Others are intimate, a moment captured. The final piece is a digital aerial photograph of Antarctica shot in 2007 by Cushing, Maine, resident John Paul Caponigro. It undercuts our sense of scale. In an essay for the catalog, Caponigro compares the disorienting sensations he experienced at the bottom of the earth to the phenomenon of thunderhead clouds over the New Mexico desert where, lacking contrast with other colors, white turns golden. Like several works in the show, what he saw was not what we expect. Caponigro's photographs are also part of "Polar Attractions," the museum's multimedia exhibit of work by 30 contemporary artists through June 7, 2009, in an interactive art and nature gallery for children and adults. At Maine's Portland Museum of Art from March 14 to June 21, 2009, "The Coldest Crucible: Arctic Exploration in American Culture," examines Arctic exploration during its heyday, 1850-1910, when iconic explorers became almost mythical figures for Americans back home who caught "Arctic Fever." Stories of discovery, rescue missions, attempts to find a Northwest Passage or reach the North Pole are told through more than 35 maps, books, prints and graphics from the collections of the Osher Map Library at the University of Southern Maine. Full-page engravings of explorers from
Scientific American
and other publications add to the image of the explorers that was fed by Church's and Bradford's paintings, many of which were prominently exhibited in the United States and England. PMA's exhibit also includes photographs and memorabilia of U.S. Navy Commander Robert E. Peary, who led the first team to reach the North Pole, and his wife, Josephine, who joined him on several expeditions when not at their summer home on Eagle Island in Casco Bay.
Image Gallery:
For more information about the exhibitions:
Portland Museum of Art
Seven Congress Street, Portland, Maine 207-775-6148
www.portlandmuseum.org
Peabody Essex Museum
East India Square, Salem, Massachusetts 978-745-9500
www.pem.org
Share this article:
2023 Maine Boat & Home Show

Join Us for the Maine Boat & Home Show!
Art, Artisans, Food, Fun & Boats, Boats, Boats
August 11 - 13, 2023 | On the waterfront, Rockland, Maine
Click here to pre-order your tickets.
Show is produced by Maine Boats, Homes & Harbors magazine.