Harvest Time at Moody Cranberry Bog
Bringing in the berries is a family tradition.
By Lynette L. Walther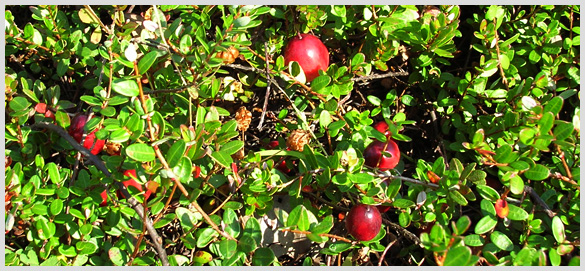 Not just for Thanksgiving: cranberries are ruby red, full of flavor, AND good for you.
These are growing in Lincolnville, Maine, at Moody's Bog. Photo: Lynette L. Walther
The holiday season arrives early at Fred and Margo Moody's place in Lincolnville. It's usually around Columbus Day when the Moodys and their extended family start harvesting the annual crop of cranberries from their one-acre cultivated bog. "Everybody gets together for the harvest," said Margo of the process that usually takes a week to complete and is labor intensive. "It gives them something to do. Some are retired and they really enjoy it. The aunts are in their seventies and they just love it." There are Fred and Margo of course; and their sons Chris and Mike; grandson Mike; Chris's wife Cara and Mike's friend Annie Watson, Fred's mother Polly Moody of Lincolnville, Margo's mother Joanne Miller; her aunts Ginny Kennedy and Lottie Richards up from Waldoboro, and Margo's sister Robin Carlton of Warren.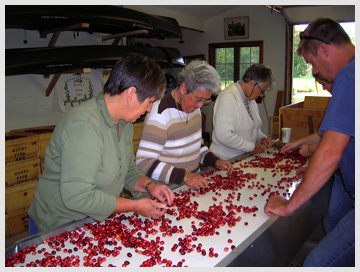 Moody family members work the conveyor belt
to weed out unsatisfactory berries.
Photo: Lynette L. Walther
There are a few other regulars at the harvest too, local friends and neighbors including Jim Andrioni and Harlie Dean. Harlie's a high school student who has been helping out with the fall harvest since he was in grade school, Margo said. It is with an air of festivity that friends and family gather for the week-long harvest. This year the harvesting began the week before Columbus Day "There's always plenty of good food to eat," explained Margo who keeps the fare coming for the volunteer harvesters. "There's a soup of the day, and one day we have turkey sandwiches — always with some cranberry sauce too. Another day it's meatball subs, and one day we have leftovers and then some fish chowder, because it's usually cold out." A lot of things have to come together for a good harvest, and as Fred will tell you, there's "always something" when you're a farmer. The plants come into blossom the first of July. If there is a lot of rain, then the bees have trouble pollinating the plants. In recent years the Moodys have called upon rented bees to take up the pollination slack, which has made a big difference. Using an integrated pest management program requires constant monitoring of the bog and the plants. Both Margo and Fred have other, full-time jobs, so keeping up the bog can be a handful. The one thing any farmer will tell you is that he can't control the weather, but last year's crop benefited from just enough but not too much rain, and the right temperatures at the right times. Margo described teh perfect crop: "The berries are nice and big and with good color due to the cold nights and warm days." An exceptionally good year can produce as many as 5,000 pounds of tart red berries from the one-acre bog. "It takes four to five years for a bog to be established," Fred told me. Their first crop was harvested in 1998. Unlike the farmers in the photos many of us have seen in
National Geographic
, whose acres of ruby red berries float photogenically on flooded bogs, the Moodys dry-harvest their cranberries. Dry harvesting is the only way to get cranberries that can be sold fresh, Margo explained. "The bog is never wet," explained Fred. "We have to have the right weather to dry off the bog," Margo added.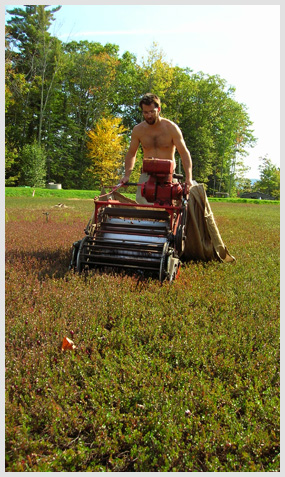 A walk-behind mechanical harvesting machine
is used to gather most of the fruit.
Photo: Lynette L. Walther
When conditions are perfect (and without dew) the Moodys use their walk-behind mechanical harvesting machine to gather most of the fruit. Fred then uses a wooden hand scoop to gather cranberries from the ditches surrounding the bog, which the machine can't reach. The mechanical harvester begins to comb the delicate cranberry vines at the outside edge of the bog and is guided around and around working toward the center. The vines have been trained to grow in one direction to facilitate the harvest. Once gathered, the berries go through a process of grading and bouncing. That's right, bouncing. "Seven times, that's how many times it has to bounce," Margo said, of what separates a keeper from the compost. "We package them up as we go, that way we make sure they are fresh." The Howe variety of cranberries that the Moodys grow is known for its long-keeping qualities—both on the vine and off. While most of the year's berries have already been harvested, one year the Moody's harvest extended into January. "It all depends on the weather," Fred said, adding that their irrigation system can be used to protect the berries from freezing conditions.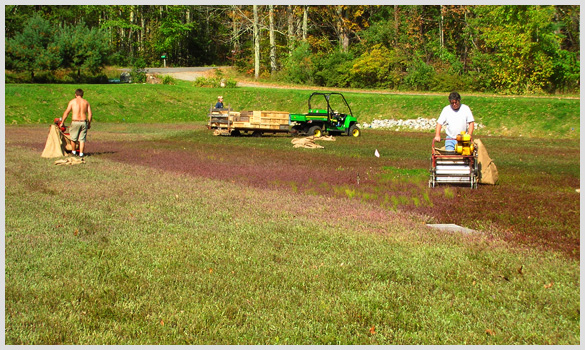 Photo: Lynette L. Walther
Moody's Farm cranberries can be found at many mid-coast markets including Hannaford stores in Rockland, Camden, and Belfast, as well as French & Brawn in Camden, Fresh Off the Farm in Rockport, and the Good Tern Co-op in Rockland. Stock up when the berries are fresh, then freeze them for use anytime you are craving that unique cranberry flavor.

Contributing Garden Editor Lynette L. Walther is the recipient of the National Garden Bureau's Exemplary Journalism Award and the IABC Silver Quill Award of Excellence. She is a member of the Garden Writers Association. She gardens in Camden.
Share this article:
Digital Edition Available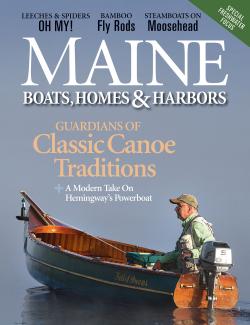 Can't get to the store to buy your magazine? We deliver the stories of Maine's coast right to your inbox. Sign up here for a digital edition.