Truman - Issue 102
Our World Champion Needs a Home!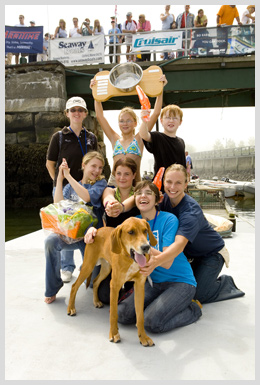 Truman, his team of secret agents,
and the Pup Cup. Photo by Jeff Scher
This year's World Champion Boatyard Dog® is a young and energetic bloodhound. He was entered into the trials, which are an annual part of the Maine Boats, Homes & Harbors Show, by the Humane Society of Knox County, and teens from Youthlinks, a nonprofit youth organization located in Rockland, Maine. Truman entered the competition as "Mystery Mutt, a.k.a. Agent K-9," handled by "agents" from Youthlinks. The teen agents had a dual purpose in mind: they wanted Agent K-9 to win, but they also hoped that the exposure would help Truman (his real name) find a permanent home. Truman and his agents went through rigorous preparation with professional dog trainer Marie Finnegan during the two weeks before the competition. Then, to the sound of theme music from James Bond and the Pink Panther, Truman and his handlers cleared an obstacle course, leaped from a tippy dinghy, disarmed secret agents, kissed a femme fatale, responded to commands in a multitude of languages, knocked a villain off the dock, and then resumed cover as an everyday family and dog. After a tie-breaking performance, crowd acclaim (as measured by applause) clinched the championship for Truman and his Youthlinks teammates.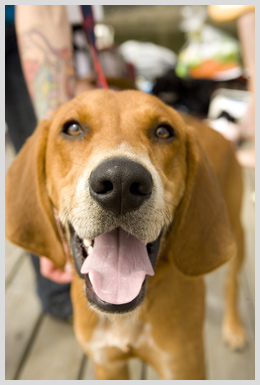 Who can resist the eyes of a champ?
Or the nose? Photo by Jeff Scher
After the competition, Truman told us, "This was just great—I was so glad to be out and about, to meet new dog friends and to smell the fresh sea air! I had a blast training the Youthlinks operatives in super secret spy tactics. I couldn't have done it without all of my agents and Marie who helped get me focused and ready for the trials. What I am really hoping for, though, is that my tricks will woo a family, and they will adopt me!" Second place went to repeat contenders Kelvin and Cody Penn, a dynamic pair of Chesapeake Bay retrievers sponsored by Adirondack Guide Boat. Their "Chessie Water Ballet" wowed the crowd, as did the pair's jumps from their very own diving board, and their fine swimming ability. As winner, Truman keeps the cherished revolving Pup Cup for one year. As usual, the contest was based on three simple rules: either the dog or handler had to finish completely soaked; cheating was not only tolerated, but encouraged; and "there were no other rules." TRUMAN NEEDS A HOME! As of press time, Truman, 2008 World Champion Boatyard Dog, still awaited adoption at the Humane Society of Knox County. Interested parties should contact the society directly: 207-594-2200;
www.humanesocietyofknoxcounty.org
.

Next year's trials will be held on Sunday, August 9, 2009, during the seventh annual Maine Boats, Homes & Harbors Show. Interested dogs: tell your people to send a clear photo and pertinent details to BYD, P.O. Box 758, Camden, ME 04843 or to
editor@maineboats.com
.