Letters - Issue 109
Issue 109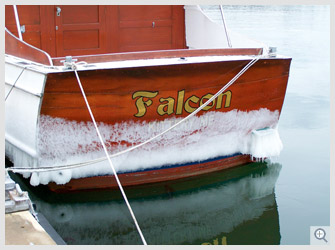 Click on the image to view larger.
Iceboat
Here is a photograph of my brother-in-law's 1939 Chris Craft Falcon taken in Kittery during a cold snap. Isn't it beautiful? Winter boating in Maine is for real Mainers!
Jerry Painchaud
Sent via email
Don't Stand Up
"Big Fish, Little Boat" (A Postcard in Time,
MBH&H
108, March 2010) brought back many memories of my friend Bart Hauthaway. He was a close friend for many years: sailing, white-water canoeing, skiing, kibitzing while he fiberglassed his kayaks. He unsuccessfully tried to teach me to roll a kayak in his backyard pool. I'll never forget the story he told of the first time he had seen a little Boston Whaler. A friend told him to take it out in Plymouth Harbor to see what it was all about. Of course Bart immediately gave it full throttle while standing at the wheel and bent into a sharp turn to starboard. He wasn't prepared for the fact that a Whaler doesn't bank like an ordinary soft-chined skiff would. He went overboard, and the boat went merrily on its way on its own. The owner was on his yacht at anchor and managed to corral the Whaler on one of its wild circles. It was fun to hear Bart tell the story.
Walter H. Phillips
Harpswell, Maine
Rowboat
I've been checking out "The Daily 5" on your website, which, by the way, is excellent (
www.maineboats.com
). I also very much enjoyed Peter Spectre's "Rowboat."
Paul Brown
Rockland, Maine
(The Daily 5 showcases five features, one from a different category, every day. To see for yourself visit
the homepage
, scroll down and select the Daily 5 tab.)
[Note: A longer version of "Rowboat" appears in Nancy Rich's new book
Afloat on the Tide
, published by Sheridan House and available at
www.sheridanhouse.com
.]
And No (sob) Rowboat
We recently sent a note to Laird Funk of Bentbranch Boatworks out in the Williams Valley of southern Oregon, asking how the Growboat rowboat was coming. You may recall that project. (If you have forgotten, see
MBH&H
issues 74, 79, 84, 89, 99, and 104.) Several years ago Funk and his pals planted Oregon ash saplings and trained them to grow into the shape of the frame of a double-ended wooden rowboat. You don't believe it? Neither did we until they harvested the frame a couple of years ago and sent us photographs. In response to our query, Mr. Funk sent the following: "Thanks for your recent kind correspondence regarding the Growboat. I have been wondering when you might inquire as to the progress of the progress report, and I have not been looking forward to that inquiry. The sad reality is that a few months ago, when work on the boat was about to recommence, it was discovered that work on the part of another woodworking critter—the European Shot Hole Borer—was already going gangbusters. These little creatures lay eggs under the surface bark of live or recently cut hardwood trees, hatching out little grubs that bore around in the wood and riddle it with tunnels before they exit through a 1/8" hole as adults and fly away. Sometimes it can be a couple of years before they exit, the rate being somehow dependent upon weather, but exit they will. Around here they seem to mostly hit Oregon ash trees and some
Prunus
fruit trees. "Apparently the borers colonized the Growboat frame early on after harvest, and they all exited this last spring. I discovered it when I was cleaning out the shop and blew up a great cloud of fine sawdust from the area of the boat (the borers leave a little telltale cone of borings near the hole) and was puzzled as to why. A closer examination revealed lots of those little holes in almost all parts of the frame—something like a dry-land version of those wood-eating sea worms. The upshot, alas, is that the frame is too riddled to use and is probably destined for a special burn pile. "While I am certain we can roast a hot dog or two and maybe some marshmallows in the funeral pyre, the Growboat will be missed and never forgotten."
Laird Funk
Bentbranch Boatworks
Williams, Oregon
Elco Still Makes Elcos
In Art Paine's recent article "A Diesel/Electric/Solar Launch: Could this be the standout boat design of 2009?" (
MBH&H
107, Winter 2010) he acknowledges Elco's place in the history of building electric-powered boats. We would just like to add that Elco is still building beautiful, hand-crafted electric launches in the tradition for which Elco has been known for over 100 years. Our fantail launches are built today from the same lines of the 1893 boats at the Chicago Exposition, with many original castings and handcrafted details. Now at a time when environmental issues and the ever-rising cost of fuel are on everyone's mind, it is nice to see the idea of simple, clean, and quiet means of "simply messing around in boats" come full circle.
Peter Houghton
Elco Electric Launch, Inc.
Athens, New York
Chinese Takeout
China Town, our Asian food center in Augusta has closed, much to my gastric distress. (For our review of China Town, see
Mainely Gourmet, MBH&H #100
.) Where was I going to get nourishment to endure the hearings and meetings that occupy the needs of our government? But there is hope! When you're in the area again, stop at the Eastern Delight, located on Route 17 just west of the Cony Road intersection coming into Augusta from Rockland. You'll meet some old friends there and discover that truly good Oriental food can still be had, to go, in the capital city.
Ed Courtenay
Warren, Maine
Wayward Wind Vanes
I am one of the many faithful readers of Rob McCall's regular column, "Awanadjo Almanack." In the March issue, he described his compass expedition around the village to inspect how well various rooftop wind vanes in town aligned. I wonder if he took into account the fact that a magnetic compass will point its north end about 18 degrees to the west of geographic north in Blue Hill? Those weathervanes might not be so deceptive after all.
Joe Snider
Southwest Harbor, Maine
Rob McCall replies:
I don't know whether wind vanes were set to true north or magnetic north in the pre-GPS, pre-NOAA era. Perhaps other readers know the answer to that question. Of course, it still leaves us with the problem of the wind vanes that AGREE with my pocket compass possibly causing tourists to end up in Wytopitlock instead of Bar Harbor. Or vice versa.