Slow Down for the Squirrels
A Letter From Home
By Rodney Lane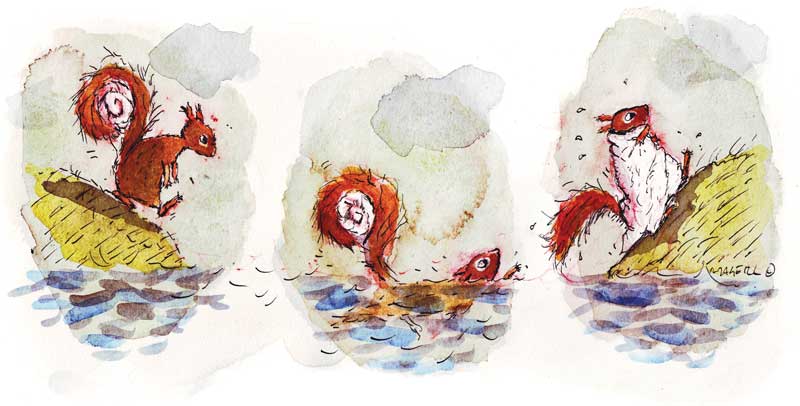 Illustration by Carolyn Magerl
Most harbor entrances have a "Slow, No Wake" sign. The entrance to the South Freeport harbor may need a new version, "Slow, Squirrel Crossing." The thrill that comes from spending a lot of time on the water is that you get to see and experience things that are often stunning in their beauty, that fill you with wonder, that are perhaps spiritually moving, and that are often funny, sometimes very funny.
Funny was the case last September in South Freeport Harbor.
Within several days I watched three squirrels swim across the entrance to Spar Cove. The distance they swam was almost a half a mile. In "squirrel miles" that had to be nothing short of a five-mile swim!
Before we go further, you should know a fisherman never discloses any of his favorite places to fish. Therefore, the entrance to Spar Cove is an absolutely awful place to fish for striped bass. Why my good fishing buddy, Smitty, and I were in that spot remains unknown.
Fifty yards off the port bow, I spotted what looked like an inflated plastic shopping bag floating on the water. I was about to move the boat to retrieve the bag when I noticed it was moving toward us. "Smitty, it's a squirrel!" I yelled. As it moved closer to the boat the inflated plastic bag morphed into the huge puff of a squirrel's tail. The squirrel's little nose barely poked above the water.
Equally amazed and horrified, we watched the squirrel swim under the bow and come alongside as if it wanted to get out of the water. For a second we thought it would try to climb up Smitty's fly rod, which dangled close to the water. What do you say almost instinctively to a wild squirrel swimming in open water but "Are you okay?" We didn't want this little guy to end up in Davey Jones's locker on our watch, but we certainly didn't want it in the boat.
However, after giving us a good look over, the squirrel turned and rather nonchalantly continued on its way to the far shoreline. We watched the puffy tail get smaller and smaller until it disappeared in the distant marsh grass. This little guy was in the water more than 15 minutes.
Several days later I was—mysteriously—back in the same spot. Lo and behold, there was another squirrel, swimming the exact same route. It was a total repeat of a few days earlier, complete with the squirrel's huge puffy tail acting like a PFD and a rudder. And about ten minutes later yet another squirrel made what was now a seemingly routine voyage. I thought to myself, "Wait, you guys have done this before." These two were focused on getting to the other side of the harbor and did not stop at the boat to say hello.
You may wonder how well a squirrel swims. We've all seen their amazing acrobatics on terra firma. I can tell you that squirrels move right along in the water. I can only imagine their little paws paddling madly under the water's surface. Regardless of what you think of squirrels, you have to admire their resolve, persistence, and smarts. These guys even seem to have figured out the tides, as they swam only at slack current. And what would be a long trek by land was now a 15-minute swim.
Over many years on the water I had never before seen a swimming squirrel, let alone three of them in the same spot in the same week. As I stood at the bow of my boat I wondered what on that far shoreline made the squirrels want to swim that distance. Was it a girl-squirrel camp? A squirrel mud-wrestling event? Maybe the acorns were bigger and tastier on that side of the harbor. Or perhaps there was a loaded backyard birdfeeder over there waiting to be robbed. And, I wondered, do the squirrels swim back across later in the day?
I'll be watching again next summer, even though this remains a terrible place to fish. Smitty and I now call this spot "Squirrel Point." When you enter South Freeport Harbor by boat you may want to post a bow lookout. 
---
Rodney Lane summers on Wolfe's Neck in Freeport, and spends many days chasing striped bass and the occasional squirrel. 
Share this article:
2023 Maine Boat & Home Show

Join Us for the Maine Boat & Home Show!
Art, Artisans, Food, Fun & Boats, Boats, Boats
August 11 - 13, 2023 | On the waterfront, Rockland, Maine
Click here to pre-order your tickets.
Show is produced by Maine Boats, Homes & Harbors magazine.