Mainely Gourmet - A Day in Bath
A Day in Bath
By Peter H. Spectre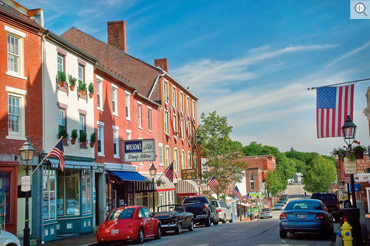 In which we make a dining detour off Route 1 and into downtown Bath.
Photo by Jeff Robinson, courtesy Main Street Bath
Click on image to expand.
Bath is much too easy to drive through without stopping. Route 1, the main coastal road, bisects the city in such a way that you have to will yourself to get off, otherwise you're on your way to Portland in a flash if traveling south or across the Kennebec River bridge just as fast if traveling north. Brick buildings, clapboard houses, huge shipyard cranes on the riverfront, and—blink—they're all just a memory. We've always been intrigued by Bath. It's one of the few small coastal cities that still functions primarily as a shipbuilding center (Bath Iron Works), and we'd read that the American Planning Association had recently named the city's Front Street one of the nation's top 10 downtown streets, so we took the off-ramp early one morning and spent the day looking around. We had three splendid meals, with intervals between for exploration (and digestion).
Breakfast at the Starlight Café
Saying that the Starlight Café is in the basement level of a painted brick building next to the Custom House suggests that it is dark and dank inside, when the opposite is true. With a southern prospect and plenty of high windows, it is sunny and bright. The women who run the restaurant have dispositions to match. They seem genuinely happy with their work and delighted to see you, whether you are a regular or not. Their hand-lettered mission statement, posted on the wall, says it all: "An eclectic blend of affordable food presented in a unique and innovative environment in which we will strive to rekindle and foster community spirit." The Starlight is a small bakery and a home-style restaurant with an open kitchen. Come in, pick up a menu, place your order, choose a table, pour a (bottomless) cup of coffee, sit down, and enjoy your meal. Further proof that it is old-style is obvious when you pay: Cash or check, yes; credit or debit card, no. Even further proof: Lingering customers, friendly banter, and no cell phones in evidence, at least not in the several times we have been there. The breakfast menu has the old standbys—egg(s) and sausage, ham, or bacon ($6.25); several omelettes ($5.25-$6.95); homemade corned beef hash ($7.50)—but they are all taken to a level considerably higher than the competition's. The big surprise is their extra-special Cinnamon Bun French Toast, "Made with our own Big As Your Head cinnamon buns, with powdered sugar and syrup" ($4.50). That alone will power you all the way to lunch.
Lunch at Mae's Café & Bakery
Mae's, at the top of the hill across from the Sagadahoc County Courthouse, occupies a white-clapboard building, formerly a house. It may be a fair distance from the water, but it still has that good old Maine coast feeling, much of which comes from large, north-facing windows that illuminate a constantly changing art exhibit on the walls. Like the Starlight, Mae's is open only for breakfast and lunch (though the latter extends to 4 p.m.), and includes a takeout bakery and catering service. There are a couple of special-events rooms and, of course, a dining room. The atmosphere, also like that of the Starlight, is low-key. Service is prompt but not pushy; most of the customers when we were there were relaxed, some lingering over coffee, others over a glass of wine. The lunch menu includes a huge variety of sandwiches and salads, and several house specialties. On a previous visit I had ordered the Mae's Monte ("Canadian bacon, turkey, and Swiss grilled up French toast style on sourdough with syrup, served with oven-roasted home fries," $8.50). Was it good? Let me put it this way: I'd choose it again in a heartbeat. This time, however, I ordered the Classic Corned Beef Reuben ($9.95). What did I think? A duel with the Monte would be a tossup. On our previous visit, Eileen had Mae's Caldwell Farm beef burger ($7.95). A student of the type, she said this one was "fabulous." She was adventurous this time and had one of the house specialties, Butternut Squash Ravioli ("with garlic, olive oil, baby spinach, red peppers, and walnuts," $10.95). "Excellent," she said.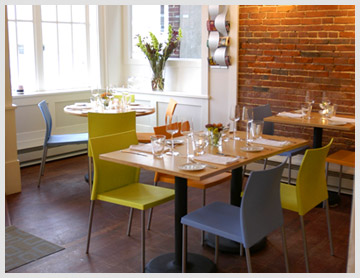 A first-class dining experience spread by word of mouth.
Photo courtesy Solo Bistro
Dinner at Solo Bistro
Solo Bistro, in the principal block on Front Street, is one of those understated gourmet restaurants with buzz. These days, nearly every large town and small city in Maine has at least one, an establishment that from outward appearances seems minor but whose name is on the tip of everyone's tongue. Sometimes the buzz comes more from first-class PR than from dining experience; sometimes it's first-class dining experience spread by word of mouth. In Bath, it was the latter. Just about everyone, when asked about dinner, said without hesitation, Solo Bistro. A small restaurant, with an open kitchen and a couple of rooms on the ground floor and a wine bar below, it has a spare, cool, Scandinavian-modern decor that is saved from being cold by brightly colored chairs (orange, lime, blue). Very consciously put together, it is at once intimate, informal, and self-possessed. The menu isn't huge, but it is carefully thought out, and provides something for nearly everyone, including vegetarians. Every evening there's a prix-fixe three-course dinner ($22.99; $15.99 on Wednesdays). The choice on our night was a mixed-green salad, steak tips with caramelized onions and mashed potatoes, and spiced apple cake with whipped cream. We opted for the a la carte menu. For an appetizer, I had eggrolls filled with duck confit, pork belly confit, and cabbage ($9). The sauce that came with it, fig and tamari jam, was a surprise—who would think of that?—but it worked. Eileen had a mixed-green salad with dried cranberries, pecans, and maple dressing ($7). "Perfectly tossed," she said, the way she likes it. I'm no fan of lamb, but Eileen is, so for her main course she had Lamb osso bucco with polenta, braised greens, and gravy ($21). I had the fish of the day, roasted haddock with greens over mashed potatoes ($16). I don't know the difference between roasted haddock and baked haddock, but that doesn't matter: Call it what you will, it was fresh and perfectly prepared, not too much, not too little. Which was a good thing, because combined with the dessert that followed (sweet potato tart and homemade brown sugar ice cream) and the breakfast and lunch that preceded it, we had had a big day in Bath.
Starlight Café
, 15 Lambard Street. 207-443-3005
Mae's Café & Bakery
, 160 Centre Street.
www.maescafeandbakery.com
207-442-8577
Solo Bistro
, 128 Front Street.
www.solobistro.com
207-443-3373
Click here to view the Solo Bistro listing in our Coastal Directory
Share this article:
2023 Maine Boat & Home Show

Join Us for the Maine Boat & Home Show!
Art, Artisans, Food, Fun & Boats, Boats, Boats
August 11 - 13, 2023 | On the waterfront, Rockland, Maine
Click here to pre-order your tickets.
Show is produced by Maine Boats, Homes & Harbors magazine.