Rockport Marine: Rembrandt
A cold-molded day boat with conservative good looks
By Art Paine
Some boats stand out because of flashy features, such as huge engines or extreme curves. Others get noticed because of their quiet, conservative good looks. Such is the case with Rembrandt, a 26-foot cold-molded day boat designed and built by Rockport Marine in Rockport, Maine.
Although it's being featured in this issue because it's unquestionably a masterpiece, the boat's lead designer Brendan Riordan believes the boat succeeds because of its simplicity. He views it as a rare example of moderation in the world of flashy day boats.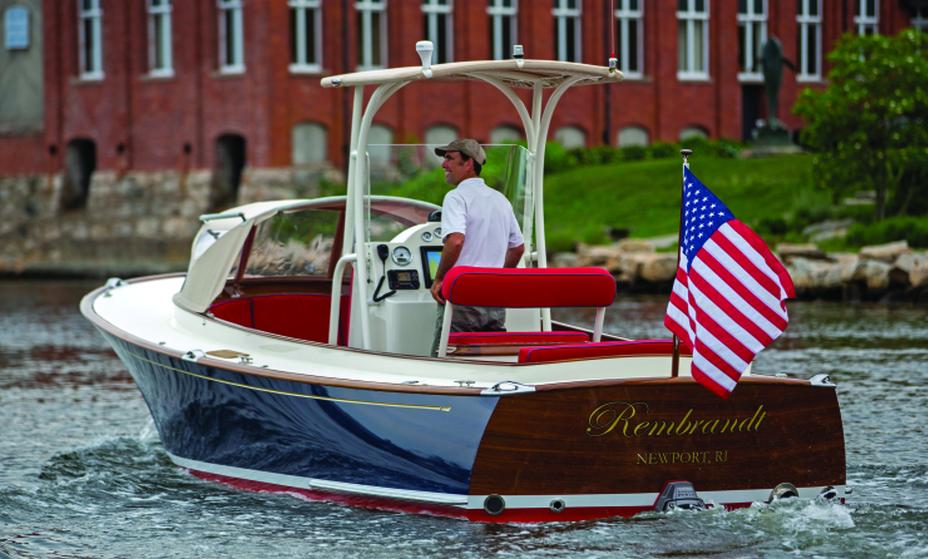 Traditionally known for its sailboat projects, Rockport Marine entered the powerboat market with its new day boat Rembrandt. Photo by Billy Black
"The primary reason the boat worked so well was that the owner was willing not to try for extremes," said Riordan, who is himself as modest and quiet as his design. 
This particular client had taken delivery just a couple of years ago of a custom-designed sailboat built by Rockport Marine. Although that yacht was designed by somebody else, Riordan and Sam Chamberlin, the yard's two resident yacht designers and masters of mechanical detail at the time, provided plenty of input. So when the client wanted a tender for that big sailboat, he trusted Rockport Marine to handle the entire process, from conception to completion. 
Designers in the past once drafted proposal sketches by using airbrush, colored pencil, or pen-and-ink washes. Today, they have the benefit of software that in the hands of an expert can make a dream boat look like waterborne reality. Riordan's design for this runabout is not unconventional. "The bottom of powerboat hulls was pretty well figured out 25 years ago," he noted. Surely there's nothing new about a round-front coaming, either. However, the finished boat looks spot-on handsome to me, and I'm picky. And I'm not just talking about the design. The execution also was extraordinary. I've rarely seen such beautiful fairing and finishing in any cold-molded wooden boat, from any builder.
Because the speed expectations were modest, Rembrandt is powered by just a single Volvo diesel engine. Here comes the one unusual feature: the boat is pushed by a pair of counter-rotating props, located aft of the transom in an "outdrive." Even more uncommon, the engine is located well forward with a rather long driveshaft connecting it to the props. In some applications an inboard-outboard setup expels exhaust gases through the propeller hubs and placing the engine farther forward can cause backpressure problems, so this boat features conventional exhaust pipes. This isn't an easy or an inexpensive configuration, but sea trials proved it was justified. The dual props impart no side-forces so the boat backs and steers straight and true. Placing the engine weight amidships means the hull skips along with hardly any bouncing. The outdrive is ahead of the props and protects them, so there is no need for a big skeg. This means the boat leans well into a turn.
As for the Rembrandt's looks, well this boat's a stunner. The tumblehome is just right—meaning not overstated. The varnished transom is gorgeous. There's welcome shelter under a forward dodger. The designer admitted that people have been of two minds about the bimini top and its pipework frame. I quite like it, myself, although perhaps it need not be as tall. That feature notwithstanding, Rockport Marine has hit this one out of the park.     
Rembrandt Specifications
LOA  26'
LWL  23'11"
Beam  8'11"
Draft  1'5"
Disp.  6,350 lbs.
Power  Volvo D3-200
Builder:
Rockport Marine
Rockport, ME
207-236-9651
www.rockportmarine.com
---
Contributing Author Art Paine is a boat designer, fine artist, freelance writer, aesthete, and photographer who lives in Bernard, Maine.
Share this article:
Digital Edition Available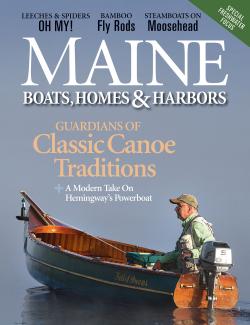 Can't get to the store to buy your magazine? We deliver the stories of Maine's coast right to your inbox. Sign up here for a digital edition.