View from the Porch - Issue 122
Issue 122
By Peter Bass
Sometimes, as a method of re-indexing my brain to the season at hand, I like to re-read this column from a year ago. Actually, the real reason is that I don't want to repeat myself, a habit my children and wife find to be a more frequent occurrence these days, though, truth be told, I have been doing it for decades.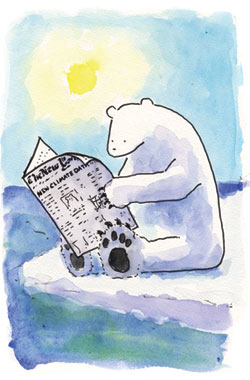 All illustrations by Ted Walsh
One observation that does bear repeating is that July of last year, 2011, was warmer than usual by nearly four degrees. And now we learn that the first half of 2012 was the warmest on record. Widely reported in July was the news that a noted climate-change skeptic, Professor Richard Muller, had changed his mind regarding the primacy of human activity on climate change in recent years. He did this after having incorporated another 100 years or so of data from vastly more recording sites and found that they matched carbon dioxide data as determined by atmospheric samples and further back, air trapped in polar ice. Skeptic no more. Other skeptics remain, however. That Professor Muller works at the University of California at Berserkly and disclosed his findings in an op-ed piece in the
New York Times
should in themselves be sufficient data to wind up the conspiracy theorists. Our reader on the porch, however, will perhaps recall that we closely study the fluctuations in Arctic sea ice as reported by the National Snow and Ice Data Center (
http://nsidc.org/arcticseaicenews/
). This year's variation from the mean is scary. Just as scary is that news of yachts making it through the Northwest Passage—while still a dangerous undertaking—is now routine. On a more positive note: while my days on the porch were on the warm side in mid-July, the swimming when I got off the porch was just divine.
Havin' Fun up Ta Camp
Our managing editor forwarded a link to a
Bangor Daily News
story about an unfortunate incident at a camp on a lake in central Maine. A visitor from New Hampshire, after doing a little plinking at wildlife with his .22-caliber pistol, repaired to the interior of the camp to enjoy the wilderness tradition of watching TV with his friends. He holstered his weapon in the mid-back location, sat down, and at some point thereafter accidentally discharged said weapon into an adjacent fleshy portion of his anatomy. He was treated and released from a Waterville hospital. The brief account in the BDN became the Helen of Troy item of the week; i.e., a fact that launched a thousand comments, ranging from rants from gun-control proponents and opponents, to the obvious "pain-in-the butt jokes." Here is my favorite sequence from unknown contributors using screen names: 1. I'll bet this guy is the butt of a lot of jokes today... OK, OK, I know that was bad! Maybe someone else would like to take a crack at it. :-) 2. Misleading headline. Hows about Holstered Gun Accidentally Discharges Into Man's Buttocks? 3. Because too many people will make too many jokes surrounding the last 5 words in your choice of headline. 4. Yeah, I forgot about the mentality of some of the readers. OK, here's another try. Holstered Gun Accidentally Discharges Striking Man in the Buttocks. 5. Are you sure about that? Maybe he was a homely man shot in the buttocks. 6. ...and do we know if his union was on strike. or even if he's in a union?
Hot Dogs and Suspended Colons
Speaking of newspaper stories and our fondness for headlines
avec les entendres doubles
, we are indebted to reader Art Hall for sending in one he noticed in the
Belfast Republican Journal
: "Police overrun with hot dog complaints." Mr. Hall favored us with a variety of witty interpretations including: "Stolen dogs, dogs left in cars, undercooked lunches, and ill-behaved stunt skiers." Thanks, Art; if we had a Porch hat or tee shirt, you'd get the first one. On the national sports pages in late August, the following ran over an Associated Press article by Janie Mcauley: "Athletics' Colon suspended 50 games for positive test." Of course, in rapidly flipping through the sports pages I registered this as "athlete's colon suspended 50 games," which sounded really inconvenient as well as uncomfortable. We're all for keeping sports clean but a simple blood test should be sufficient, coupled with a fine. Hanging an organ seems a little medieval. Unfortunately, there was a more informed baseball fan in our midst who saw none of the humor and told us there was no double meaning at all.
Happy Birthday Appalachian Trail
Tuesday, August 14, 2012, marked the 75th anniversary of the completion of the Appalachian Trail. A Civilian Conservation Corps project completed in 1937 after more than 15 years of construction and the work of hundreds of volunteers, it is the Eastern hiker's holy grail. A couple of thousand potential through-hikers start every year, about 30 percent of them finish. But its real value is in everyday local use. The
Bangor Daily News
picked up a story on the anniversary that had been published in the
Knoxville [Tennessee] News-Sentinel
in mid-August. Although many of us have for years wanted to be in that through-hikers' community, the special nature of the trail is that it is accessible to a vast numbers of folks for a day hike or even just a few hours. My longest duration on the trail was a few days, from Old Speck in Maine through Mahoosuc Notch to Gorham, New Hampshire. We spent a couple of nights out on a route that the Dartmouth Ski Team hikes in a day, although the ski team's definition of "hike" is different from that of normal trekkers. I have also enjoyed the trail on Katahdin, Bigelow, and Sugarloaf Mountains, the White Mountains, and a bit in Virginia near Roanoke. The Appalachian Trail has touched millions. Though the beginning and the end remain the terminal summits of Springer Mountain in Georgia and Mount Katahdin in Maine, almost all of the original trail has been rerouted so that 99% is now on public lands. Oversight management is under the National Park Service, but operations are delegated to the Appalachian Trail Conservancy and its many volunteers. Fall is here. It's time to get those butts off the porch and out on the trail.
Their Traps Runneth Over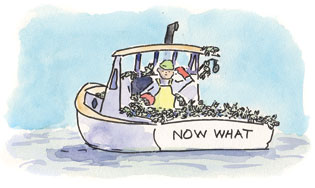 All illustrations by Ted Walsh
The big news in July along the coast was that too many lobsters and an early molt flooded the market with shedders and drove the price received by lobstermen below economically viable levels. A voluntary tie-up to ease the glut and raise the prices was not very effective and not openly discussed, as any organized effort would be a violation of anti-trust laws. The glut led to protests in Canada against the flood of cheap Maine lobster heading for Canadian processors. The market upheaval spotlighted the lack of processing capacity in Maine. Bumblebee's successor in Prospect Harbor, Live Lobster, folded after less than a year in business; the property went to auction in late September. (It was snapped up by Garbo Lobster, a lobster distribution company based in Groton, Connecticut, and East Coast Seafood, a global lobster distributor based in Lynn, Massachusetts, according to the
Bangor Daily News
.) Because the glut was in soft-shelled lobsters, the product was perishable and an insufficient market led to lots of dead lobsters before they could be processed. As I was leaving Boothbay in July after my bit of heaven on the porch we passed a house that sells live lobster; the advertised special was five lobsters for 25 dollars. I noticed that the price for small lobsters in Ellsworth was still that in late August. When I worked in the fiberglass shop at Hinckley in the early 1970s, I rented a little apartment on the Clark Point Road in Southwest Harbor. I remember a summer when a red tide bloom was erroneously assumed to affect lobster, and the market plummeted. I was making a couple of bucks an hour and eating lobster three times a week. I wish I had been in a position this summer to experience lobster ennui again, but there were just not enough days. One thing we can probably count on is more in-state processing capacity, which should be good for all. Just as I was wrapping up this edition, I saw an article in the
Bangor Daily News
about Kyle Murdock, a 23-year-old entrepreneur who has started a lobster-processing business in the former Great Eastern Mussel facility in Long Cove near Tenants Harbor. The first product was shipped at the end of August. Murdock rounded up a combination of public and private investment to capitalize his venture, Sea Hag Seafood, at over $2 million. The timing coincides with Governor LePage's call to action to process more lobster in state. Such capacity would have been useful during the lobster glut this year, when a lot of product died on the docks. We'll have to add Sea Hag to our revisit list for issues to come.
On the Squids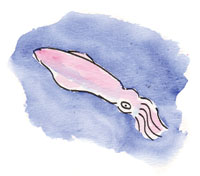 All illustrations by Ted Walsh
Members of my family once went through an interesting period when we all worked on variations of a vaguely Thai-flavored, fish and rice noodle soup and sent each other pictures snapped with our camera phones. The variants always included squid and translucent rice sticks. The squid was always frozen and never local. Depending on how close the camera lens was to the finished product the results either looked like food or like something that had been run over by a bulldozer. I've always known, however, that there is a great abundance of squid in Maine waters. I remember being on a boat in Bucks Harbor when I was 12 years old. When it was dark I shined a light into the depths and saw squid by the thousands. So I was interested to read in the Working Waterfront newspaper in early August that a seafood supplier in Port Clyde—Port Clyde Fresh Catch—had a rapidly developing market for fresh squid for local restaurants. I have occasionally found fresh squid at Hannaford supermarket and have enjoyed it in a variety of ways. I have even gotten reasonably adept at cleaning the little buggers and grossing out the grandchildren at the same time. Let's hope that, along with lobster processing, a market continues to develop for Maine squid. It freezes well and is a great protein value. Maybe one of the local charity cook-offs could have a squid category to test our local culinary wizards. I volunteer to judge. As Julia would say, "Bon Appétit!"
Sticky Fingers in Quebec
Staying in the foods-we-love vein, the
Bangor Daily News
tipped us off, during our Labor Day porch news review, about a massive heist of our regional nectar, maple syrup. In Quebec, numerous small thefts of product from individual producers over the years were resolved by establishing regional warehouses, where syrup is stored in bulk. Evidently there is a warehouse in St-Louis-de-Blandford, Quebec, that holds something like 10 million pounds of syrup. According to wiki.answers.com, 1 gallon of syrup weighs a little more than 11 pounds; some grades are even heavier. So let's say the Quebec warehouse contained the really sweet stuff at 12 pounds per gallon. That's over 830,000 gallons. Holy sugar rush, Batman. The syrup was stored in 45-gallon barrels, from which sticky-fingered thieves pumped or poured "millions" of dollars' worth into something else and slurped away into the night. On the porch we are guessing that the thieves are not a few local hooligans with sweet teeth. Police assume the syrup is headed for the black market, which we have renamed in this case the "Grade B Dark Amber" market. Picture this: on a dark night this fall, as the hip urbanites leave their watering holes in Portland's Old Port, a man in a trench coat slips from the shadows. Small glass bottles clink in his pockets. He says, "Keep your eyes straight ahead, put a ten spot in your left pocket for a pint of Grade A Light Amber, Fancy. Keep walking and do not look at my face. Bon Soir."
See You at Mile Zero
As our regular reader knows, I have a couple of porch rockers on another porch to the south, which is located very close to Mile Marker Zero on the Intracoastal Waterway. I expect to see some of the same vessels that we have been monitoring in Maine for nautical faux pas pass by on the way to warmer climes. Remember that the best way to winterize your boat is to take it south. We'll keep an eye out for you.
Just because you're out of view, Left Booth Bay to somewhere new, Don't forget other porches, where Our trained observers rock and stare.
We're a school for aging cranks Who rock and laugh, and offer thanks For all the boats that rumble past In Maine summers that cannot last.
So look for us on your way south When you sail in river's mouth There'll be someone on the jetty Feet up, binoculars at the ready.

Long-time
MBH&H
Contributing Editor Peter Bass is a freelance writer and raconteur who divides his time between porches in Maine and Virginia.
Click here to read other articles by Peter Bass »
To submit your comments... newsy tidbits, photos, illustrations, clippings, rants, and raves for possible use in this column, use the form below. Or mail to "View From the Porch," P.O. Box 566, Rockland, ME 04841 or fax to 207-593-0026. Items may be edited for length and clarity; materials become the property of Maine Boats, Homes & Harbors, Inc.
Share this article:
2023 Maine Boat & Home Show

Join Us for the Maine Boat & Home Show!
Art, Artisans, Food, Fun & Boats, Boats, Boats
August 11 - 13, 2023 | On the waterfront, Rockland, Maine
Click here to pre-order your tickets.
Show is produced by Maine Boats, Homes & Harbors magazine.