Morgan
An Elegant, Dependable, Beloved Holland 32
By Mike Perlis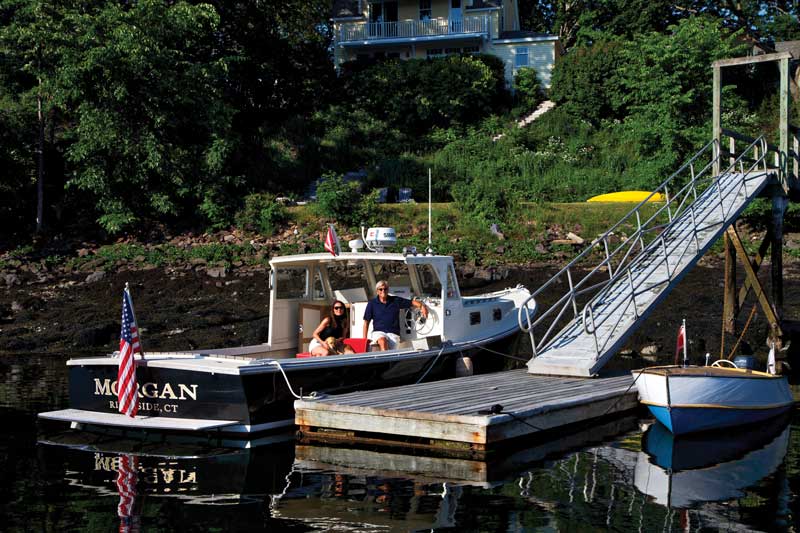 Mike and Missy Perlis and their dog, Rocket, relax on Morgan, at home in Camden, Maine. The Holland 32 is the perfect boat for cruising, as well as day trips. Photo by Alison Langley
Morgan began her trip to 25 Sea Street in Camden from Spencer Beal's (Uncle Bunk's) Jonesport barn in the fall of 2008. A Holland 32, she is named for our daughter Morgan.
When we purchased her, she was unfinished beyond power and basic operating equipment. Earle Brown, a friend from Lincolnville, and I ran her down the coast. The most memorable element of that adventure was when the stainless steering wheel became so hot we couldn't even touch it. One has to be very inventive to navigate in that condition, but that's another story (think mop handle). We were graciously welcomed at Morris Yachts in Bass Harbor, where we discovered that no transmission fluid had been added to the system! After a few laughs, the fix was simple—we added the fluid and we were on our way to Camden.
My wife Missy and I took a few trial runs—down to Rockport, over to Vinalhaven, up to Belfast. Among our great discoveries was the functionality of the open side of the starboard helm. What works so beautifully for a lobster fisherman and his trade, also makes the boat extremely maneuverable for docking, grabbing moorings, and all manner of single-handed boat operations. The Holland's high bow and 11.5' beam offer stable, if not always dry, dependable transit in just about any weather. Morgan is powered by a 355 Cummins diesel and cruises at 19-20, topping out at 26 KPH. I'm convinced that archeologists will find the boat in a thousand years and that Cummins will start, and run.
After a short fall season, we put Morgan on a truck down to boatbuilder Guy Polyblank's West Meadow Road barn in Rockland, Maine, to be finished off. Polyblank designed all of the important elements of what has become a beautiful, gussied up, version of this classic Glenn Holland-designed, downeast lobsterboat—more accurately a "lobster-yacht" when Polyblank was finished.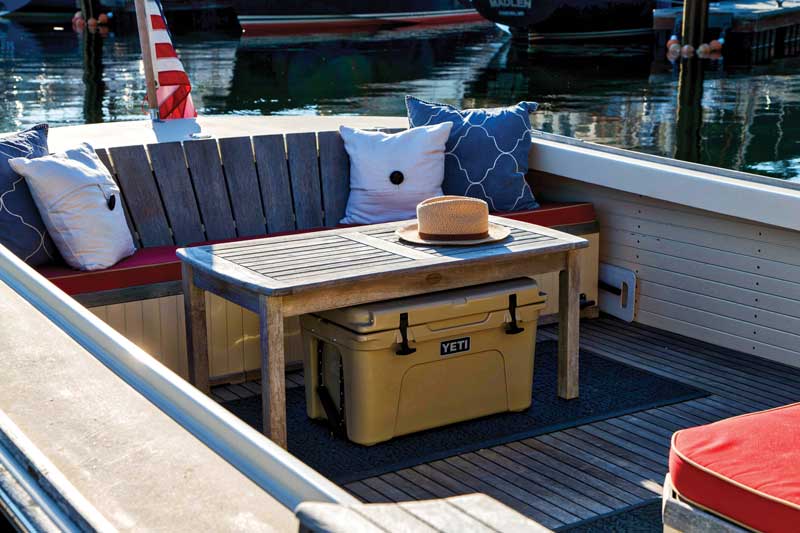 A custom-made teak bench provides a comfortable sitting area in the stern. Photo by Alison Langley
The only instruction we were firm on was no exterior varnish. We've had enough of that experience with previous boats to last the rest of our lives. Wonderful memories, but you get over it. So, Polyblank stuck with varnished mahogany only below in the "crash cave," which includes a V-berth, head, and a small galley area. Topside, he designed and built a beautiful unvarnished teak stern bench that is the center of a lot of outside space, which we wanted. Our bent is to be outside while on the boat. He complemented the bench with unfinished teak grab rails, rub rail, and so on. The final decision was to go with a teak sole throughout. It warms things up, and also suppresses some engine noise.
The boat work got pretty expensive (no big surprise), but it was worth it—Polyblank is a marine artist of the finest kind.
The second year we owned the boat, Mike King and a crew in yet another barn in Lincolnville Awlgripped the hull black, which we have never regretted. To avoid any confusion when out on the bay, we fly an American flag off the stern, which is a dead giveaway to the working boats that we're not lobstering.
Morgan has traveled a dozen times between Riverside Yacht Club in Connecticut and Camden (320 nautical miles). It's a great trip. We never plan where we're going to stay, never really knowing what the weather will be. We've stayed in so many beautiful harbors through the years. One favorite afternoon, we arrived in Biddeford Pool, just as the annual croquet championships were under way. We played and were way out of our league, but we did get invited to the annual end-of-summer cookout, where we did much better.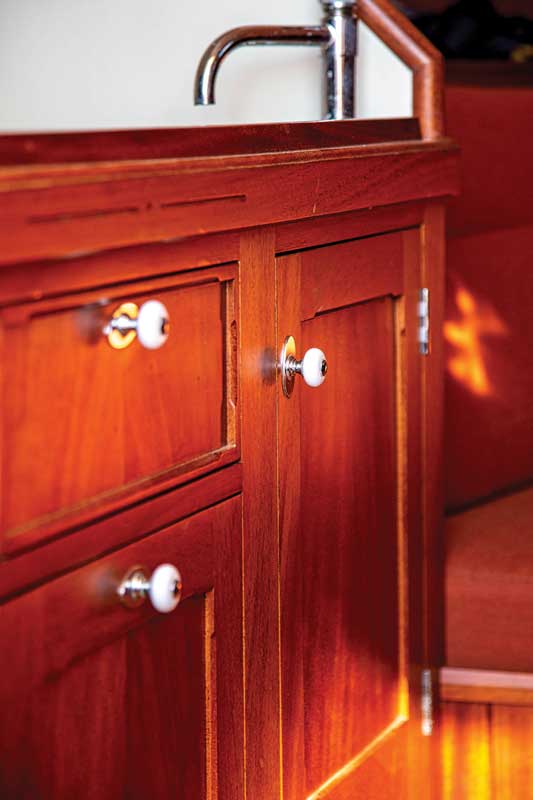 While Perlis requested no exterior varnish, down below is a different matter. The "crash cave" glows with varnished mahogany. Photo by Alison Langley
The farther south we go the more unique Morgan's Maine lobster looks become. We get a lot of wonderful compliments and interest down where boaters aren't used to seeing this very pleasing style of boat. We don't mention that you can't go a hundred yards without seeing one downeast.
When we are back in Maine, from her dock in the inner Harbor in Camden, Morgan watches the world go by. This year she was nestled in there in early April as the harbor's winter fleet was slowly joined by summer boats that came in fewer and later than usual. Sad to see the schooners remaining covered during the strange early summer days of 2020.
Camden is one of the most vibrant and busy harbors anywhere. The diversity of boats is extraordinary. There are certainly days when we wish we lived way out in the woods and never heard or saw a soul, but most days we couldn't be happier to sit with our binoculars on the porch, or jump in the boat and go out and see whatever new and exciting yacht has arrived. Morgan also likes to travel and is a regular in Castine, North Haven, Islesboro, Little Cranberry Island, and many more harbors along the coast.
We are quite spoiled; we also have a mooring out by Dillingham Point in Camden's outer harbor. Along with adventures around the bay, we like to take the Sunday paper, a glass of wine or a cup of joe and a meal out there and enjoy the peace and quiet of the outer harbor. Then at the end of the day, we return to our dock and Sea Street. Morgan shares the dock with Missy's boat Miss Penny, a twin cockpit 1957 Penn Yan. But, that's a story for another time.
Our harbor, Camden, our boat, Morgan. We are blessed. 
---
Mike Perlis is a media industry veteran. He is currently the Vice Chairman of Forbes Media and serves on a number of Boards. He lives in Camden, Maine and Old Greenwich, Connecticut with his wife, writer Missy Perlis.
Share this article:
Digital Edition Available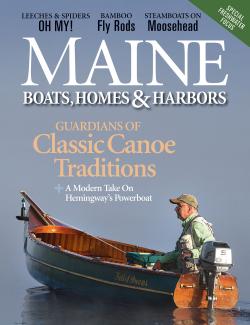 Can't get to the store to buy your magazine? We deliver the stories of Maine's coast right to your inbox. Sign up here for a digital edition.