Small Adventures: Belfast
The city's new harbor walk shows off a much-revitalized waterfront.
By Ben Ellison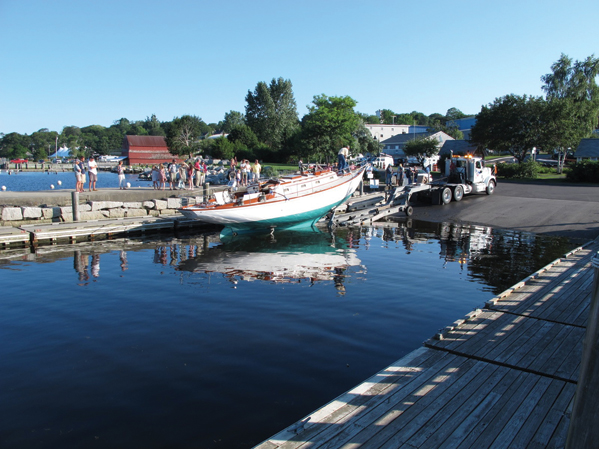 The Belfast Public Landing features a good launching ramp, as well as moorings and docks. Photograph by Ben Ellison
Belfast is like Baltimore, and I mean that in a bad-to-good way. Both harbor cities declined precipitously from their industrial heydays, then each took advantage of recovering from blight to re-envision the waterfront for boaters, marine businesses, and general populations that love to see both in action. Last fall I enjoyed strolling almost two miles around Baltimore's inner harbor without being hassled by motor vehicles. Belfast's brand new, mile-long Harbor Walk may be even more fun. Let's start with the first major landmark for the visiting boater: the big beige Belfast Boathouse (1), which once abutted the steamer wharf and now anchors the southwest end of the handsomely paved and landscaped Harbor Walk. This public facility and the wide grassy Belfast Common just beyond—formerly the site of abandoned poultry factories—are used for major events such as the Belfast Harbor Fest each August. Next along the waterfront is a private marina (2) which does not provide transient services. Then you reach the busy residents-only dinghy dock and Heritage Park (3), where you're apt to see some of the city's famous annual outdoor art exhibit. With luck you might also get a peek at the fine wooden boatbuilding under way at French & Webb Custom Boat Builders. The Belfast Public Landing (4) offers moorings, dockage, fuel, an excellent launching ramp, and abundant hospitality, largely thanks to more than 20 years of work by ace Harbormaster Katherine Pickering. When we spoke, she noted that many cruisers come back to Belfast for the excellent selection of fresh provisions available: both the Belfast Co-op and Chase's Daily are just up the Main Street hill near the city center (5). There are also numerous restaurants and bars of many styles (but no chains). Two particularly quirky eateries, Three Tides and the Pig Out BBQ (6), are right on the Harbor Walk. This area, known as Marshall Wharf, is also home to a brewery and tugboat dock. Just beyond, you can walk, possibly bug-eyed, through Belfast's latest bit of good fortune and wise civic planning: Front Street Shipyard. The new shipyard (7) now extends all the way from the former site of Belfast Boatyard to the recently rebuilt footbridge. Front Street has become a premier yacht-service facility and marina, and seems to fully embrace the mandated public way that runs its entire length. Their chandlery even sells ice cream. When you enjoy the section of Front Street's wharf that is a part of the Harbor Walk, you are on the site of a sardine packing factory that fell apart here for years. Finally you might want to walk, drive, or dinghy to Young's Lobster Pound (8), which offers much more than crustaceans while still permitting diners to bring their own beverages, appetizers, tablecloths, etc. It's also a great spot to admire all that Belfast Harbor has become.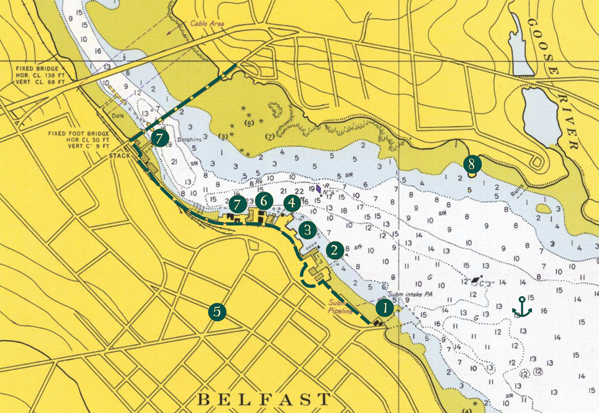 Chartlet based on former NOAA Chart 208, 1:10,000 scale 1973 (no longer published). Edited by Ben Ellison.

Please e-mail Ben (
gizmo@panbo.com
) about restaurants, parks, and the like that he can visit aboard the M/V Gizmo.
Share this article:
Digital Edition Available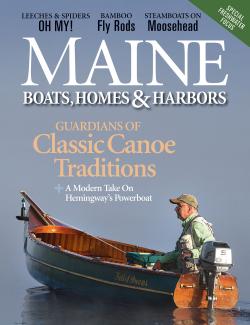 Can't get to the store to buy your magazine? We deliver the stories of Maine's coast right to your inbox. Sign up here for a digital edition.