Lyman-Morse: Peregrine
New Monhegan 42 proves how far jetboats have come—and how far they can go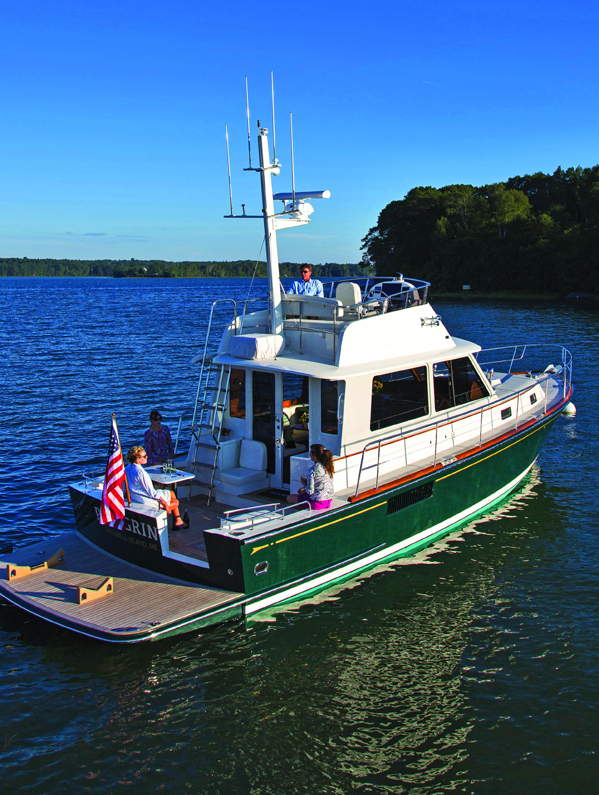 The owners of
Peregrine
knew exactly what they wanted when they hired Lyman-Morse to build their 42-foot custom flybridge jetboat: jet drives to avoid tangling with lobster buoys and a simple and elegant layout. The husband-and-wife owners plan to cruise the Maine coast on their new poweryacht. Photographs by Billy Black courtesy Lyman-Morse
By Joshua F. Moore Test drives are funny things. Whether you're looking at a new Audi or a new yacht, you can only learn so much by looking for oil stains or taking a few spins around the block or harbor. At the end of the day, heading out on your first trip means taking a leap of faith. That, in retrospect, is precisely what I did when I agreed to help deliver
Peregrine
, Lyman-Morse Boatbuilding Company's new 42' flybridge jetboat, from Newport, Rhode Island, to the boatbuilder's dock in Thomaston, Maine. Sure, I'd cozied up to the twin Caterpillar C9 ACERT 567-horsepower diesels underneath
Peregrine
's mahogany-paneled main salon, examined the seacocks feeding the engines' cooling system, and checked the Blue Arrow steering controls. I'd seen the dual Furuno GPS/radar displays at the helm station. But in the end I knew that I was rolling the dice by heading into Rhode Island Sound, Buzzards Bay, and straight across the Gulf of Maine in a brand-new, largely unproven yacht.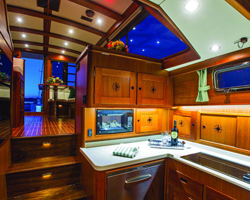 Mahogany and interior space are both plentiful. Compass roses decorate the galley cabinetry.
Oh, and I was aiming to do the entire 200-mile trip in 10 hours or less. And yet, like a new jacket that fits so well you have to wear it out of the store,
Peregrine
reassured me before I'd even left the confines of Narragansett Bay. A tight squeeze between the yachts at Bannister's Wharf was stress-free, thanks to the Blue Arrow "Mouseboat" control that makes docking literally as simple as using a computer mouse. Once clear, the flybridge was the ideal perch from which to steer clear of Newport's megayacht fleet, with the AIS-integrated Furuno chartplotter telling us exactly which yachts we were slipping past. (A better communication system between the flybridge and interior helm station might be a nice addition, if only to let the barista belowdecks know which blend of espresso to brew!)
Peregrine
features one stateroom since the owners plan to cruise solo.
The real test, though, came when we hit the forecasted 3-4-foot swells, and again
Peregrine
showed me how Lyman-Morse's bluewater background comes through in yachts like the Monhegan 42, of which
Peregrine
is Hull No. 1. The combination of C. Raymond Hunt's trademark deep-V hull with integral chines and lift strips easily lifted
Peregrine
's 26,500-pound displacement through the swells at speeds up to 30 knots (top speed is 34 knots). Transitioning from the flybridge—in such conditions and speeds, even 10 feet above the waves can be a wet and wild ride—was as simple as sliding the Freeman Marine custom French door closed and dogging it down.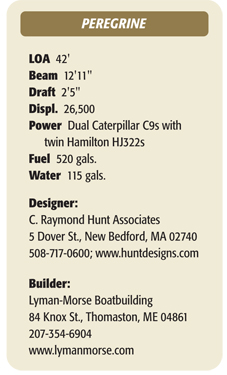 Inside, I might as well have entered another world. The combination of a high-density stringer system, Metalastik engine mounts, and strategically placed sound-deadening tiles has minimized structure-borne sound and created an interior devoid of the roar, pounding, and banging that might be expected in such conditions. Whether you're sitting in the helmsperson's bench seat, or the passenger's seat, cruising at full speed is almost as comfortable as puttering about the harbor. Farther below, crew comfort continues if you find yourself working in the galley, where the owner's wife insisted that a portion of the overhead be removed during the design process to allow full communication with the helmsman. The massive forepeak allows easy access on both sides of the double berth, and even the head was usable when under way at full speed. During my delivery, a refueling stop in Sandwich at the east end of the Cape Cod Canal proved to be another exercise in painless docking, although with a 520-gallon capacity the accompanying fuel bill might still lead to some perspiration. Only three hours after leaving Newport, I already had complete confidence in
Peregrine
's ability to deliver me safely across the Gulf of Maine. For the following 150 deep-sea miles and six hours—yes, that's maintaining an average of 25 knots across what can be a rough stretch of water—the boat did precisely that, even letting me negotiate the Muscongus Bay minefield of lobsterpots as if I were steering a center-console fishing boat. (Such antics are completely unnecessary, as
Peregrine
's jet drives allow her to pass over lobsterpots without snagging them.) In the end, every new boat purchase requires a certain amount of faith. With
Peregrine
, Lyman-Morse delivers it. Joshua F. Moore is a licensed captain and author whose work has appeared in many publications including
WoodenBoat
and
Down East
. He currently is vice president of USHarbors, a digital coastal guide for boaters and other coastal travelers. Credit: Video by Billy Black
Slide show
: Plentiful mahogany, ample interior space, and jet drive technology are among
Peregrine
's distinguishing features. Photos by Billy Black