A Letter From Home - A Letter From Away
Bird-watching, history lessons, and more on a tall ship on the Black Sea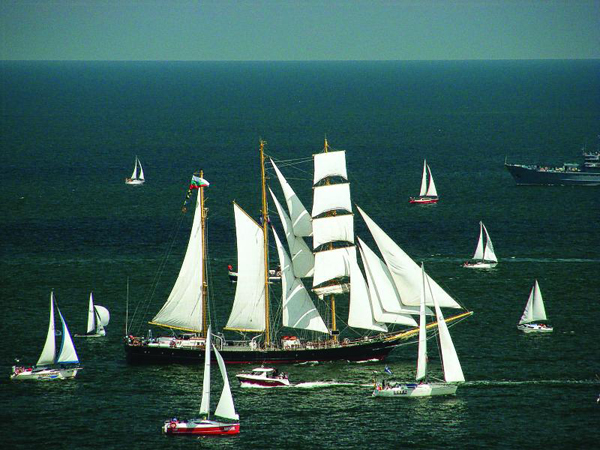 Photo by Bulgarian Maritime Training Center A barkentine has three masts, but only the foremast is square-rigged. The advantages of a smaller crew, good performance before the wind and the ability to sail relatively close to the wind while carrying plenty of cargo made it a popular rig at the end of the 19th century.
By Alice Greenway
Politics as ever drew in our small group as we sat on a balcony overlooking the Bosphorus, planning our part in the first-ever Black Sea Tall Ships' Regatta. Russia had recently annexed Crimea. Eastern Ukraine was in turmoil.
Were we sailing into a not-so-cold war? In mid-May, undeterred by these concerns, we found ourselves lugging our gear down a concrete, runway-like pier in the Russian Black Sea port of Sochi. We were looking for the Bulgarian flagged Kaliakra—a steel-hulled, three-masted barkentine, built in 1984 in Gdansk, Poland, the same shipyard where Lech Walesa launched the Solidarity Movement. Kaliakra, and her sistership, Royal Helena, are both 170 feet long, but they looked toy-like when we found them, berthed as they were between the massive 385-foot Sedov from Murmansk and the 305-foot, white-and-yellow Romanian Navy ship Mircea.
We had enlisted to sail 500 miles west across the Black Sea to Constanta, Romania, in the regatta's second race. Our shipmates included 25 Bulgarian maritime high school students, 2 Bulgarian teachers, and 12 Bulgarian seamen. Our own small group traveling from Istanbul, was led by a boat historian and sailor, Gencer Emiroglu. It included an Ottoman historian from Britain, a Turkish interior designer, a British book conservator and her nephew; an environmental lawyer and his wife, Heleny Cook, a teacher and community organizer originally from Skowhegan, Maine; and myself, a writer.
Kaliakra's 28-year-old captain, Delyan Radev, spritely and hawk-eyed with a mop of dark hair, joined us for lunch below decks. In Varna, Bulgaria, he studied freight and cargo shipping, then began his sail-training on Kaliakra.
"I started out here and I loved it," he declared. Above him, an icon of St. Nicholas, one of the patron saints of sailors, hung next to a porthole. We could hear the soft crooning of French pop music coming from the galley, one of the cook's favored CDs. Radev had crewed on three other tall ships, sailed from Liverpool to Bergen in Norway, crossed the Atlantic twice, and last winter qualified as a Master Mariner. This was his first voyage as captain. Bulgaria is one of the poorest countries in Europe.
Opportunities to captain a vessel like this are hard to come by, said Mitko Metodiev, shaking his head and puffing on a cigarette. A big man with a white-tipped walrus mustache, Metodiev was co-teaching the students on Kaliakra. For many of them, this was their first time away from home. Metodiev had commanded an anti-submarine ship in Bulgaria's navy and looked after the defense systems on the country's four submarines. That was 40 years ago. Metodiev shrugged as he told me that now Bulgaria doesn't have any submarines.
Day One: Early afternoon, all hands were busy raising—or, in the case of square sails, lowering—our 17 sails. The crew climbed the foremast to secure staysail sheets, then scrambled to the end of the bowsprit to check the cleats. Kaliakra is rigged with square sails on the foremast, a gaff-rigged main, and a Bermudan mizzen. As Radev put it "she has the whole history of sail on her." Besides Sedov, Mircea, and Royal Helena, our Class A competitors were two 354-foot Russian sisterships named Mir and Nedezhda: "Peace" and "Hope," as well as a host of smaller boats. Class B competitors included the sleek, white, 144-foot, Romanian staysail schooner, Adornate; the 115-foot Turkish gullet Bodrum; the tub-like 89-foot British topsail schooner Johanna Lucretia; and the 105-foot Spanish schooner Atyla. The Class C boats looked positively tiny—two 43-foot sloops, the Russian Akela and the Bulgarian Sea Adventure, the latter crewed by students from Finland.
Three and a half minutes after the starting horn, Kaliakra crossed the line in third place. We rapidly lost sight of the other ships; Captain Radev steered a distinctly southerly route while the other boats headed west. "The big Russian ships and their Navy crews are more experienced. If you take the same route, you have no chance of winning," he explained. After a spectacular start in the regatta's first race, Kaliakra had been becalmed in the lee of Crimea. Radev was determined not to repeat the experience.

Photos by Alice Greenway (3) (Left)
Kaliakra
's captain, Delyan Radev checking weather reports. (Middle) Maritime high school students with their teacher Mitko Metodiev. (Right) Square rigger sails are lowered rather than raised when the vessel sets sail.
Day Two: At 4 a.m., we were making close to 10 knots; the wind was blowing 15 knots. In the dark, a small bird sheltered in the bridge, perching on a wire. By daybreak, we had sailed into a flock of warblers. They perched on ropes and bollards and hopped along the deck, chasing a multitude of small orange butterflies. I also noted ruddy-faced swallows, collared doves, and small wrens. A little bittern clutched a shroud. It flew off, then reappeared on a line leading to the bowsprit with a warbler in its beak, uncertain what to do with it. Cannibalism at sea? A significant drop in the wind allowed the birds a rest, but was less fortuitous for Kaliakra.
We were making just two knots. We tacked northward, where the other boats reported better wind. Radev poured an offering of vodka into the sea, after taking a small swig himself. At lunch, Caroline Finkel, our historian, produced copies of the Black Sea adventures of Evliya Celebi, the great 17th-century Ottoman traveler, which we lustily read aloud. The account of his shipwreck in a storm off Crimea almost made us grateful for the lack of wind.
"We were tossed about in a whirlpool of grief," Evliya wrote, in waves so high "the ship's mast touch(ed) the clouds," before sinking again "as though to the depths of hell." The crew heaved cargo overboard—"sacks of wool, reed mats, barrels of pickled fish, ship's timbers"—and shut 200 captives in the hold before the ship foundered. Evliya spent four days and nights in the water, whirling round in a lifeboat and then clinging to a plank, before he was washed up under the cliffs of Kaliakra—the same headland for which our boat was named.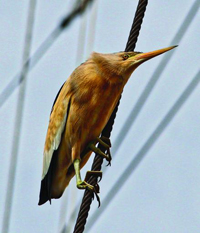 A bittern visits the ship. Photo by Gencer Emiroglu
By dinner, either Radev's vodka or our summoning of Evliya had taken effect. The wind was back up to 15 knots. Crewmembers climbed the yardarms to secure sails and rigged safety lines from the bridge to the bow. The portholes of the leeward cabins were submerged. At dinner, former anti-sub commander Metodiev taught us the trick of keeping our plates level by balancing them on bananas.
Day Three: Officer of the Watch Valeriy Petrov marked our position on the chart. We were 130 nautical miles from Sochi, a quarter of the way to Constanta, aiming for a mid-race waypoint 20 miles south of Crimea.
The Black Sea is kidney-shaped, with the Crimean Peninsula sticking down in the middle like a big thumbprint. The chart showed Crimea as still being a part of Ukraine. The Bosphorus strait appeared as a thin trickle in the southwest.
Petrov had captained a touring sailboat in Varna on the Bulgarian coast. He'd worked oil tankers on the Black Sea and cargo ships in the Congo and spent his first 10 years in Donetsk (Ukraine), now the center of rebellion against the government in Kiev. "I lived 10 years in Russia," he said, reminding me that Ukraine was a Soviet Republic until 1991. "My grandmother is Russian." Did he side with the separatists? "It's a difficult situation." In an adjoining room, a computer accessed the new AIS program (Automatic Identification System).
By clicking on the icons of nearby boats, Petrov could instantly see the type of vessel, its size, position, destination, speed, course, and range. "The AIS system was required after 9/11, first in planes then in ships," Chief Officer Ognyan Savov explained. "One of the drawbacks is that it can also be used by pirates."
Weather reports arrived by e-mail twice a day. The latest showed the winds on the eastern half of the Black Sea backing from northeast to northwest. Small circles in the northeast marked a windless hole. Our wind was now northwesterly at a mediocre 7 knots. Radev made small adjustments to the sails and had us reef the mizzen to reduce pull on the rudder. The maritime students were busy with celestial navigation. They produced beautiful star maps and pored over complex equations. As evening fell, they emerged on deck for a lesson in the use of the sextant. We saw the Big Dipper, the North Star, the binary star Sirius, and Mars.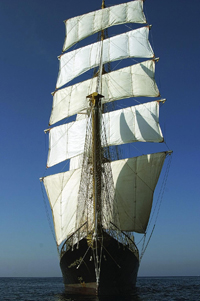 A three-masted steel barkentine,
Kaliakra
was built in Gdansk, Poland in 1984 at the same shipyard where Lech Walesa launched the Solidarity movement. Photo by Bulgarian Maritime Training Center
Day Four: "Did you know that the Black Sea is full of explosive gas?" able seaman Damyan Georgiev asked. He explained how below 500 or 600 feet, the Black Sea is starved of oxygen and replete with an explosive gas. The huge volume of nutrients rushing down Europe's rivers, particularly the Danube, overwhelms bacteria that usually break down organic matter using oxygen in the seawater. Faced with insufficient oxygen, the bacteria strip it from sulfide ions, creating one of the world's deadliest gasses, hydrogen sulfide.
"We are sailing across a highly explosive substance," Georgiev said. It seemed to cheer him up. Cheering up was needed. The morning report showed the small yachts Akela and Sea Adventure three quarters of the way to Constanta, with the tall ships Nadezhda, Mir, and Royal Helena approaching the halfway point in a 15-knot wind. We were a full day's sailing behind, and our wind at dawn a mere 5 knots and dropping. Captain Radev was visibly dispirited.
In the mess room, a young cadet groused as he wiped down the tables. "I'm surrounded by idiots," he said. Only the cook in his white shirt and checked apron remained serene, preparing cheese borek for breakfast, mackerel for lunch. His choice of music this morning: Bulgarian folk. "I told you we decided to go south. Now the boats are divided into two groups, I can say we are in front of the second group," Radev said gamely, tying his hammock up on deck after lunch. At least Sedov and Mircea were behind us.
"People say there is local knowledge, but it is my experience that it is always changing (on the Black Sea.)" Or as Savov diplomatically put it: "Our course is good but there is no wind." The sun was glorious. We took lessons in tying monkey's fists and used harnesses to climb the rigging. Ordinary seaman Valentine Petrov scooped a bucket of water to splash in. It was surprisingly warm. In this placid oily sea, dolphins could be seen miles off, making their daily beeline for the boat. Below decks, my roommate Deni found time to repaint her nails orange. At 17, she was the only girl among the cadets. Her father, who died when she was too young to remember him, was in Bulgaria's merchant marine. Deni kept up feminine standards with two hair straighteners, several colors of fingernail polish, and shiny black boots, yet she wanted to follow her father to sea. Like the other students, she had a mobile phone and dozens of packets of cigarettes that she had bought in Sochi. She had a novel by the classic Bulgarian writer Ivan Vazov, who wrote of his country's suffering under the Ottomans.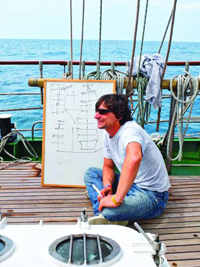 Captain Radev gives a lesson on different tall-ship sailing rigs. Photo by Alice Greenway
Day Five: The rumor became official. The race was to end 24 hours early, at 3 a.m., to give all boats time to motor to Constanta for finishing ceremonies. The Russian yacht Akela had reached Constanta. Soon we saw the misty outline of Crimea appear over our starboard bow.
At 7:30 p.m., Radev announced we were passing the waypoint. We celebrated by throwing a message in a bottle overboard, written by school children in Varna, and blowing an air horn.
Days Six and Seven: At 3 a.m., we were half woken by the clatter of sails coming down and the chug of the engine. We spent the day ignominiously motoring. By 6 a.m. the next day, a pilot had come on board to navigate us past the man-made breakwater at Constanta into the busy port, filled with container, freight and Navy ships. We passed piers piled with coal, timber, and scrap metal, and motored our way around squat lighthouses, tugs, and cranes.
In town and at the duty-free store on the pier, we brought wines labeled Dracula, cakes and dried fruit, and candles. It was Radev's birthday and we sang sea shanties, including one about Greenland where he was heading next. It wasn't easy for him to keep explaining why Kaliakra had placed fourth, when her sister ship Royal Helena had beaten both Nadezdha and Mir on corrected time. But the cruise's effect on a few students also helped soften the blow.
"At first most of the kids were not interested (in sailing). But now some are beginning to be," Radev said. "Sailing in Varna is for rich kids, it's not accessible. They didn't know this kind of work existed. One asked me today, 'How can I get a job like this?'" News of the outside world was beginning to trickle in as cell phones connected. Russia had not sent troops into Ukraine, yet. We'd seen tankers heading for Mariupol and Novorossiysk and an oil rig off the southern coast of Ukraine, but the only warships we'd seen were here, safely berthed at Constanta.
The Bulgarians were worrying about home and jobs. "It's a beautiful country, with beaches and mountains, but there is no industry," the cook Toni Angelov said. "There are few jobs for young people." Maybe Kaliakra held an answer for some. "In my life I have never had a problem getting a job on a ship like this, which means there must be a demand," Radev said. North Haven, Maine, summer resident Alice Greenway's most recent novel is The Bird Skinner (Grove Press). She spent four months in Turkey after finishing the book.