Toroa
Designed for Fast Cruising
By Art Paine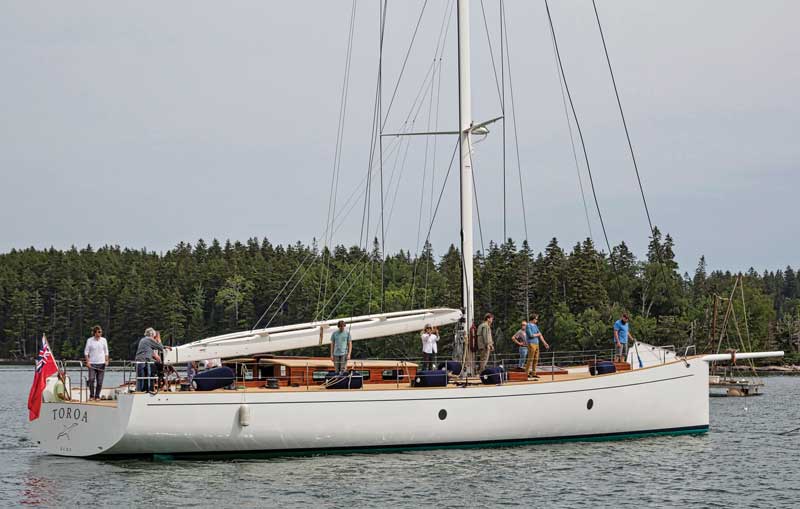 Launched in early July in Brooklin, Toroa was headed for Newport, Rhode Island, and then the Caribbean, where her owners planned to sail her this winter. Photo by Billy Black
One of the more intriguing sailing yachts built this year in Maine is the newly launched 72-footer Toroa. As interesting as any other fact about her is that she was built in Maine, mostly out of carbon fiber, epoxy, and rigid foam, by Brooklin Boat Yard, a company that built its reputation on classic wooden boats. 
Designed by Spain's Botin Partners and launched last summer, Toroa will be based in Europe, but her owners plan to cruise in New England, the Caribbean, and the Pacific. The extremely high-tech vessel is designed to go fast, but also features comfortable accommodations and cruising amenities.
Just three boatbuilding companies in the world were selected to bid on construction, according to Brooklin Boat Yard owner Steve White; one in Europe, one in New Zealand, and his yard in Brooklin, Maine. The choice to build in Maine made perfect sense early in the process, when the yacht was scheduled to be built out of wood veneers inside and out, over a foam core. BBY had just completed Frank Gehry's varnished architectural tour-de-force Foggy, using identical methodology. When Toroa's designers arrived to evaluate the yard, they took Foggy as evidence that here in Maine was a company that could accomplish the near impossible. But after a contract was signed, the decision was made to switch from using mostly wood in the hull construction, in favor of more carbon and the strongest kind of epoxy resin, which has to be "post-cured" by heat in order to reach full strength.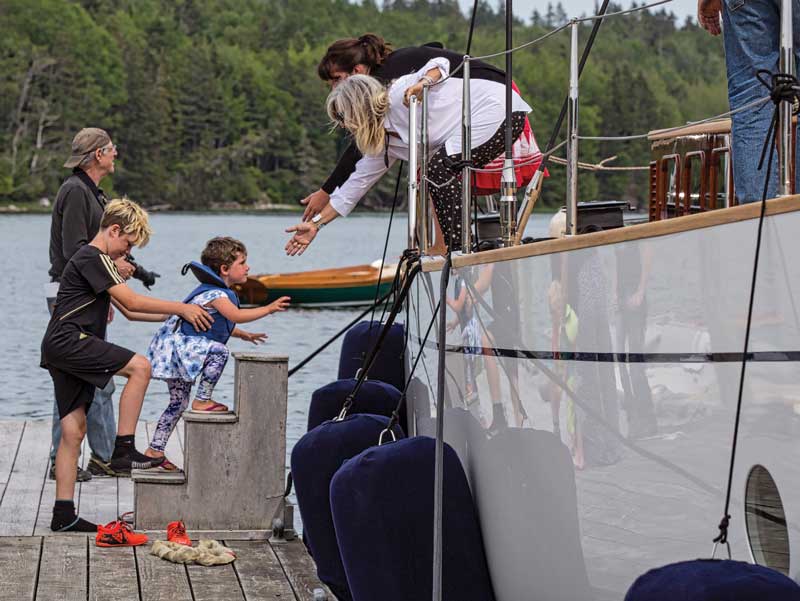 Guests, both young and old, had a chance to tour Toroa last summer after the hi-tech cruiser was launched at Brooklin Boat Yard. Photo by Billy Black
I used the word intriguing for this project because the expanded capabilities of this once-humble boatshop are mind-bending. This was the first complete hull that Brooklin Boat Yard built using above-room-temperature, thermo-setting resin. A few other yards in Maine have built small boats in tight buildings that can be overheated; two have specially constructed oven rooms specifically for post-curing. 
BBY had neither, but... no problem. White and his talented chums invented a large insulated blanket heated with hot water running through a matrix of tubes. The blanket could be draped over the hull, and concentrated heat exactly where it was needed, while the work crew monitored the process with—pardon the pun—no sweat. White admitted his gizmo might be patentable, but evidently he prefers to earn his daily bread by building boats.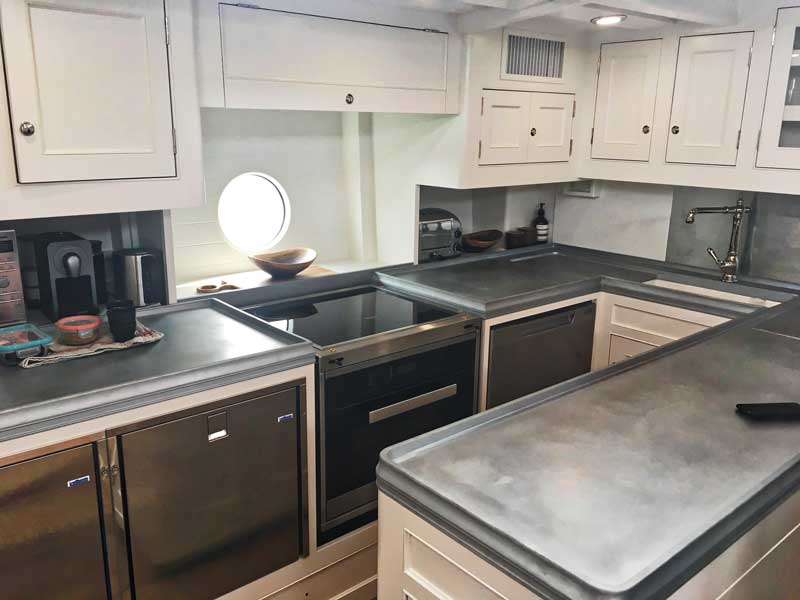 The elegant galley features cast pewter countertops. Wallace Interiors of Trenton designed the living quarters, which feature clean white paint and soothing earth tones. Photos by Polly Saltonstall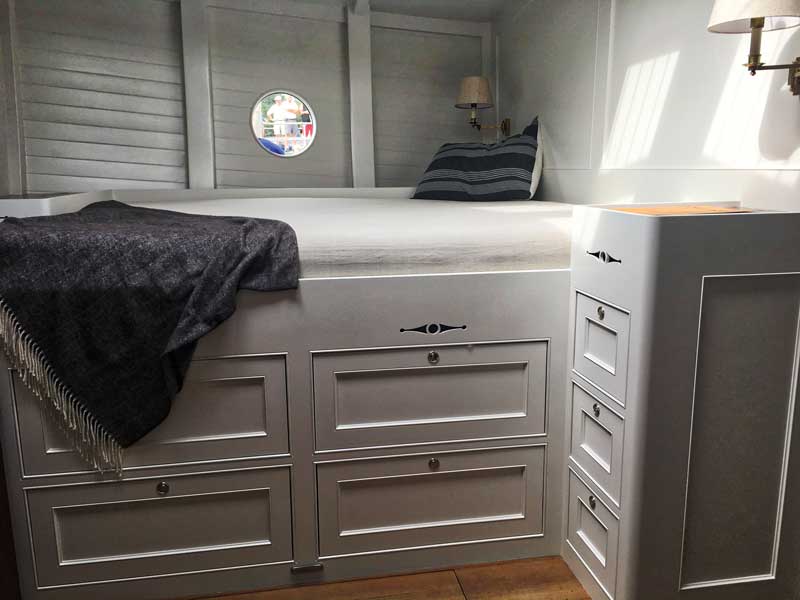 The boat, designed by Botin Partners for open-ocean cruising at the highest possible speed, is an engineering marvel. In addition to America's Cup challengers, the Spanish company has designed many of the fantastic ocean racers that we sailing anarchists delight in watching on YouTube—boats with canting keels and huge asymmetrical reaching sails and, in the very latest incarnation, hull-flying hydrofoils.
There was a time, not so long ago, when yacht designers could configure a new boat using previous experience, mechanical instinct, scantlings rules of their own invention, rules from insurance companies and classification societies, and confidence in boatyards that guaranteed their product would be well built. Those protocols worked fine when ocean yachts only smashed across the bounding main at speeds long believed incapable of exceeding 1.34 times the square root of their waterline length. 
But "box-rule" racers designed by the likes of Botin Partners have overwhelmed that old wave-making barrier, to the point where they commonly go faster than the speed of the wind driving them, with the boats sometimes reaching 20 to 30 miles an hour. At sea, this means that they repeatedly fly through a drenching cloud of their own spray and, more to the point, they crunch down on waves with shock loads that scream for accurate and difficult computation.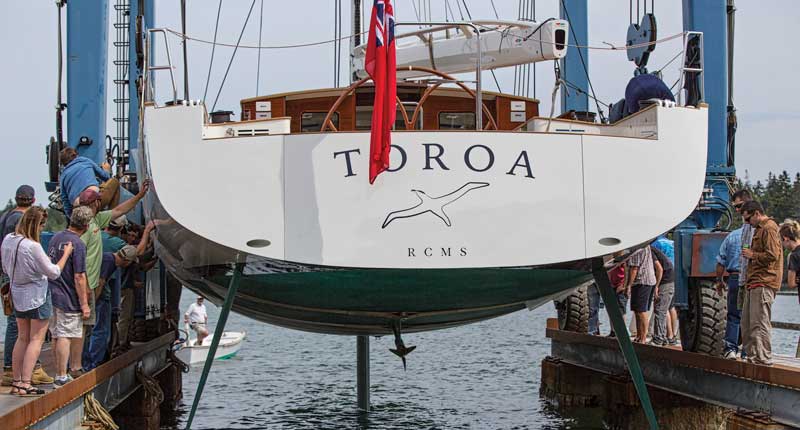 At about 20 feet wide, Toroa was just inches narrower than the launching bay at Brooklin Boat Yard. As she was lowered into the water, the anxious work crew had blankets on hand to protect the hull just in case it made contact with anything other than the water. Photos by Billy Black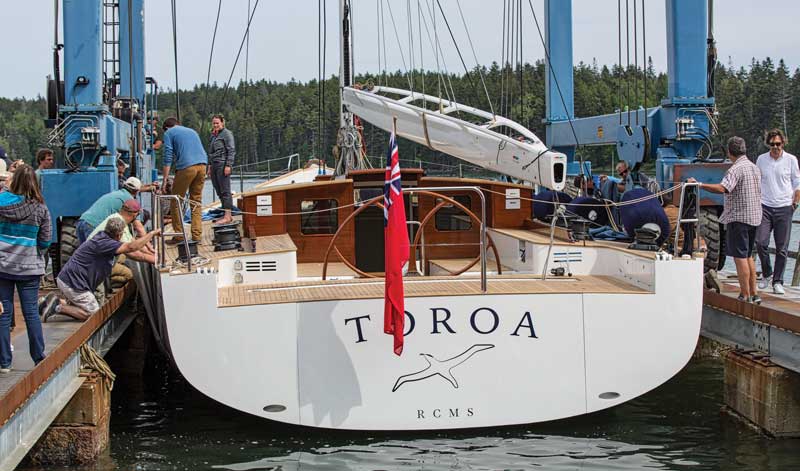 The goal of all this engineering for speed is light weight, great stability, and extreme strength. This hull doesn't use a canting keel, which moves a ballast bulb up to windward. It gets extra stability by virtue of a 15-foot 15,000 pound lifting T-bulb keel and twin rudders. (When the boat comes back on-soundings, the keel can be raised using hydraulics to a mere nine feet.) There is also water ballast. A total of 1,100 liters of water, most of it scooped up out of the ocean, some of it in the fresh water tanks, can be pumped sideways to tanks in the windward bilges. In the world of fast sailing, providing that nothing structural fails, stability equals speed.
There is so much physical loading of the many parts and pieces in Toroa that nothing is left to chance. When workmen drilled a hole for a wire or a hose, they often found that the engineers had specified extra reinforcement to account for that. The carbon-fiber bowsprit, which is expected to account for the strain of multiple thousands of square feet of sail, weighed in at only 45 pounds. Granted, a Nitronic steel bobstay will take the major vertical load.  
While the systems are complex, the owners wanted a boat that did not require a huge crew. The vast spread of sail with tons of pulling force will be tended by a small complement of humans. This is accomplished by hydraulics. Hydraulic winches control the sail trim, while hydraulic rams provide the power to raise and lower the keel, move the traveler, and adjust the backstays and boom vang. Toroa's hydraulics, custom-built by the Italian firm Cariboni, feature an unusual configuration. A relatively small diesel donkey engine, rather than the ship's batteries, drives the hydraulic pump. This engine will need to be running whenever sails need to be trimmed or the mast tune adjusted. 
Building Toroa involved many subcontractors. The carbon rudder was built by  North Shore Composites of Bristol, Rhode Island; the deck, from Teakdecking Systems in Sarasota, Florida, was installed by Larry Murray of Teakdecking Services in Union, Maine. Addaero Aerospace Manufacturing in New Britain, Connecticut, fabricated the titanium deck fittings, and the carbon bowsprit and anchor arm were built by Steve Hassett at Bath, Maine-based Custom Composite Technologies. The spars were imported from Southern Spars of New Zealand. The boat's luxurious interior was by Wallace Interiors of Trenton, Maine. La Bastille of Savanna, Georgia, cast the custom pewter countertops in the galley.
All the parts came together in a vessel that reveals a remarkable amount of owner-defined customization. For example, extremely commodious cockpit storage lockers were designed to accommodate surfers' longboards, plus Scuba equipment and much more.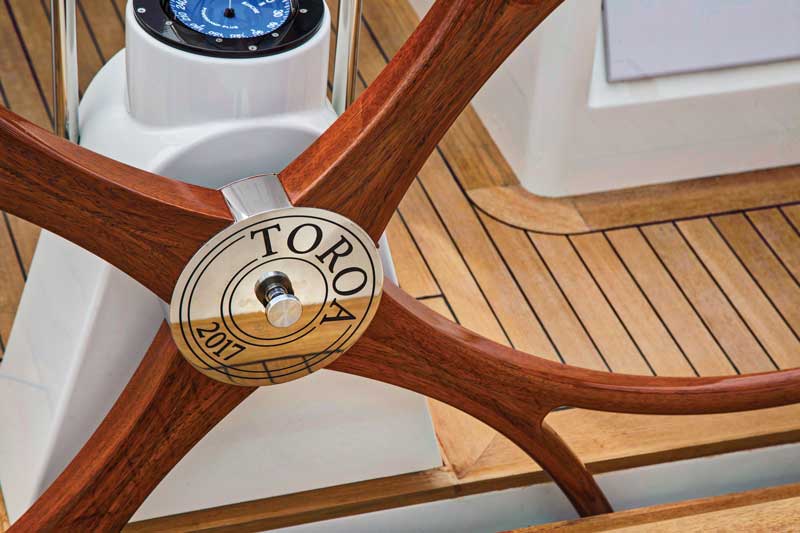 Deck fittings on Toroa were made using a 3D printer, technology that is sure to see increasing use in the boatbuilding world. Photo by Billy Black
Beyond just performance, any yacht must meet the highest aesthetic standard, which Toroa surely does. While featuring the vertical stem and stern of a speed racer, the boat has a distinctive look overall. The cabin, coamings, and cap rails are fashioned from Sipo, one of the many African mahoganies, and feature top-of-the-line workmanship. Spacious accommodations below feature white-painted bulkheads and mahogany trim. In an unusual touch, the galley countertops are pewter. The navigation station is at deck level, but is open to the galley below, allowing both good views of the surrounding seas as well as the action inside.
If you ignore the carbon fiber boom and space-age attributes like black carbon standing rigging on the 92-foot tall mast, the boat reads as somewhat classical. I loved the extra bow sheer and round portholes in the topsides. To my eye at least, it evokes a Cornwall pilot sloop and I don't doubt for a minute that this was intentional. Maybe someday the owners will elect to earmark a couple of weeks to blast across to that region's Falmouth Classics Regatta and reign in majesty over the fleet. Toroa would not be in the slightest out of place.
---
Contributing Author Art Paine is a boat designer, fine artist, freelance writer, aesthete, and photographer who lives in Bernard, Maine.
Share this article:
2023 Maine Boat & Home Show

Join Us for the Maine Boat & Home Show!
Art, Artisans, Food, Fun & Boats, Boats, Boats
August 11 - 13, 2023 | On the waterfront, Rockland, Maine
Click here to pre-order your tickets.
Show is produced by Maine Boats, Homes & Harbors magazine.