Letters to the Editor - Issue 132
Issue 132
A youth full of adventure
It was nice to see your editorial (
MBH&H Boat Show Issue 2014
) about 13-year-olds and Whalers. I was about 10 when Dad started building the first Whalers, and it wasn't long before I was pretty much living in one. I have many fine memories of bouncing around outside Cohasset Harbor, Massachusetts, back in those good old days. We had lots of adventures, many of which you wouldn't want your kids attempting anytime soon! Some of my favorites were steaming several miles out into Massachusetts Bay to watch whales and tuna (and this in a 13-footer), or taking a few friends out to Minot's Light where we climbed the stairs to jump from a height of 40 feet into the waves. We fished, water-skied, jumped 10-foot waves, boated to the Cape and to Boston. When the 16-footer and later the 21-foot Outrage came along our adventures became even grander. We still own and regularly use my father's 1973 Outrage. The best times, though, were those early days. We did some hard riding, but we always came home safe and happy.
Dick Fisher, Jr.
Prospect Harbor, ME
A plant with an afterlife
In her fascinating article on mullein and its uses (
MBH&H June/July Issue 2014
), Lynette Walther neglected to mention the plant's especially useful afterlife as a splendid walking stick—light, supple, and strong. This photo shows two mullein stalks that have served this noble purpose on North Haven for more than half a century.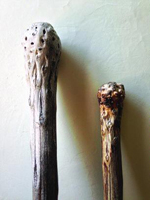 Henry N. Cobb
North Haven, ME
and New York, NY
A love of Ray Hunt
I've been wanting to thank you for your fine "Off the Drawing Board" article in the July issue of
MBH&H
. I've always been a fan of Ray Hunt and the boats coming from his firm—including my old 17-foot Whaler. Hunt has always had "the eye" when it comes to exquisite form. But, mostly, I have to thank you for clearing up a mystery having to do with that lovely boat named
Buffalo Soldier
. I've wondered just who belonged to that boat, and what its history might be. I was visiting Camden (Maine) during June last year, and there, sitting in a slip in the harbor, was one of those rare boats that one falls in love with at first sight. It was
Buffalo Soldier
. Needless to say, I found my way down onto the dock, where I took several photos, and then just stood there, savoring the image of what I, too, have to call a "nearly ideal" small boat. I knew it was either a Ray Hunt design or a remarkable copy. Speculating on the design—yes, I'd make a few minor changes: an integrated forward hatch of some sort so as to reach lines on the bow in rough water without having to climb over the cabin; an outboard rather than an outdrive; fiberglass for the build, but with plenty of wood trim here and there. But would I take the boat as is and be content? You bet. The further mystery is how designers of past decades managed to create designs, as Hunt did here, that are not only timeless, but more graceful, more balanced, and more filled with character than almost anything I see being produced today. Even the new Hunt boats, which I lust after each time I see them, can't quite match the simple, strong, and gentle beauty I can see in the design of
Buffalo Soldier
. For me in this blustery, too-often rainy Northwest climate, that boat would be absolutely perfect. That blend of a large cockpit (great for bringing along a gaggle of friends), a cuddy cabin, and full weather protection couldn't be better for a small boat. Finding something like Buffalo Soldier might actually convince me to give up my Whaler. If we can just convince Hunt to reproduce that boat with today's technology…. Many thanks for the article and the photos. That leaves me with just one more mystery: who actually owns that lovely thing?
Bob Raynor
Tulalip, WA
John Hanson answers the question:
Many thanks for the kind note. I have owned this terrific little boat for the last 30 years. It is, indeed, a Ray Hunt design. The model was the Hunter 22, which was built in wood by various builders in southern New England, mine by Allan Vaitses. It is a wonderful boat and we use it to commute across Penobscot Bay. It has gotten us through some gnarly stuff.
A possibly fatal error
I was enjoying Peter Spectre's article (Postcard in Time,
MBH&H Boat Show Issue
), particularly the description of his English teacher, Mr. Joseph Smart. Smart reminded me of my own English teacher, Mr. George Squires, who was cut from the same cloth. However, my enjoyment turned to dismay when I read the final paragraph. There, in the second sentence, Mr. Spectre committed one of his teacher's dreaded Fatal Errors. He used the objective form of a personal pronoun,
them
, rather than the nominative form,
they
, which is required when using the verb to be. I am afraid Mr. Smart would still be issuing a grade of "F" to Mr. Spectre.
Ray Munsch
Oxford, MD
A thumbs up times two
Thanks for stepping it up a notch. I have enjoyed the magazine for years, but the last few issues have been entertaining, thorough, and enlightening relative to all things along the coast. Stories about Maine boats, homes, and harbors, and recipes, as well. Imagine the recipes living in the minds of people around this state. Two thumbs up!
Albert Putnam
Brunswick, ME
Received online
I really enjoyed reading Deborah Corey's article on "Summer Eats" (
MBH&H Boat Show Issue
). It reminded me of my lunches at Ossie's, which is in Bethel, New Brunswick, Canada. I grew up eating there, and it is still one of my favorite seafood places of all time. You have to exit the highway now to get there, but the food is still great.
Via Facebook from
Marilyn Maxwell Strout
A dog soon to be a Mainer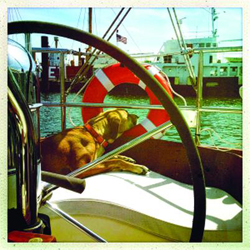 First mate hound Stella aboard her liveaboard Shannon ketch.
The photo shows our first mate hound Stella aboard our liveaboard Shannon ketch. I'm not sure how helpful she can be, but she knows how to get comfortable. She's not a Maine dog yet, but we are in the process of buying a house in Waldoboro as I write this. We should be up there in time for the peak season of winter! I've been teaching at the WoodenBoat School for the past few years, and we are looking forward to becoming full-time Maine residents. Of course we will bring our boat and our dog, as well as our small workshop for custom marine hardware, custom metal furniture, and artisanal objects.
Erica Moody
Boston, MA
For the record
A caption in the
MBH&H 2014 Boat Show Issue
about the Maine Sea Coast Mission contained incorrect information. The engineer on the
Sunbeam
is named Storey King.