Castine
Little Town, Big Appeal
By Mimi Bigelow Steadman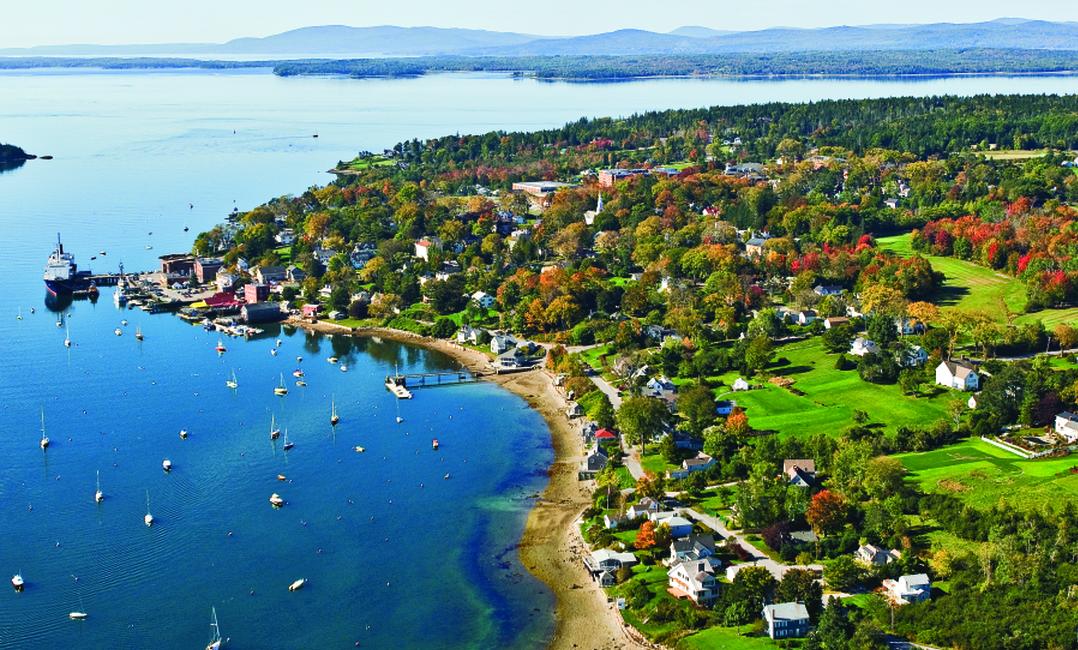 Fought over by 17th and 18th century European empire builders, Castine's considerable charms, plus an excellent nearby anchorage, make it a popular stop on Midcoast cruising itineraries. It's an easy sail from Camden, whose hills are visible in the background. Courtesy of Maine Maritime Academy / Ken Woisard Photography
Hurricane coming? If you're in eastern Penobscot Bay, hightail it to Smith Cove, on Cape Rosier just across from Castine. It's one of the best places on the Maine coast to batten down the hatches.
Weather's fine? Cruise in and drop the hook here, or inside Holbrook Island just west of Smith Cove, and enjoy the peace and beauty. A pleasant day-sail from Camden or Rockland, this sheltered pool is a popular weekend destination and ideal stopover en route to or from Eggemoggin Reach and Mount Desert Island. I've lost track of how often we've visited, but it's always memorable, especially when the anchorage is enhanced by a windjammer or two.
In such surroundings, it's tempting to just chill on board. Resist the urge. Put the kayaks overboard and go paddling. Jump in the dinghy and putter over to Holbrook Island Sanctuary State Park to follow meandering paths through woodlands, over hilltops, and along rock-strewn shallows. 
Across the way, Castine awaits. Tie up at the town dock (two-hour limit), just east of Maine Maritime Academy's 500-foot training ship State of Maine. Next to the flagpole on the town landing, you'll find a box with maps showing a self-guided walking tour. Some 100 historical signs mark the sites where, between 1607 and 1815, the French, British, Dutch, and Americans struggled for control of this strategically important region.
Want to stay longer? Pay for overnight dockage at Eaton's Boatyard, east of the town dock, or pick up one of their moorings ($35, fuel and live lobsters also available, no credit cards). With the large mooring field, considerable depth (this is one of Maine's deepest harbors), and a pronounced current from the Bagaduce River, don't try to anchor. Good news: There's free, if sometimes spotty, Wi-Fi in the harbor.
The elegant white-clapboard homes that grace Castine's elm-shaded streets—the entire village is on the National Historic Register—bear testament to the halcyon days in the mid-1800s when successful shipbuilding and shipping enterprises made this one of America's richest communities. Fortunes faded by the 1880s, but they improved again when steamboats arrived carrying city folk seeking a respite from summertime heat. 
To learn more about the town's many-chaptered backstory, check out the well-presented exhibits at the Castine Historical Society, in the old Abbot School on the town green. Nearby, the 1790 Unitarian Church boasts a Paul Revere bell in its Bullfinch-designed steeple. 
Castine is home to Maine Maritime Academy, which this year celebrates its 75th anniversary during a homecoming celebration, September 23-25. There'll be large gatherings on the waterfront, so unless you're an alum, it's probably wise to avoid the docks that weekend.
Despite its small size, Castine offers a surprisingly good selection of food and drink. Have breakfast at the Castine Inn or MarKel's Bakehouse, which also serves lunchtime soups, chowders, sandwiches, and pastries. Stop for a cone at Castine Variety. Grab a happy-hour beer and pizza at Danny Murphy's, and play a round of pool. Dennett's Wharf offers an extensive seafood menu, served overlooking the harbor. For a memorable dinner, book a table at the Pentagoet Inn. There's also live jazz on the inn's porch Tuesday evenings through September.
What's the secret to Castine's appeal? "I think it's because it's at the end of a road, at the end of a peninsula," said longtime resident and Realtor Brad Tenney. "You don't just come upon it. To visit, you have to want to visit." 
Who wouldn't want to visit this charming, history-filled gem of a town? Whether by land or by sea, in fair weather or foul, Castine keeps calling me back. 
---
Contributing editor Mimi Bigelow Steadman lives on the Damariscotta River in Edgecomb.
Share this article:
2023 Maine Boat & Home Show

Join Us for the Maine Boat & Home Show!
Art, Artisans, Food, Fun & Boats, Boats, Boats
August 11 - 13, 2023 | On the waterfront, Rockland, Maine
Click here to pre-order your tickets.
Show is produced by Maine Boats, Homes & Harbors magazine.