Stonington
A Salty Stopover
By Mimi Bigelow Steadman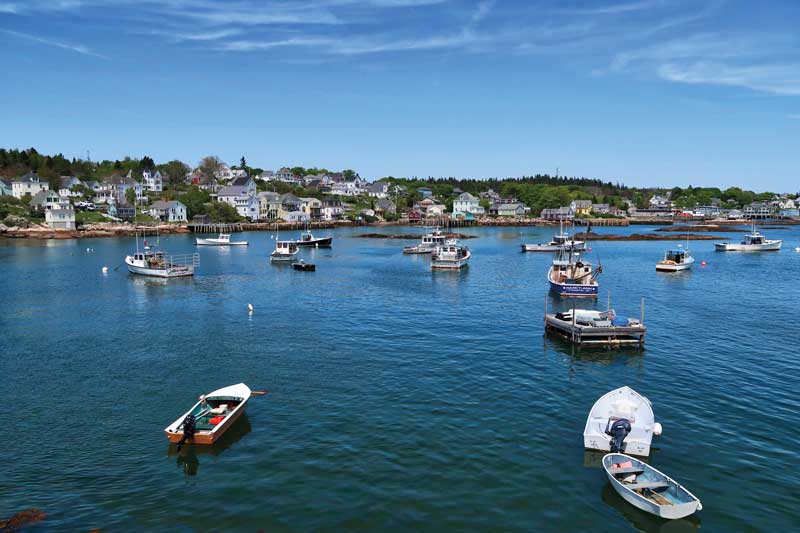 In Maine's highest-producing lobstering port, commercial vessels far outnumber pleasure craft. Ashore, small shops, galleries, and restaurants flank the busy fish pier. Photo by Mimi Bigelow Steadman
I've always loved the view of Stonington from the Deer Island Thorofare: a clutch of old clapboard and shingled buildings, many topped with Mansard roofs, snugged up along the waterfront and piled onto a low hill in the background. 
It looks so inviting. But is it a good place for a stopover? Yes—if you aren't expecting a fancy, polished and buffed resort town.
Stonington is a hardworking fishing harbor, not a yachting center. Its annual lobster landings—17.4 million pounds in 2016, with a value of more than $65 million—far outstrip those of any other Maine port. Understandably, the needs of its 372 lobstermen take precedence over those of visiting yachts. 
That said, Harbormaster Raelene Pert told me visitors are welcome to "throw an anchor, as long as it's not in the channel, and they're not going to bang into other boats." The key, she said, is for everyone to respect everyone else. 
There are no transient moorings in the harbor. They may be rented at Billings Marine, west of the harbor (full-service marina, too); and at Old Quarry Ocean Adventures Campground, farther east.
Don't even think of tying up at the commercial fish pier.
Complimentary two-hour stays are permitted at the public landing (pick your tide: three feet at low). As you come in to the harbor, the public landing is in the center and is marked. Look for the statue of a quarry worker holding a mallet in his raised hand.
Ashore, Stonington is equal parts salty and sweet. Browse the handful of shops and galleries; pick up provisions at Harbor View Store; and lunch on fish and chips at the Harbor Café, a sandwich at Water's Edge Wines or Stonecutters Kitchen, or a lobster roll and cone from Stonington Ice Cream Company. For upscale dining, try Aragosta. Looking to buy lobsters? You've come to the right town.
On July and August afternoons, the doors are open at the small Deer Isle Granite Museum. Through artifacts and a working quarry model, it tells the story of Stonington's glory days in the late 1800s and early 1900s, when thousands of workers in a dozen quarries barely kept up with demand for the local pink granite, which went into such major landmarks as Rockefeller Center. As reinforced concrete became the preferred building material, business petered out. Quarrying does continue on Crotch Island, across the harbor. Today, most of the granite goes into decorative accessories and countertops; it was also used in a new wing at Boston's Museum of Fine Arts in 2010. 
If you're overnighting here, check out the historic Opera House, its dark green façade rising just above the fish pier. Built in 1912, at the height of the quarrying boom, the stage hosted many a traveling Vaudeville act. As times changed and the population dwindled with the demise of quarrying, the theater became a cinema; later, it was used for basketball and roller-skating. By the 1990s, it was abandoned. Then along came a small group of visionaries who inspired a groundswell of community support. Today, the completely renovated structure draws audiences year round to a vibrant variety of theater, music, and films. 
For all these reasons, this authentic fishing town merits a stopover. Even if you're planning to anchor in the exquisite islands of nearby Merchants Row, or transiting the Thorofare en route to Mount Desert or Penobscot Bay, consider a detour. If you're traveling by land, go ahead and drive the 36-mile zigzag down Route 15 from Route 1 in Orland. 
Stonington just might surprise you. 
Virginia Burnett, proprietor of an antiques emporium called Unexpected Treasures, moved here from metropolitan New York right after her first visit three decades ago. "You come here," she declared, "and you don't want to leave." Perhaps that's because Stonington is an unexpected treasure, too. 
---
Contributing Editor Mimi Bigelow Steadman lives on the Damariscotta River in Edgecomb.
Share this article:
2023 Maine Boat & Home Show

Join Us for the Maine Boat & Home Show!
Art, Artisans, Food, Fun & Boats, Boats, Boats
August 11 - 13, 2023 | On the waterfront, Rockland, Maine
Click here to pre-order your tickets.
Show is produced by Maine Boats, Homes & Harbors magazine.