Resto-Mods
Taking Yacht Refits to a New Level
By Ted Hugger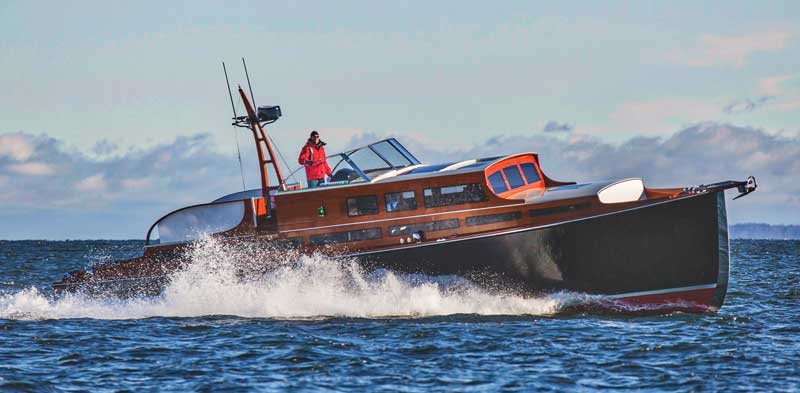 Avocette III is the oldest Huckins in existence. Yachting Solutions' resto-mod project involved refitting the boat to make it modern and fast. Photo by Billy Black
Some boat owners like to restore vintage yachts to their original specs. Others like the idea of modernizing an old hull. The latter concept is known as resto-mod, and Rockland, Maine-based Yachting Solutions has become expert in the process.
Restoring the shell of a vintage boat, combining its original style and soul with the latest advances in design, construction, and systems technology can add years to the life of the boat while vastly improving its performance, said Bill Morong, owner of Yachting Solutions. The result is a new boat with an old feel.
Resto-mod—short for restoration and modification—takes its roots in the hot rod/California custom-car culture. Morong, a self-proclaimed "car guy" who grew up working on his father's antique car collection, has been at the forefront as resto-mods made the jump from cars to boats. "I had a vision for resto-mod even before I knew the concept would turn into an industry. Taking a boat of any kind and modernizing it is always an exciting process," Morong explained.
"While I couldn't really afford to do it right," he reminisced, "my passion for the resto-mod concept started in high school when I was trying to restore a 37' Egg Harbor that I'd bought for peanuts. It was a real pile of junk." The seed was planted, and throughout high school, college, and Maine Maritime Academy, Morong would spend his weekends and every penny he could scrounge on boat restoration projects.
In the custom boat world, there are three options. You can build a custom boat from a blank sheet of paper with well-known designers like Stephens Waring, Ray Hunt Design, or Bill Prince. You can take on a concours restoration. A Concordia, for example, where you strive to make the Concordia identical to the day she rolled off the floor at Abeking & Rasmussen. Or, you can take a resto-mod approach with an existing classic—often just a shell of a boat—and end up with the spirit and tradition imbued into the boat by her builder, but with all of the advantages of modern propulsion, electronics, and performance. "We bring the option of a custom-crafted, personalized vision to prospective boat owners," said Morong.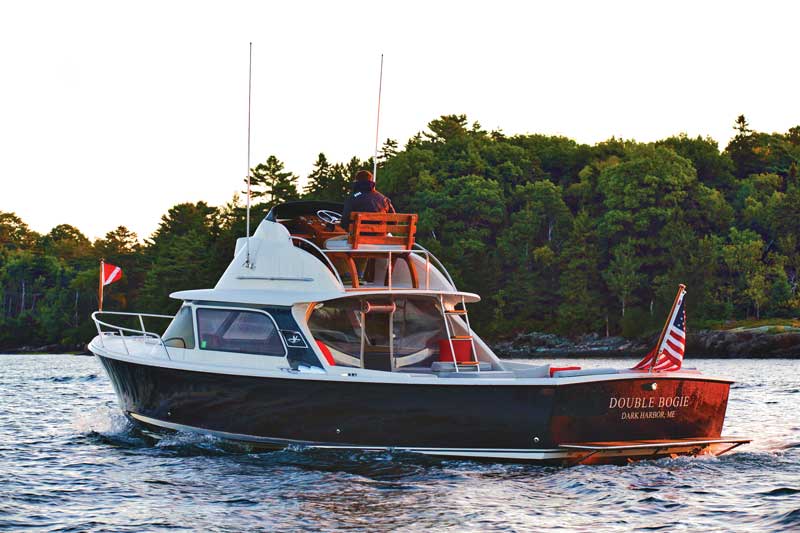 Double Bogie is a stunning 1963 31' Hunt-designed Bertram resto-mod project done by Yachting Solutions in 2014. Powered with a pair of Merc 383 inboards, she cruises at 26 mph with a top end of 31 mph. Photo by Alison Langley/Courtesy Yachting Solutions
Morong's customers engage him to build their new boats from the dog-eared remains of beloved old ones. "Let's say you're interested in a mid-sixties Bertram 31," Morong said. "Well, jeez, now you'd really like to have it outboard powered, and wouldn't it be nice to have a new counter configuration without the Formica, and how about a really cool Rybovich-style dashboard?" Without the constraints of traditional restoration dogma, Morong's team is able to add decades of new life to an old boat while vastly improving the boat's performance and utility.
Morong noted that buyers need to be realistic when considering a resto-mod. "A resto-mod project will cost about half of what building a new boat with the associated design work, tooling, tank testing, etc. will cost. But it also doubles what a buyer might spend on a similarly sized production boat."
The company's first success was a 1954 Huckins 45-footer named Northern Spy—an early cold-molded, diagonally planked hull that, had Morong not stepped in, would have been relegated to the bone yard. The Northern Spy resto-mod project ended up getting a lot of media attention. Not only was it one of the first-ever yacht resto-mods, it looked very much like an old World War II PT boat, complete with military-gray hull and decks. "Northern Spy was also the first Volvo IPS repower ever done, and in a wooden boat at that—a wonderful blend of materials and technology," Morong said. "It was really cutting edge at the time."
An example of the freedom resto-mod affords its practitioners can be found in last summer's 1972 Hunt Surfhunter 26 project. Built by Jarvis Newman in Southwest Harbor, Aurelia's aging hull, deck and systems were given a new life, and configured in the way of today's Hunt coastal series outboards. After the team at Yachting Solutions added a teak superstructure, a custom console and dashboard, and updated upholstery, Aurelia went on to win Best Restoration honors at the Ocean Reef Vintage Boat Weekend in Key Largo in December.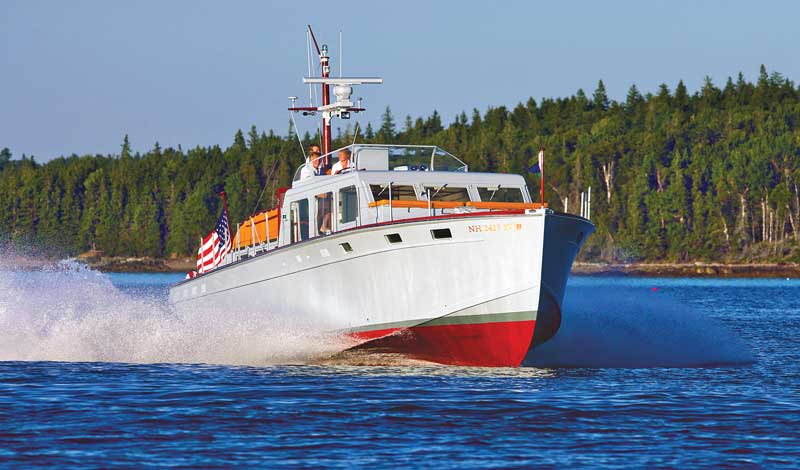 Northern Spy, a 1954-vintage Huckins, was re-engineered by Yachting Solutions to accommodate Volvo Penta IPS pod drives. It was the first time the Volvo engines had been used in a repower project. Photo courtesy Yachting Solutions
Enter Avocette III. Her eventual owner came to Yachting Solutions not knowing what he wanted. Client and builder looked at a lot of different boats, and finally landed on a 1931 Huckins Offshore 48, the earliest known Huckins still in existence. The vintage Huckins had been donated to IYRS in Newport, Rhode Island, where Morong serves as a board member. The owner made a donation to the association to acquire the boat, and the project was launched.
The team found that the hull had lost most of her shape. "It would have been simpler to take the original drawings and start with frames on a jig and build a new boat. But the owner wanted to preserve Avocette III's spirit by restoring her. Early on, we determined that we were going to cold mold a new hull in a way that completely memorialized the original boat," Morong explained.
After laser-scanning the hull, the original drawings—supplied by Cindy Purcell, owner of Huckins Yachts—were compared to the scans, and the stations were cut using CNC (Computer Numerical Control) cutting technology. "We then cut the deck off, dropped the stations into the hull, and tortured the hull back into place to get the correct shape," Morong said. Corrections accomplished; the team was able to cold mold the new hull. Bill Prince of Bill Prince Yacht Design in Port Washington, Wisconsin, was the naval architect on the project.
Deconstruction was next, with a full tear-down of the 89-year-old vessel. "We kept every single piece of hardware, re-chroming and reutilizing much of it," said Morong. "The same for the steps, windows, and interior cabin doors."
The boatbuilding and engineering complexity involved in this project are astounding. Avocette III was transformed from a boat with a traditional mid-engine, shaft drive configuration to a hotrod with a pair of rear-engine Volvo 435-hp diesel inboard IPS drives that doubled the original horsepower. State-of-the-art electrical/ electronic component integration, air conditioning, a generator, and a Seakeeper 5 gyro stabilizer round out the modern-day metamorphosis.
"The client is quite tall," said Morong. "We knew the change to IPS drives would free-up midships space, so we reconfigured the boat to accommodate the owner's height. We were able to do so without lengthening it and we kept the original dimensions of the hull with the new layout. In the process, we took a lot of liberty down below. Where she was a saloon-up boat, we turned her into a galley-up arrangement with a center island entertainment platform—complete with an electric glass sunroof."
The results are stunning. To step aboard Avocette III is to step back into the 1930s. Rich brightwork and flawless joinery speaks to the craftsmen's skills. Every detail captures the yacht's original spirit in a perfect blend of the new and old.
During technical sea trials last November, the team found they had boosted Avocette III's top end from 26 to 37 knots. "She hadn't been in the water yet, and we wanted to see what we had," recalled Morong. "We had all of the numbers, calculations and predictions, of course, but we wanted to identify any issues while we had the winter ahead of us. But there weren't many issues at all—she was spot on! We ended up changing the trim a little bit and did some trim tab programming. For such a complete change in design, she sat exactly on her lines, just as she did in 1931."
After three years in the Yachting Solutions' shop, Avocette III was due to undergo final sea trials in mid-May, with delivery to her proud new owner in early June for the trip down to her summer home on Cape Cod.  
---
Ted Hugger owns and operates the Cod Cove Inn in Edgecomb and the Cedar Crest Inn in Camden with his wife Jill.
Yachting Solutions
207-233-8100
Bill Prince Yacht Design
262-822-4000
Share this article:
2023 Maine Boat & Home Show

Join Us for the Maine Boat & Home Show!
Art, Artisans, Food, Fun & Boats, Boats, Boats
August 11 - 13, 2023 | On the waterfront, Rockland, Maine
Click here to pre-order your tickets.
Show is produced by Maine Boats, Homes & Harbors magazine.