Boatyard Dogs Bradley and Zephyr
By The Editors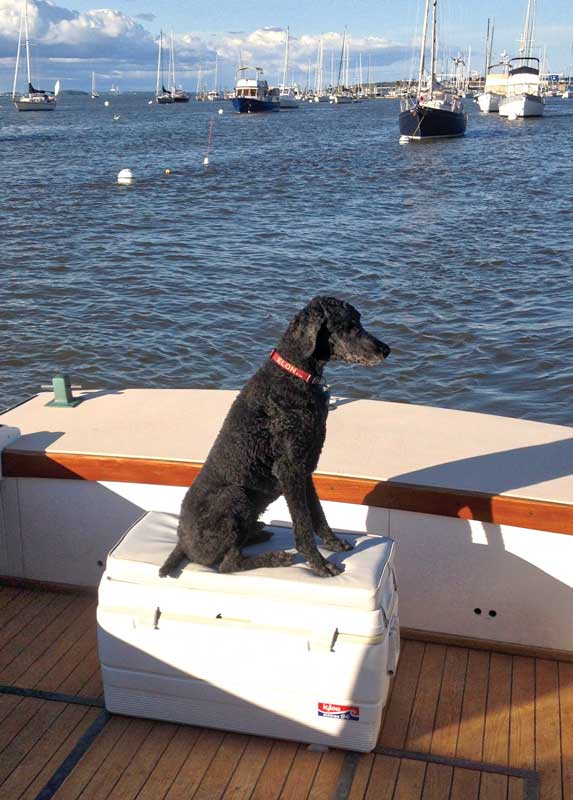 Bradley, a 12-year-old "Sterndard" Poodle, is crew on a 1959 Vinny Cavanaugh powerboat named Tara. He carefully guards beverages and foodstuffs against possible pirates and marauding sea gulls while the 35' Tara is on its mooring at Centerboard Yacht Club in South Portland. He also enjoys cruising with his family, Janet, Bill, and Bryan Cross, around Portland Harbor and Casco Bay, with the occasional stomp and romp on islands along the way. The Cross family has owned Tara for 21 years. Taking care of the boat is a labor of love with plenty of sanding and scraping to be done by all, said Bill. Even Bradley, who is good at fetching tools and things, pitches in with maintenance.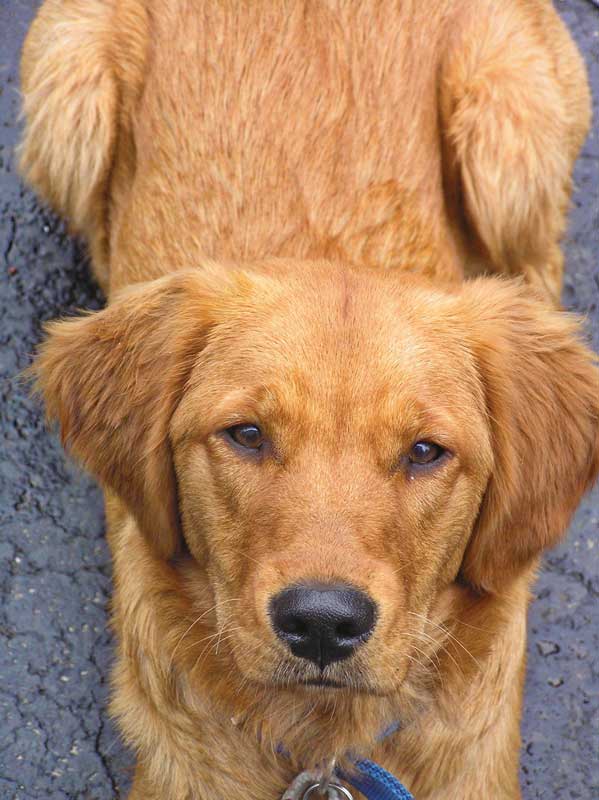 When it came to his dog and his boat, Bob Bruce kept things simple. He named both his golden retriever and his vintage 5.5 Metre Class sailboat Zephyr. A dock jumper who loves the clean, clear water of Lake Superior, Zephyr the dog hangs out in Bruce's office when not in or on the water. Zephyr, the boat, was built to compete
in the Olympics in Melbourne in 1956, and while the boat did not make the Olympics, it did make the cover of Sports Illustrated. A design collaboration between owner Herman Whiton and Bill Luders of Luders Marine Construction in Stamford, CT, Zephyr is cold-molded with four diagonal layers of 1/8" mahogany and the hull remains sound after 60 years. "When people see the finish they are hard pressed to believe it is not fiberglass or with a skim coat of epoxy," Bruce said of his boat, which recently emerged from a two-year restoration. No such confusion when people see Zephyr the dog—her fur is the real deal, fuzzy and glorious.
"People ask which name came first and why the same," said Bruce. "I respond that at my age, it is half as much to remember."      
Share this article:
2023 Maine Boat & Home Show

Join Us for the Maine Boat & Home Show!
Art, Artisans, Food, Fun & Boats, Boats, Boats
August 11 - 13, 2023 | On the waterfront, Rockland, Maine
Click here to pre-order your tickets.
Show is produced by Maine Boats, Homes & Harbors magazine.