Rufus and Sierra- Issue 133
Rufus and Sierra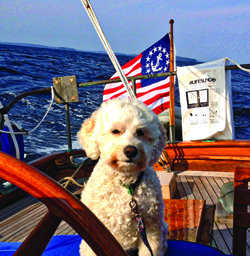 Rufus. Photo by Robin Lloyd
Rufus is an 8-year-old cockapoo (a cocker spaniel poodle mix) who has sailed much of his life, mostly on Penobscot Bay, with his owners Robin and Tamara Lloyd of Camden on
Galatea
, their 38-foot L. Francis Herreshoff ketch. The author of the historical novel
Rough Passage to London
, based on an ancestor who was captain of a 19th-century transatlantic packet, Robin is hard at work on a new book about Civil War-era blockade runners. No word yet on whether Rufus will play a role.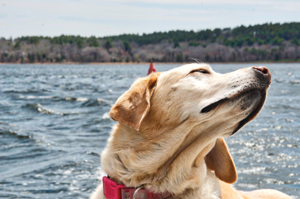 Sierra. Photo by Michael Magni
Sierra was a stay-at-home dog until she joined the team at Cape Cod Shipbuilding Company in Wareham, Massachusetts. An 11-year-old yellow Lab, Sierra keeps close tabs on her companion, company President Gordon Goodwin, and is ready to lend a paw for any boatyard task. Here she is on a test sail of Cape Cod's new Marlin Heritage 23. Do you have a dog that helps on your boat or accompanies you alongshore? We'd like to see your water-friendly canine. Email a clear photo and pertinent details to
editor@maineboats.com
or mail it to Boatyard Dog, P.O. Box 566, Rockland, ME 04841.