From Awkward Spaces to Glorious Vistas
Fred and Hope Angier's murals create a new reality
By Kay Stephens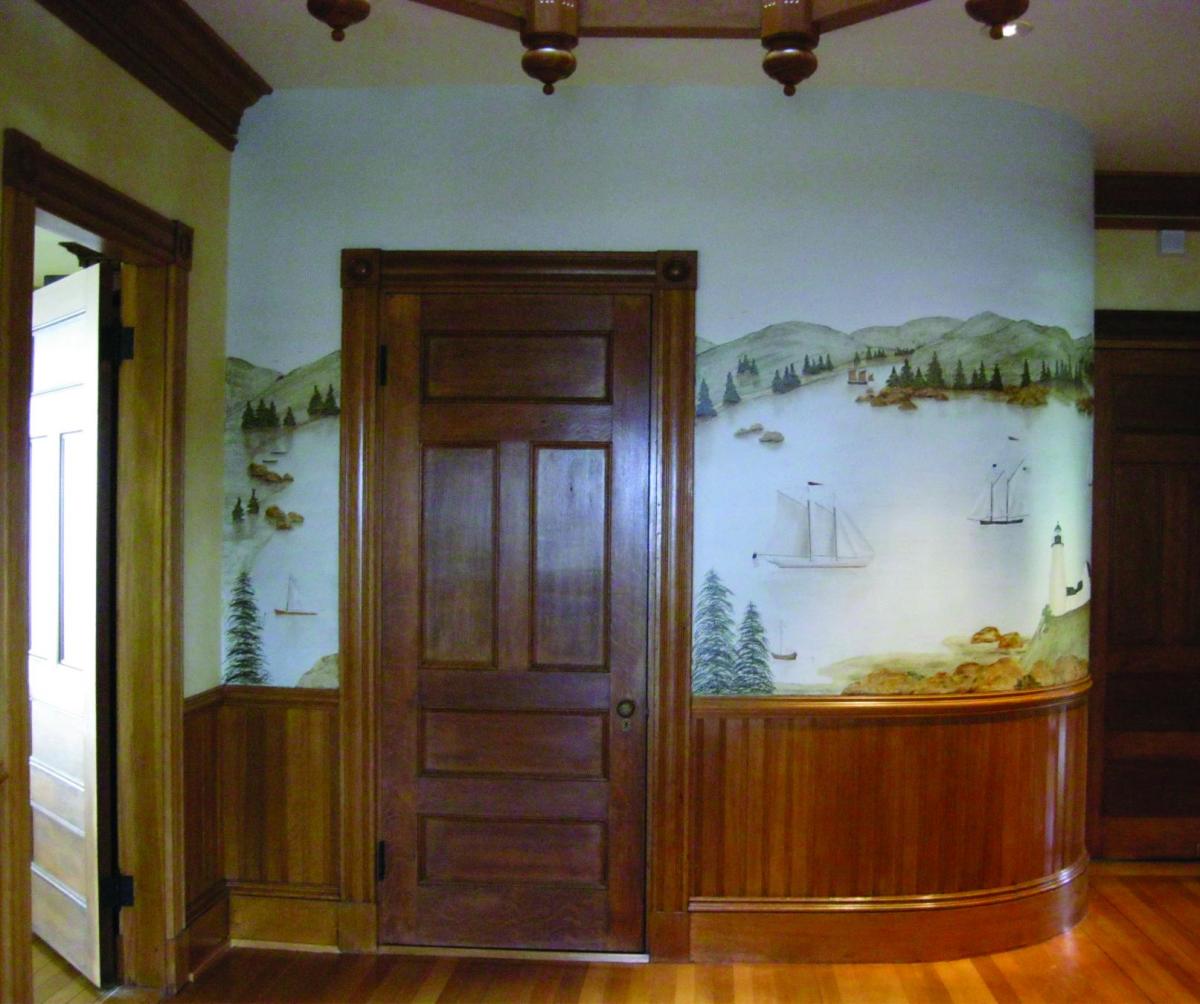 The hand-painted wall mural was designed to enhance the unique curved wall in the entryway of a classic Victorian on Castine's waterfront, representing the owner's harbor view. Photo by Hope Angier Several months ago, artist Hope Angier was invited into a client's house to look at a blank white wall in the kitchen. The two of them stood there, gazing at literally nothing—a glaringly empty space under a hood between two kitchen cabinets over the stove. 
What the client saw was an awkward void. Hope tilted her head and began to see something else. She saw an open window, anchored by shutters, and beyond, blue water and a summer day. The client had said she wanted a peaceful view from her stove. She "did not want anything to interrupt the seascape—no boats, islands, or extraneous details," said Hope. "She just wanted to look out over the stove into serenity."
Hope and her husband, Fred, specialize in creating these types of artistic vistas. It's a new approach for the pair, who for years were known for their skill at decorating houses according to early American design. 
The murals offer a way to enhance rooms without changing their physical dimensions.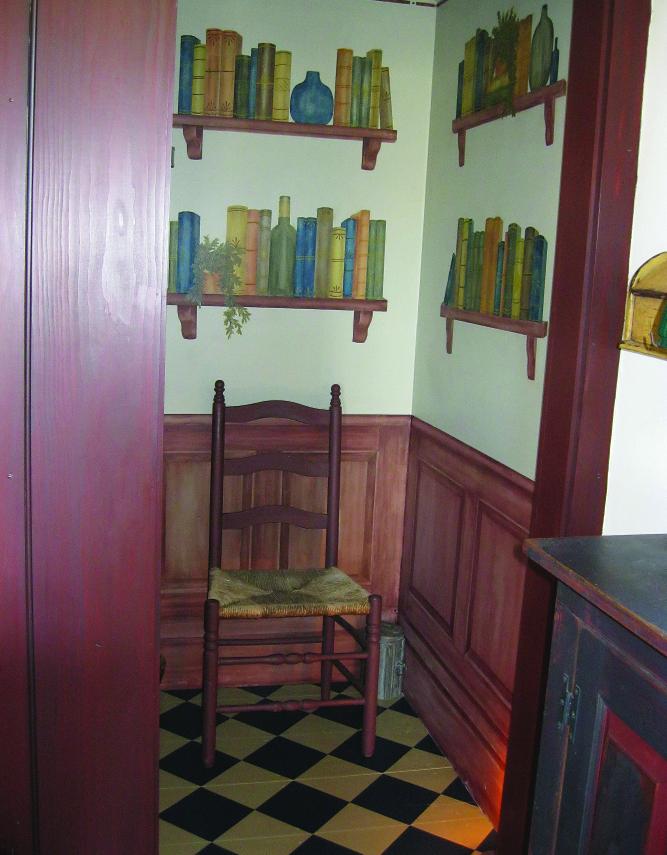 A closet was transformed into a book nook, with trompe l'oeil raised panel wainscoting, book shelves, and potted plants and old bottles, plus a checkered painted floor. The chair is real. Photo by Hope Angier Painted wall scenes and trompe l'oeil windows transform what Hope describes as "small, forgotten spaces," such as the wall at the head of the stairs, a tiny closet-like powder-room, or a narrow hallway, into "big places." In addition to the murals, the Angiers use subtle painting techniques—multi-layered glazed walls, faux-grained finishes on cabinet doors and woodwork, and painted floor designs that look like ceramic tile—to add depth and character to rooms.
Hope, who is largely self-taught, paints the folk art murals. Fred, who has a knack for interior design, specializes in colors, finishes, and floor painting. He can see a wall, a cabinet door, a floor, or an old bannister as a canvas, and knows what color or faux finish belongs on it. Their work is in homes all over the state.
When the Angiers begin a commission they tease out an understanding of that client's taste. What they glean becomes the visual storyline for the work.
"Sometimes the client has a specific idea, or it's just more of a feeling, of what they want," said Hope. "Some clients just want us to create the entire vision for them."
In Castine, clients came to the Angiers with an idea for a 10-foot-long curved wall in their hallway. They wanted the mural to mirror what they saw when they gazed out their windows into Castine Harbor.
"With clients, we'll talk back and forth. They'll send us photos, email links or art renderings of what they think they might want," said Hope, who then provides a small-scale drawing based on that initial exchange of ideas. Next comes a full-scale sketch and, inevitably more back and forth on the details.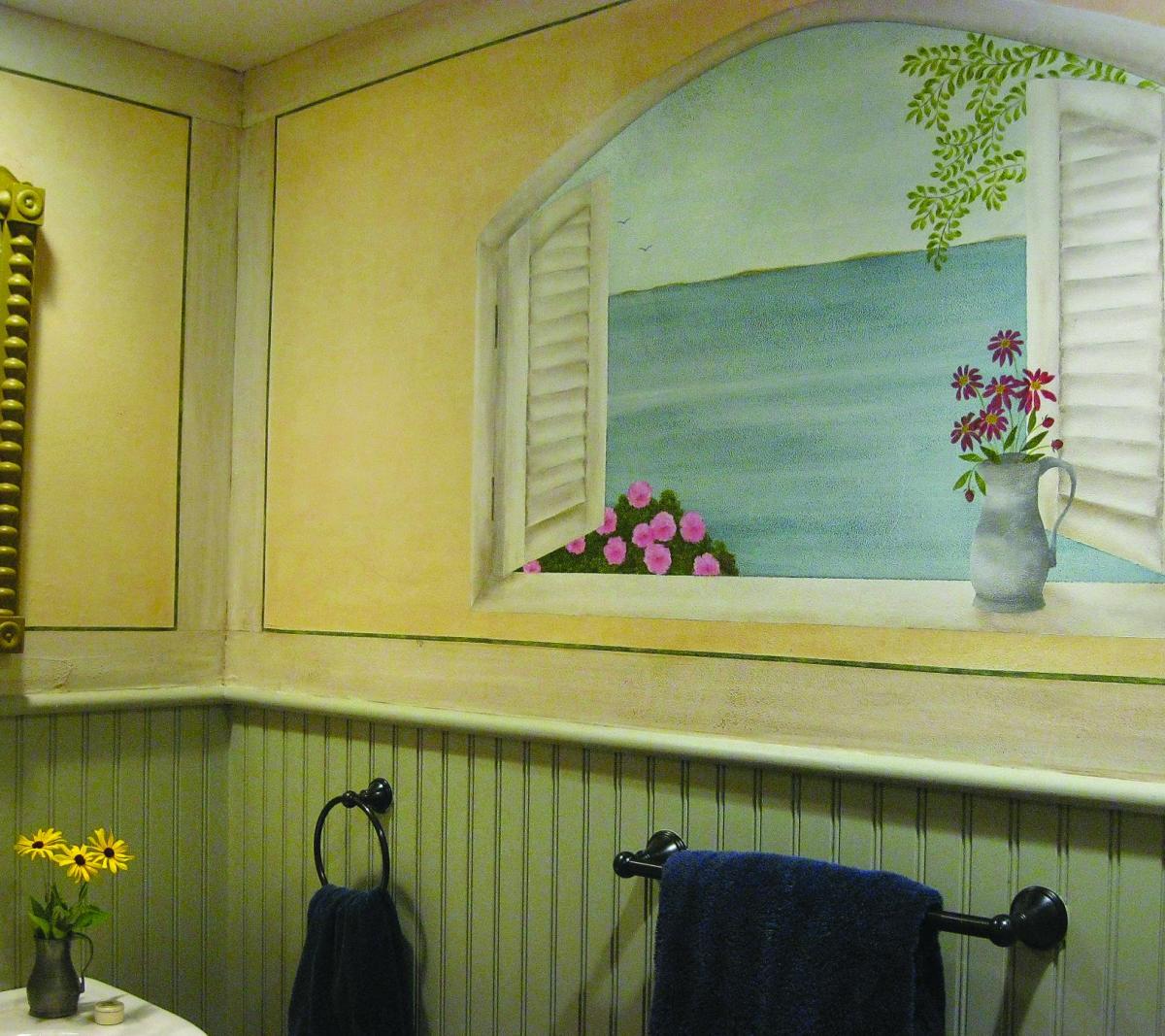 A trompe l'oeil window visually enlarges the space of this small bathroom. Setting the window in a softly glazed wall with a contrasting, pin-striped border, completes the "Tuscan" look that Fred and Hope Angier were so strongly drawn to and integrate into their work. Photo by Hope Angier After showing her sketch of the open window to the client who wanted a view over the kitchen stove, Hope included more touches. 
"She said she wanted to add a bit of pink and wouldn't mind a touch of vegetation in the mural," said Hope. "So, I added some pink rosa rugosa peeking up from under the window and a tree branch visible over the top of a shutter." 
Other recent projects include a Revolutionary War mural for the General Henry Knox Museum in Thomaston, as well as a mural of sweeping vineyards for Phi Home Designs. Phi Home's owner, Bettina Doulton, who also owns Cellardoor Winery in Lincolnville, wanted a grand view of the vineyards in the construction company's Rockport showroom. 
"I went to the winery and took lots of photos of the vines," said Hope. "I got a look at the layout of her property—that long field bordered by stone walls and trees. We were working with a deep blue floor, so we planned to deliberately highlight the blue of the sky and the pond to complement the rolling, verdant vineyards."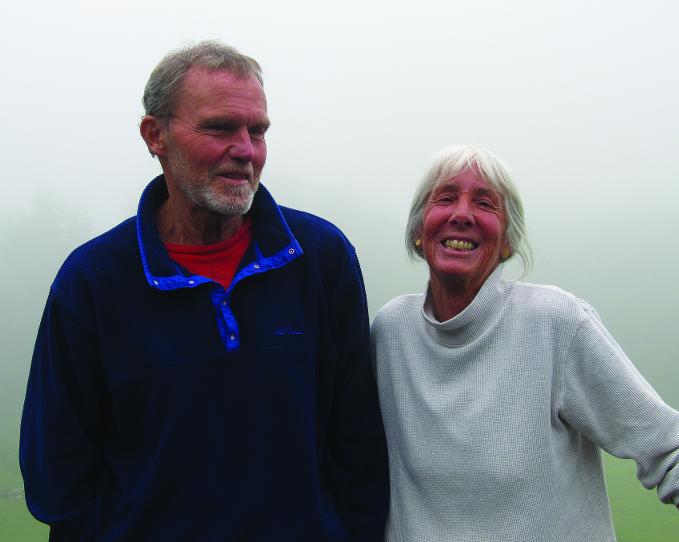 Fred and Hope Angier. Photo by Kay Stephens Then Fred stepped in to give the adjoining walls his specialized color treatment. "We knew we had enough blue accents in the room, so we highlighted the other three walls with a soft, neutral, straw-colored glaze," he said.
"It's a Tuscan concept," Fred added, describing the individual application of each layer of translucent glaze. The idea for that look came one night while watching the movie Under The Tuscan Sun. Transfixed by the colors, Fred stopped the DVD repeatedly to study individual frames. He even photographed some of the scenes.
"We find things all the time that we like and we'll put our own slant on them when we apply them to various mediums," said Fred. 
"It's always nice to have a place you can go in your head that's different from where you live. That's what we specialize in."       
---
Kay Stephens is a regular contributor to Maine newspapers and magazines. She is also the author of two award-winning books, The Ghost Trap and Cyberslammed.
Share this article:
Digital Edition Available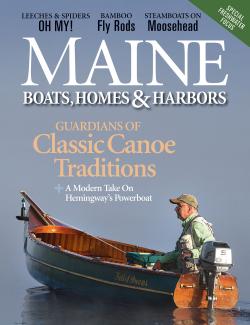 Can't get to the store to buy your magazine? We deliver the stories of Maine's coast right to your inbox. Sign up here for a digital edition.