A Great Looper
A boat designed for a very special voyage
By Art Paine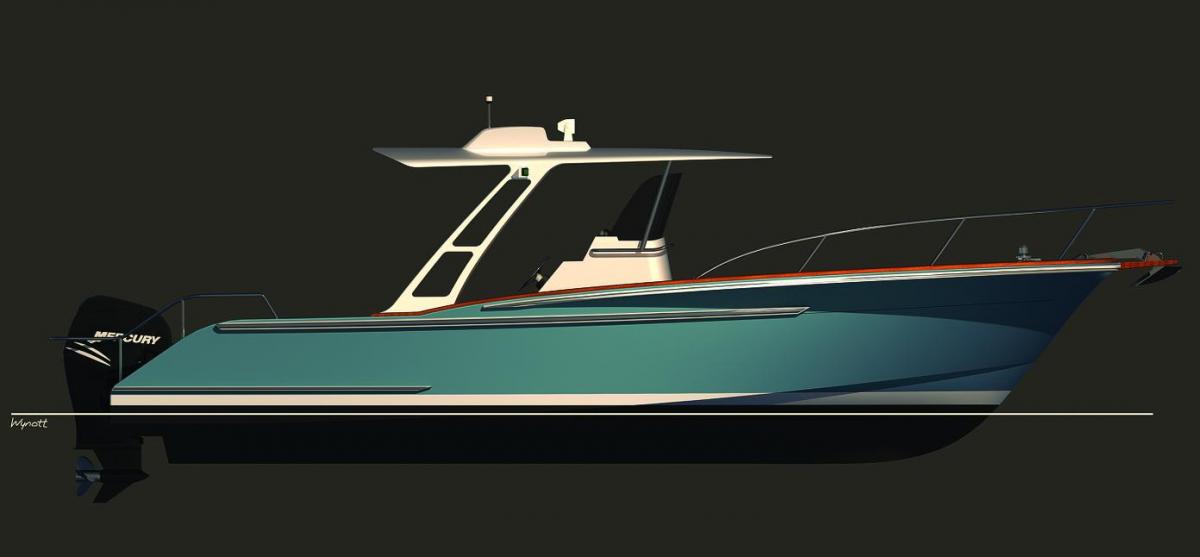 While designed for a specific trip, the F28 is a beautiful multi-purpose boat. Illustration courtesy Fitzgerald Marine Architecture
Mark Fitzgerald's newest design client wants to get "looped." No, he's not crazy, rather he wants to go on the powerboat adventure known as the Great Loop or the Great Circle Route. It's a voyage of between 5,000 and 7,500 miles, depending upon which way you go—up the east coast, around the Gaspé Peninsula and up the St. Lawrence River (or the shorter option, up the Hudson River in New York and through various canals) to Lake Michigan, through downtown Chicago and down the Mississippi, then around Florida, up the Atlantic coast, and back to the Hudson River.
This lengthy journey has attracted its own cadre of enthusiasts with web sites and clubs dedicated to the concept, which is called "doing the loop," or simply "Looping."
Fitzgerald has designed and is building a specialized boat just for this trip. The result is the F28, a classy 28' powerboat with a super-sized console large enough for a small cabin with a head. 
I worked with Fitzgerald for this client back in my yacht designing days. He is knowledgeable, and willing to expend the time, thought, and capital required to get exactly what he wants. Although the single-handing cutter we invented for him was never built, what was built was a lasting relationship among this client, myself, and Fitzgerald. When the client first began thinking about doing the Loop, he looked at available boats and found nothing that suited his needs, so he turned to Fitzgerald.  
The loop presents some interesting challenges. For instance, the distance between ports on some legs is huge. In the beginning the client and Fitzgerald envisioned a boat that would serve as a water taxi of sorts. They assumed that one could loop by going from hotel to hotel, without having to sleep aboard the boat. Several months into the design, and after the keel had been laid, they realized that was not going to work.
Apparently there are not many places to stay, or for that matter fuel up, along the Mississippi between where the Ohio River joins it and Lake Pontchartrain in New Orleans. Long distances between fuel docks and long walks to motels resulted in a shift in the design goals from "water taxi" to a more well-rounded boat suitable for overnighting.

Mark Fitzgerald both designed the F28 and is building it in a workshop in Rockland, Maine. The big center console (right) has room for a small cabin. Photos by Art Paine (2)
The big console was expanded to become a mini-cabin with a wash-up sink and a small workshop/tool room. Overnighting means shelter, and the boat's hardtop allows easy conversion for a privacy cabin.
Although the client is not handicapped, neither is he young. Recognizing that the quality of a travel experience is often judged by aspects of ease and comfort, the client wanted the design to meet some of the guidelines of the Americans with Disabilities Act. As a for-instance, when cooking aboard was envisioned, Fitzgerald investigated kitchens configured to accommodate people in a wheelchair. Out of that came a tabletop between the forward seat-berths that rises out of the floor upon a scissor jack. Beneath this is a microwave oven, instantly at the ready.
Also, the deck is all on one level making it easy for the skipper to handle all the lines without reaching too far outboard—an important factor given the need to handle dock lines and fenders when going through canal locks. 
Fitzgerald and the client collaborated closely. As a result this boat is nearly perfect for its purpose. 
I can see smudges on the early plans where Fitzgerald wanted to provide pass-throughs in the topsides of the hull, and even a fold-down "beaching-door" up forward—both details designed to facilitate getting aboard and ashore. 
But this client is an old-school traditionalist—no penetrations of the topsides for him. He pointed out that the Great Loop isn't just about lazing down the Big Muddy, it also involves smashing through the Gulf Stream. The boat needs to be able to withstand rugged seas, as well as smoother canals and rivers. 
As a result the hull consists of two layers of plywood covered with fiberglass cloth, and on the bottom, a Kevlar skin—it's about 20 percent lighter than most cored fiberglass boats, with much greater impact resistance. High freeboard enhances the boat's seaworthiness.
The collaborative process was helped by the fact that Fitzgerald is both a designer and a builder. Shipyards often go nuts about eleventh-hour change orders. But an experienced boatwright like Fitzgerald with his positive attitude can just set aside a partially cut panel of ABS certified #1088 Okoume plywood and take his scroll saw to another one. This came in handy when the design shifted from taxi to liveaboard. 

This side view drawing of the F28 shows its tremendous amount of storage space as well as the small cabin under the console. Illustration courtesy Fitzgerald Marine Architecture
Living aboard means anchoring, and anchoring means a dinghy. So there's room to stow one in the after cockpit for brutal offshore runs (it also can be snugged into a davit mechanism over the stern).  
The huge console also provides room for two 15-inch touch-screen panels, one for the navigation computer and the other for the computer-computer. In honor of the client's old-school ways I should point out that Fitzgerald's elaborate joinerwork includes a table for charts—you know...those paper things that depict land and sea? Well never mind. I'm old too.  
The boat will be powered by twin four-stroke gasoline 150-hp Mercury engines. It can hold 185 gallons of fuel to accommodate the long runs of the lower Mississippi and elsewhere—of course a little more could come aboard in jerry cans. At a cruising speed of 10 scenery-appreciating knots, the F28 can go from Annapolis, Maryland, all the way to New York City without stopping. 
To be a great Looper a boat must be good at both ends of the spectrum. It must idle along economically and shrug off snags and logs on a river far from the sea, and also be able to sportfish for fresh dinner in blue Atlantic seas out of sight of land. 
The client already is thinking about what else this versatile boat might make possible. He has traversed the Panama Canal on one occasion. Now he's considering taking this small dreadnought from Texas for another go at canal transit. Or maybe he'll tackle a circumnavigation of Cuba.
Back when I first visited Fitzgerald's Rockland workshop, I'd been doing my journalism thing, visiting shops and having a look at a lot of new builds, which means new designs and lots of projects where money is no object. Going into Mark's shop and seeing his top-notch yacht project provided a welcome breath of fresh air, despite the epoxy fumes.
As perfect as it is for this client, with his specific design requests, this sportfisherman sheered hull with its nearly impenetrable Kevlar-shielded bottom is too beautiful and too versatile and too multi-featured to just serve the ideals of a single yachtsman. 
This boat ought to be produced in great numbers, configured in versions for everything from tuna fishing to sightseeing. It's a marvelously practical powerboat. It should not be "loopholed" as being good only for a single purpose.    
---
Contributing Author Art Paine is a boat designer, fine artist, freelance writer, aesthete, and photographer who lives in Bernard, Maine.
---
28' Center Console Cruiser Specifications
    LOA  28' 9"
    LWL  25' 2"
    Beam  9' 8"
    Displ.    7,500 lbs.
    Fuel    185 gals.
    Top Speed  35 knots
    Water  25 gals.
    Designer/BUILDER:
    Mark Fitzgerald
    Fitzgerald Marine Architecture
    136 Thomaston St., Thomaston, ME 04861
    207-975-2358
    www.markfitzmarine.com
---
Share this article:
2023 Maine Boat & Home Show

Join Us for the Maine Boat & Home Show!
Art, Artisans, Food, Fun & Boats, Boats, Boats
August 11 - 13, 2023 | On the waterfront, Rockland, Maine
Click here to pre-order your tickets.
Show is produced by Maine Boats, Homes & Harbors magazine.