A Total Refit Makes a 36-year-old B-40 New Again
By Art Paine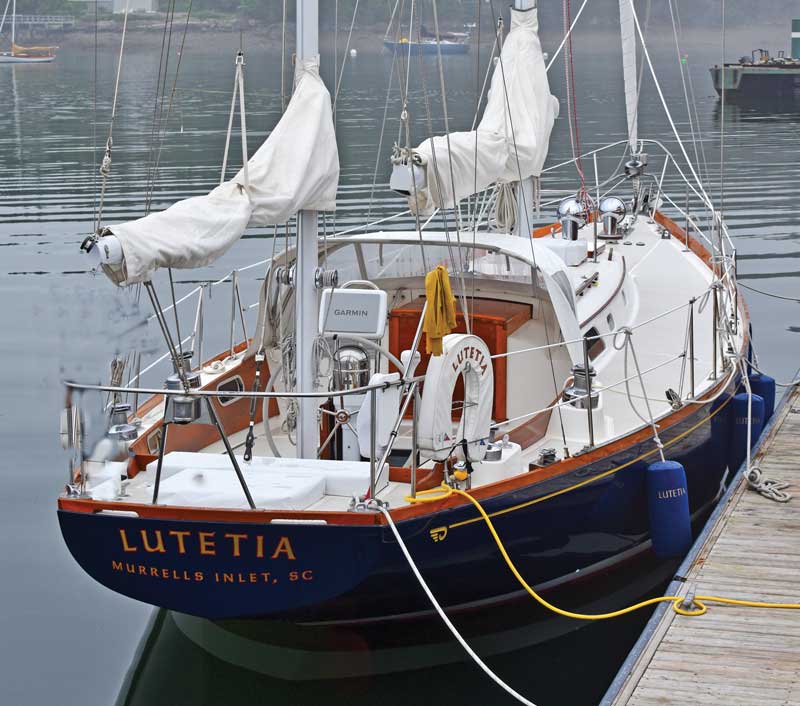 At the end of the refit, this vintage Bermuda 40 was packed with modern touches.
This is a story about refitting a 36-year-old classic Bermuda 40, using current technology to bring it up to date. The project involved some innovative approaches, such as the installation of air conditioning powered by lithium-ion batteries, and a new engine.
It began when a man in South Carolina called asking for help finding a boat for him and his brother. They had owned larger sailboats but wanted something more compact, to be used primarily for daysailing. After I reeled off the names of several fine daysailers built in New England, he brought me up short. "We have this one specific thing we do. We take groups of folks sailing, usually three or four couples."
My cockpit size template expanded.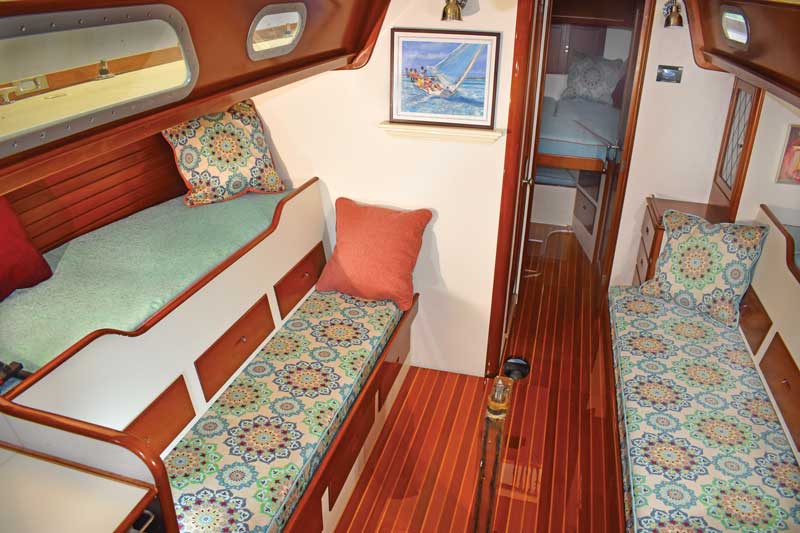 The boat's interior was enlivened by new cushions and a painting of a Bahamian sailing scene by Art Paine.
"We like to go out in the Atlantic for a several-hour cruise once the wind picks up in the afternoon. Then, as the sun starts to set we typically anchor in a deep creek—the perfect place to enjoy the late afternoon, as the heat of the day gives way in a consistent southeast wind." I also learned that motoring is not a great option because it heats up the cabin. And, generator noise also was a negative.
My short list got shorter.
"The magic time begins at sundown. Adult beverages, nice appetizers, and perhaps the moon is rising as twilight begins to fall. It is fun to enjoy a good meal in the cockpit with good friends. And by the way, the boat must be fully air-conditioned for meal preparation and landlubbers that are not used to washing up in muggy marine bathrooms."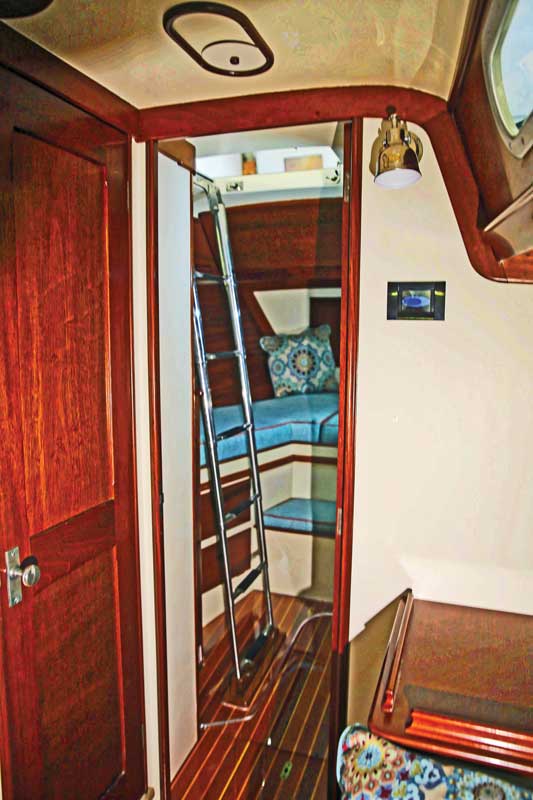 A telescoping ladder in the forward compartment can be easily removed. There was a long pause, as I tried to conjure up even one sailboat that met his requirements. He went on, "Finally, the boat must be totally classic in appearance—absolutely beautiful. And I almost forgot, it's quite shallow where we go, so not more than five feet of draft."
Then the answer came to me: he needed a Hinckley Bermuda 40, Mark 2 or Mark 3, and preferably yawl rigged.
We soon found a 36-year-old yawl-rigged B-40 for sale at a tiny fraction of the price that such a boat would cost to build brand new. I have a long captaining history with Bermuda 40s, including surviving ocean storms in reasonable security. This design is at the top of my list as a sea boat and shallow water cruiser, but most of all for its incredible good looks.
Once the boat was purchased, the list of required improvements kept growing. Eventually, despite being 78 years old, I enlisted as the consultant for what became seven months of intense work rehabbing the boat in Maine. I drafted local contractors, subcontractors, and consultants whom I knew well, with the exception of the Lithium Ion and Air Conditioning folks out of East Boston, who were new to me.
After the boat arrived in Southwest Harbor, the owners told me to sail it with family and friends, and to imagine creative features that would make it special. One of the first things I did, shamelessly, was to suggest a painting for the main bulkhead. They loved the Bahamas, and I had painted a watercolor that worked. Soon they suggested I take on the role of decorator and choose all new cushions. What an honor! Several folks suggested Art's Canvas in Belmont. I called and inquired if they had more than a few books of fabric. "Well over a hundred," said Art Curry. Eight berth cushions and ten throw pillows later we have become good friends.
We worked on the boat, which was renamed Lutetia, in the heated boat shop at Ocean House in Manset. Owner Ryan Donohue and I are rivals on the racecourse, but head-butting on this project resulted in constructive solutions. Folks at Hinckley also were quite helpful with advice. A lucky addition was Ian Walker, a fellow the owners had hired as both landscape architect and first mate on whatever boat they'd buy. Previous to this gig he'd had plenty of experience around powerboats, but hadn't ever looked up at a sail. He learned the ropes quickly, and in addition proved to be a mechanical, electrical, and varnishing genius.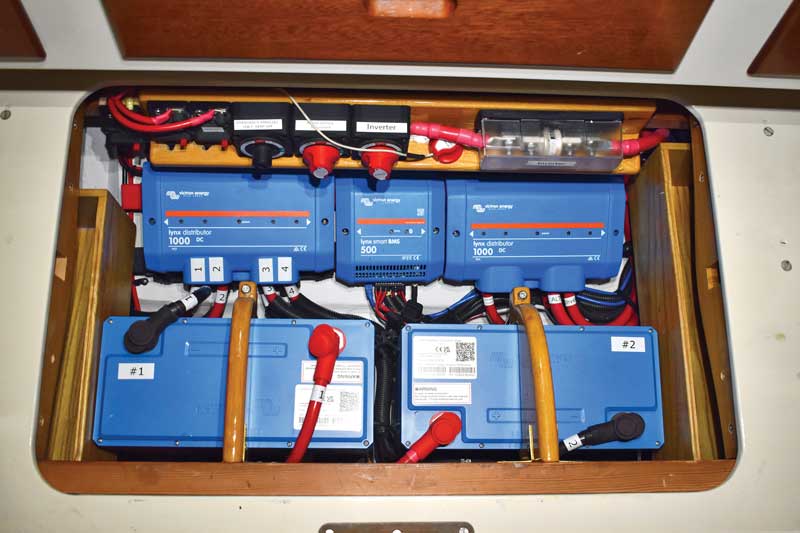 A specialy built clear Lexan window can be lifted up to provide access to modern batteries and controllers
Despite my longstanding distrust of electrons offshore, it was clear that lithium-ion batteries were necessary to silently power air conditioning while under way. Boat RX, of East Boston, designed and installed the LI batteries and AC systems, and specified a powerful 180-amp alternator that needed to be driven by a wide serpentine belt. This led to a decision to repower with a new engine. We ended up with a 45 HP Nanni (Kubota), which is not computer controlled—if there's one thing a luddite like me dislikes more than electrons, it's computers that do things unfathomable with electrons.
Brooklin Boat Yard's designer Will Sturdy and the yard's electronics guru Paul Larabee weighed in on the battery choice, suggesting four small batteries, which we squeezed, along with smart charge controllers, under the main cabin berths, moving a hundred pounds two feet lower and to the gyrational center of the yacht. I relocated the engine start battery a few inches forward and lower, the emergency tiller (40 pounds) to the center of the boat and two feet down, 80 feet of storm anchor chain three feet lower, and when one of you readers sells me a used Luke 50 lb. storm anchor, I have hopes to secure it under the floor and never need to use it. In that case it represents life-saving inside ballast.
Having had this love of Hinckley yawls and 20-plus years of experience captaining for Hinckley Yacht Charters, I was fanatical about the classic nature of this boat. I irritated the Boat RX people by insisting the thru hulls in our boot top look identical to Hinckley style—innies not outies. My worst sin was to override their plan to relegate the larger Mabro AC unit to a cockpit locker. At a critical juncture I burned some midnight oil boxing that in beneath the main cabin's starboard upper berth. (It fit there by mere millimeters.) This greatly aided the quest to centralize and lower heavy items. As a fringe benefit, this boat has a more commodious cockpit locker than any of the B-40s I had sailed. Both the aviation life raft and deflated dinghy can easily stow there, with room to spare.
On an early visit, one owner's wife expressed her opinion that the hatch tops were ugly, studded as they were by screw heads. So we installed new white acrylic plastic hatch tops, devoid of visible fastenings—the pull-pads were cemented underneath with pliable epoxy glue. This involved flame-oxidizing the plastic surfaces and other means of surface preparation. It appears to work, and the hatches look great.
The owners expressed a desire for a ladder for the fore cabin hatch. All the naval architectural protocols indicated the hatch wasn't big enough, but they'd had this feature in previous boats. We came up with a telescoping ladder that can be easily removed. A friend at Nautilus Marine replicated my mechanical drawings perfectly and polished it to perfection. The ladder will suffice for people as long as they decline a second helping of baked Alaska.
The refit also included, among many other tasks, all new electronics; a new autopilot; installation of a restaurant quality microwave, air fryer, convection oven; NEMA 2000 integrated Seafrost refrigeration for the icebox; a remote-control helm station switch for the windlass; an extension to the Hinckley cockpit table, providing place-settings for eight; new Racor dual-bowl fuel oil filtration; and on a fun note, we installed a forward through-deck fill fitting labeled "Scotch" to fill a hole where the old windlass switch was removed.
All this work took place from mid-January to early July of this year. Walker and I had to shapeshift our plans many times due to equipment shortages and delays. To some extent this was beneficial, since we used our spare time wooding down most of the teak on the boat, and refinishing with many coats of varnish. By the end, we had met the owners' requirements and turned a 36-year-old yawl into a classic yet ultramodern boat, uniquely qualified to host a fine southern dinner.
I am still consulting, and working on Lutetia. I have about convinced the owners to add a set of spreaders to carbon spars, faux painted to look like spruce. And I'm pushing to enlarge the centerboard case and adding a larger and still heavier, NACA foil board. Maybe by the time I'm in my low 80s, I'll get an opportunity to do a Bermuda Race on Lutetia. We could go up a couple inches on the rig, and call her a Mark Four.
---
Contributing Author Art Paine is a boat designer, artist, and writer who lives in Bernard, Maine.
A closer look at the completed refit work
In six months of work, we did much more than the following:
• Refinished all teak down to wood, with 11 or more coats of varnish
• Installed Tides Marine coupling and dripless stuffing box
• New electronics entirely: wind instruments, radar, GPS, nav lights, VHF with AIS,
all under the direction of Robert Kramp of Southwest Harbor
• Replaced engine blower, installed new autopilot, fully NEMA 2000 integrated
• Seafrost refrigeration for icebox
• New Maxwell windlass, chain stopper, polished stainless steel rub plate from Nautilus Marine
• New stainless steel chain and 8-plait nylon primary anchor rode
• New life raft from Chase-Leavitt Co.
• Outboard motor bracket aft
• Remote-control helm station switch for windlass
• New boots for in-deck turnbuckles with polished cover rings
• Installed 1000 watt Zest restaurant-quality microwave, air fryer, convection oven
• Ocean House built slide-out box to house heated and refrigerated cooler for remote food prep
• Refinished all teak and holly flooring
• Designed an extension to the Hinckley cockpit table, extending through the steering wheel and providing place-settings for eight
• New 110 arc and ground fault protected outlets with USB ports
• Installed lazyjacks
• New running rigging where needed, new topping lift (Indalo Marine)
• New cushions, throw pillows, curtains
• Custom "picture window" clear Lexan access lift-out over batteries and charge controllers with small matching Lexan lift-out over AC saltwater intake and strainer
• New inverter/charger
• Wakespeed smart voltage regulator
• Repainted all bulkheads below, all plywood berth bases, and cockpit locker boxes
• New Racor dual-bowl fuel oil filtration
• Arid "Dry Bilge" system installed with pickups in three locations, especially locale of battery charge controllers
• Dams around both mast bases to shunt water inside masts to sump tank
• Forward through-deck fill fitting labeled "Scotch" to fill a hole where old windlass switch was removed 
• Instantly deployable telescoping ladder for swimming or person-overboard
Share this article:
2023 Maine Boat & Home Show

Join Us for the Maine Boat & Home Show!
Art, Artisans, Food, Fun & Boats, Boats, Boats
August 11 - 13, 2023 | On the waterfront, Rockland, Maine
Click here to pre-order your tickets.
Show is produced by Maine Boats, Homes & Harbors magazine.