Damariscove: Beguiling Isle
By Mimi Bigelow Steadman
"Oh, wow!" our Wisconsin friends exclaimed as we rounded the southeastern tip of Damariscove. I'd been expecting their reaction. This intriguing island outpost five miles off the mouth of the Damariscotta River never fails to enchant.
We've been visiting Damariscove for years, yet the sight of the thin, craggy harbor and its turreted, 100-year-old lifesaving station still takes my breath away, too. Owned by the Boothbay Region Land Trust, the two-mile-long island seems suspended in time, its marshes, moors, and bayberry-crowded trails traversed only by the wind. Besides the decommissioned privately owned lifesaving station, its only structures are a one-room museum, a cottage for the land trust's seasonal caretakers, and an old lookout tower.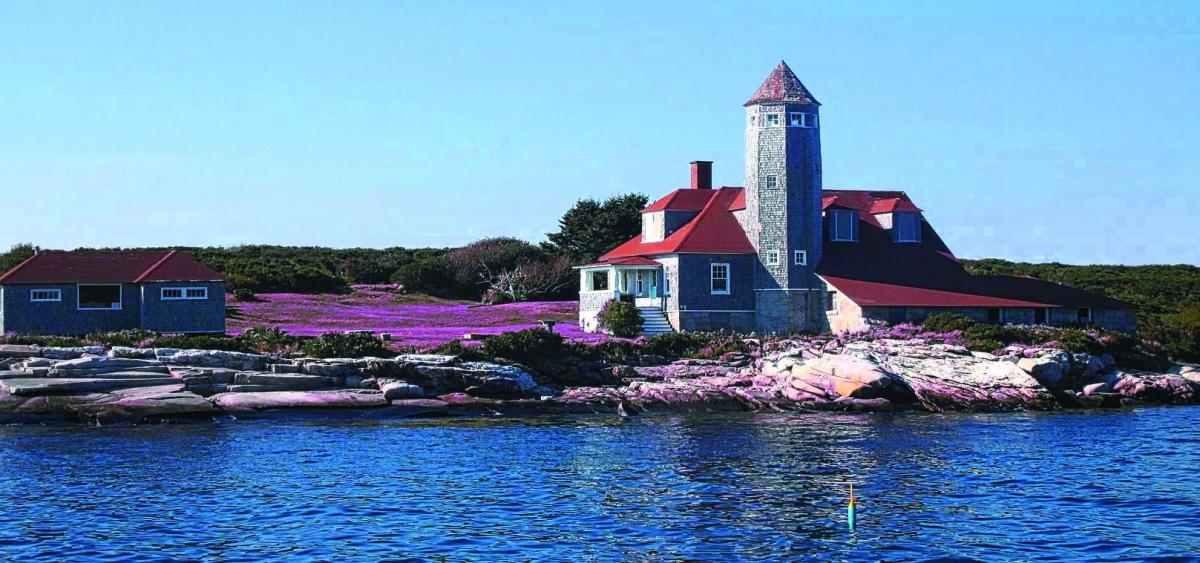 Built in 1897 and decommissioned in 1960, Damariscove's handsome, shingle-style Coast Guard station still maintains a commanding presence at the entrance to the harbor. Photo by Mimi Bigelow Steadman
Turn the calendar back 100 years, however, and the scene was strikingly different: a farmhouse, barn, farm animals, several cottages, waterside shanties, and a school for nearly 20 children. Indeed, in the early 1900s, Damariscove was home to fishing and farming families, hired hands, U.S. Coast Guardsmen, and seasonal fishermen who returned every summer. 
On our daytrip last August, I was about to learn more about those days. Meeting friends for a raft-up picnic, we'd just secured the lines between our lobsteryacht and their Padebco when Peter Sherman, an East Boothbay friend on the other boat, declared, "My grandparents lived out here."
He recounted how his grandfather and great uncle, Ike and Chester Poole, farmed here with their families from 1910 to 1922. Every day, Ike would pilot his boat over to Squirrel Island and Boothbay Harbor to sell milk and vegetables.
Sherman shared more family stories: A lightning bolt once struck the barn, killing the prize bull. His aunts liked to flirt with the young men at the lifesaving station. Most islanders, however, thought those untested Coast Guard boys were far less capable than the fishermen when it came to saving crews from shipwrecks on The Motions and Bantam Rock. 
"The foundation of the old farmhouse is right over there," Sherman continued, pointing to a clearing just beyond the granite wharf. "My family brought my aunt Alberta out here when she was about 80. She walked right up to that foundation and pulled a silver spoon out of the wall. She said, 'I used to feed dirt to my baby sister Josephine with this.'"
Centuries before Alberta Poole was being a typical older sister, many others called the island home. The first permanent English settlement in what is now Maine was established there by fishermen in 1622. Two years later, a contingent arrived from Plymouth Colony pleading for food. Damariscovers generously obliged, saving the Pilgrims from starvation. By the late 1600s, the island was a major economic center, with a burgeoning population and a public house boasting Lincoln County's first liquor license. 
It's said that fishing schooners once packed the narrow harbor so tightly, one could walk from shore to shore across their decks. On summer weekends, that still seems nearly possible. The land trust permits a handful of lobstermen to tie up and keep floats there. Add pleasure boats—there are two complimentary moorings—and it would be easy to pass the Grey Poupon.
When we're tucked in there for the night, our conversation sometimes turns to the headless ghost of Captain Richard Pattishall, who was killed and thrown off his ship during a 1689 Indian attack on Fort Pemaquid. Legend says his body, and that of his dog, washed ashore on the island. Over the centuries, there have been tales of eerie sightings. Maybe, just maybe, the Captain's got something to do with that special enchantment that befalls all who visit Damariscove.     
---
Contributing Editor Mimi Bigelow Steadman lives on the Damariscotta River in Edgecomb.
For information on visiting Damariscove, visit bbrlt.org. For more Damariscove history, see Coming of Age on Damariscove Island, Maine, by Carl R. Griffin III and Alaric Faulker; published by The Northeast Folklore Society, 1981.
Share this article:
Digital Edition Available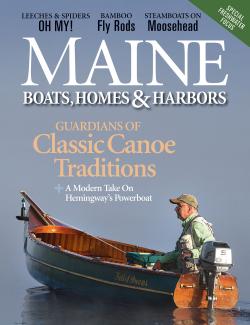 Can't get to the store to buy your magazine? We deliver the stories of Maine's coast right to your inbox. Sign up here for a digital edition.