Ferry woes, a heroic boat rescue, and whale sightings
By Polly Saltonstall
Marine Patrol to the rescue
James Bond or 007 aside, not many people have the guts to jump from one fast-moving speedboat onto another, especially in 20-knot winds and four-foot seas. But Maine Marine Patrol Specialist Corrie Roberts knew she had no choice. Taking on challenges like this is part of her job. And she loves it.
Roberts climbed onto the rubbery rail of a fast-moving Protector and in a spilt second climbed into the cockpit of a similarly fast-moving and pitching  lobsterboat where she took the helm and got it back under control. 
She and her colleague Sgt. Matt Talbot had been called out to help rescue an incapacitated lobsterman from his out-of-control boat in Rockland Harbor. The October 2 incident might have gone unnoticed by the public had it not taken place within view of the Rockland Breakwater and the Maine State Ferry Everett Libby. A passenger on the ferry shot a video of the rescue attempt that went viral, introducing these Maine Marine Patrol heroes to the world.
The lobsterboat had begun circling wildly after its captain suffered a medical incident and let go of the helm. A Coast Guard boat and helicopter called to the scene were unable to help. That's when the call went out to the Marine Patrol.
Once she got on board, Roberts took the boat ashore where medics were unable to revive its owner Robert Staples, 78, of North Haven. He was declared dead of natural causes. 
Roberts, who has been with the Marine Patrol for a decade, is one of only three female specialists, i.e. licensed boat captains, in the patrol. She is captain of the Marine Patrol's 49-foot Wesmac Guardian. Based in Rockland, she and up to a crew of three perform safety checks on both commercial and pleasure boats, patrolling a region between the St. George River and East Penobscot Bay, cruising up to 200 miles offshore.
She and Talbot were at the Marine Patrol's Rockland base when the call came in for help. They went out in the patrol's 32-foot Protector (powered by twin Mercury 250-hp outboards) with Talbot at the helm.
"He's great at driving that boat," said Roberts. Which is just as well, since his goal was to pin the Protector against the lobsterboat's rail long enough for Roberts to board it. "I stepped really," she said. "I didn't jump. I'm an endurance athlete. I can't jump."
Ferry held hostage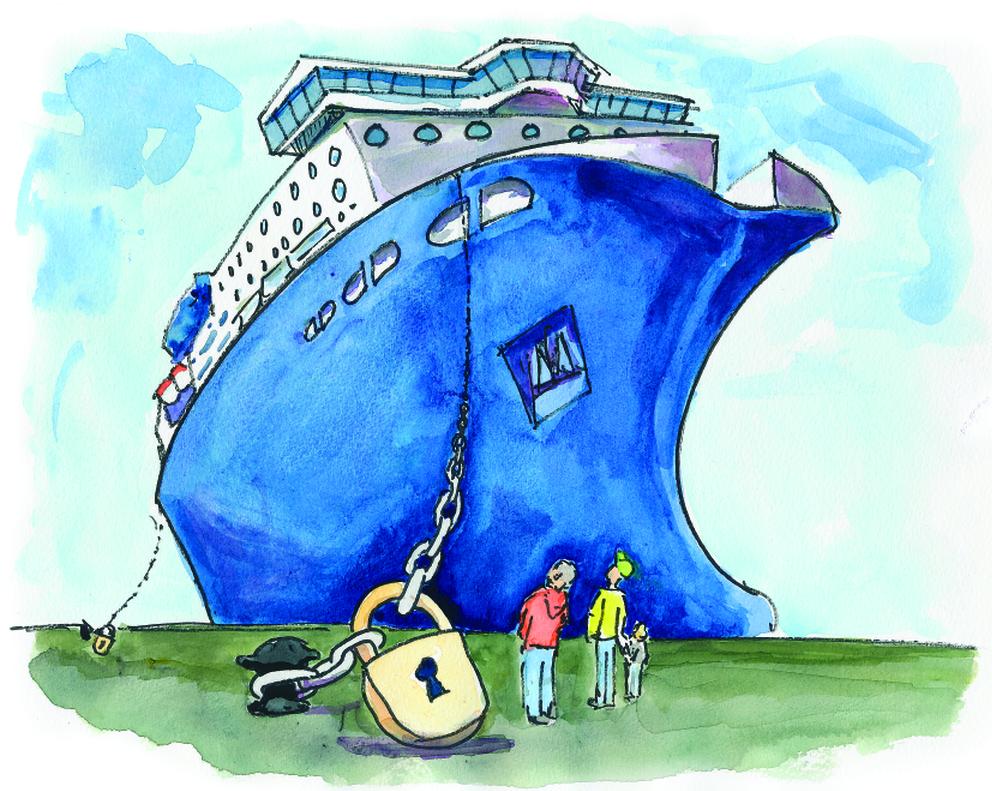 Illustration by Ted Walsh The Nova Star ferry was seized by U.S. marshals this fall as a number of creditors sought to collect on bills adding up to as much as $3 million. The big ship sat at anchor in Portland Harbor for a month while creditors, the owner, and others hashed out their differences.
The first to file suit against the Portland, Maine-Yarmouth, Nova Scotia ferry operator was Portland Pilots Inc., which said the ferry owed nearly $200,000 for pilot services; a run in or out of Portland costs around $3,000, according to an account in the Portland Press Herald. After the pilots filed a complaint with U.S. District Court in Portland, a judge ordered the U.S. Marshals Service to "arrest" the ship.
Soon afterward a number of other creditors joined the pilots in demanding payment, including a ship chandlery, a fuel supplier, the city of Portland, and a local television station. The Nova Star was seized Oct. 30, a day after the Nova Scotia government said it was taking the route away from the Maine-based Nova Star Cruises and giving it back to Bay Ferries, the company that previously operated the service between Maine and Nova Scotia.
The dispute received quite a bit of coverage, including in the New York Times, which described the seized 528-foot vessel as "captive in the harbor, like a gargantuan white rubber ducky in an enormous bathtub."
The Nova Star was built by Singapore Technologies Marine Limited, which leased it to Nova Star Cruises, a company owned by a Maine resident. In its two seasons on the route, the ferry received $31.5 million ($41.5 million in Canadian currency) in subsidies from Nova Scotia. Last year about 51,000 people travelled on the ferry, well down from the 80,000 needed to make a profit. 
Eventually, a judge released the vessel from custody after Singapore Technologies paid off most of the debt and posted a bond to settle the remaining claims. The Nova Star sailed free in early December, headed no doubt for warmer and friendlier climates.
How many people does it take to change a light bulb?
Residents on Monhegan got some hints at the answer last spring. Thanks to grants and help from the Rockland, Maine-based Island Institute, 2,300 incandescent and compact fluorescent light bulbs in island homes and business were replaced with LED bulbs. The switch could reduce the island's collective annual electric bill by $15,000, according to a recent article in The Working Waterfront. Islanders pay as much as 70 cents per kilowatt-hour for their electricity.
The project began as an investigation into swapping out refrigerators. But when Institute staff investigated they found that about 40 percent of the light bulbs on the island—in homes, rental cottages, inns, and restaurants—were incandescent. Swapping a 60-watt incandescent for an LED that produces the same amount of light results in one-fifth or less electricity being used. Gilman Electric of Rockland helped with the project and the bulbs came from Sylvania Electric. The Island Institute and other sources contributed approximately $5,000 to cover transportation costs to the island and further mark down the price of the bulbs, which were distributed from the island church.
Front Street launches ferry biz
Maybe the next ferry operator on the Maine-Canada route should talk to the folks at Belfast's Front Street Shipyard. The yard has agreed to partner with Brødrene Aa in Hyen, Norway, to market, sell, and build carbon-fiber ferries throughout the United States under a new company name Arcadia Alliance. Working with the Maine Composites Alliance and Martin Grimnes, a Norwegian composites expert who lives in Maine, Arcadia Alliance is gearing its highly efficient ferries toward state and federal agencies that seek to replace aging passenger vessels.
Brødrene Aa designs and builds carbon-fiber passenger vessels in Norway, where it has built 50 carbon-fiber ferries so far. Unlike ships built of aluminum or fiberglass, Brødrene Aa says its carbon-fiber vessels are lightweight and consume less fuel, thus releasing fewer emissions into the air.
Representatives from Front Street Shipyard met with officers from Brødrene Aa in Hyen earlier this summer, and have signed a memorandum of understanding. 
The Arcadia Alliance sales team will begin to market the boats in earnest later this year. The hope is that Front Street Shipyard will be able to begin construction on the first fast ferry in 2016.
Wiggling free from federal control
Fishermen who have been selling elvers (juvenile eels) for more than $2,000 a pound in recent years heaved a huge sigh of relief at the news this past autumn that the American eel will not be listed for protection under the Endangered Species Act. Elvers, sometimes called glass eels, grow up to be eels, and Maine's lucrative elver fishery might have been shut down had the fish been listed as endangered.
The U.S Fish and Wildlife Service, which had been reviewing whether to list American eels under the federal environmental law since 2011, announced its decision in October. Global demand for baby eels, or elvers, has increased in the past five years. In Maine, the value of the elver harvest jumped from about half a million dollars in 2010 to $40 million in 2012. In 2015, the landing value was $11.39 million. Besides Maine, South Carolina is the only other state that permits elver fishing. 
He's sailing away
After 42 years of making sails and cutting canvas, sailmaker extraordinaire Win Fowler announced last summer that his company Maine Sailing Partners of Freeport was going out of business.
"I had promised the war department (his wife) that I would retire this year," he told us. "When I failed to find someone to buy the business I decided to close the doors." 
Competition from sailmakers in places like Sri Lanka, China, the Caribbean, and South Africa, where labor costs are much lower than those in Maine, made it hard for his company to compete, he said. "It's really different now than when I started this business. I could have laid off all my people but one and designed sails and had them built in China, but I didn't want to do that."
Fowler worked for another sailmaker for 10 years before he started Maine Sailing Partners in 1983. 
His plans for retirement include sailing more on Memory, his J-110. 
New Bertram model on the ways
The iconic Bertram Yacht brand is re-emerging with a new owner, new leadership, and a new design inspired by the legendary Bertram 31. 
In mid-November, the company announced plans to build a 35-foot Bertram 31 featuring the revered deep-V design that company founder Dick Bertram made popular five decades ago. Lyman-Morse Boatbuilding in Thomaston, Maine, will build the first two prototypes. "The molds are here now and we hope to have the first boat done by midsummer," said company president Drew Lyman. "We will set them up for production. They want the best quality they can get and want a yard that will help set them up for a production run."
Michael Peters Yacht Design of Sarasota, Florida, designed the boat, which will initially be available in two configurations—one for fishing and another for cruising. 
Last March, Bertram was purchased from The Ferretti Group by Argo Finanziaria, which is a division of The Gavio Group, a family-owned Italian industrial company headed by Beniamino Gavio.
"It's a really good group. A really good owner and it's going to be really good for us," said Lyman.
Whale tails and tales
Whale watchers off Mt. Desert Island are accustomed to seeing humpbacks, finbacks, and minkes, but last fall passengers sailing with Captain Larry Nuesslein on the Atlanticat were treated to once-in-a-lifetime sightings of a rare blue whale and two sperm whales, according to reports in the Mt. Desert Islander. On September 17, Nuesslein got on the intercom of his whale-watching boat to tell passengers that the two sperm whales they had just observed were the first he had seen in his 25 years in the business.  
Atlanticat was about 35 miles south of Bar Harbor when they first spotted the 40-foot whales in 800 feet of water, naturalist Zack Klyver told the Islander. The next day, Nuesslein took the boat back to the same area, and spotted one of the two sperm whales again. It came within 100 feet of the boat, Nuesslein told the newspaper. They're unusual-looking, "like a giant floating potato with a tail on it," he said. 
Just a week later, Nuesslein and his crew spotted a female blue whale, the first such sighting in the 33-year history of Bar Harbor Whale Watch tours, according to the Islander. Naturalist Jessica Damon, a College of the Atlantic graduate, was on the trip along with an intern taking photographs for Allied Whale's research. Researchers identified the mature female whale as one first seen in the St. Lawrence in 2000. Blue whales are identified by distinctive patterns on the side of the body. Only about 10,000 blue whales, considered the world's largest mammals, remain in the ocean today.
The Atlanticat saw the whale again the next day.
"There was a massive footprint up on the water ahead of us," naturalist Klyver told the Islander. The "footprint" is an area of smooth water caused by water being pushed to the surface from the surfacing whale. "It was on the smaller side as blue whales go," Klyver said, "but still it was probably 70 feet. It never fluked [lifted its tail] but did arch its back up pretty high out of the water. It would come up for 4-7 breaths then dive down. She seemed to be feeding; you could see the water spilling out of the baleen."
Honors all around for Maine mariners
Hodgdon Yachts has been building some pretty cool boats lately, including a number of sleek tenders for superyachts and the super-fast high-tech racer Comanche. In honor of that work, company President Tim Hodgdon was named Business/Person of the Year by the International Superyacht Society. The award was announced during the society's 25th Anniversary Design & Leadership Gala on November 4.
The Business/Person of the Year Award is awarded to those who demonstrated excellence in their area of superyacht expertise within the previous year. Nominations come from the global superyacht industry and the winner is selected by the board members of ISS.
Meanwhile, in Boston, the USS Constitution Museum—an interpretive center for the US Navy's oldest active commissioned vessel—bestowed its annual Don Turner Award on windjammer captains John Foss of the American Eagle and Linda and Doug Lee of the Heritage. All three captains, whose vessels are based in Rockland, Maine, are longtime members of the Maine Windjammer Association.
The award recognizes people and organizations that preserve important vessels and have made significant contributions to the knowledge and understanding of ship design and construction.
For 40 years, these members of the Maine Windjammer Association have devoted their careers to keeping traditions alive and preserving history by providing their guests with an educational experience and direct connection to this nation's maritime heritage. Having built, restored, and re-built a number of historic vessels, Foss and the Lees have not only spent their careers owning and operating windjammers, they also own and operate the North End Shipyard in Rockland, Maine. Said Captain Doug Lee, "We established the North End Shipyard in 1973 to help preserve Maine's historic schooner fleet, traditional shipbuilding skills, and our ongoing pursuit of maritime history."
Radio-controlled lighthouse horns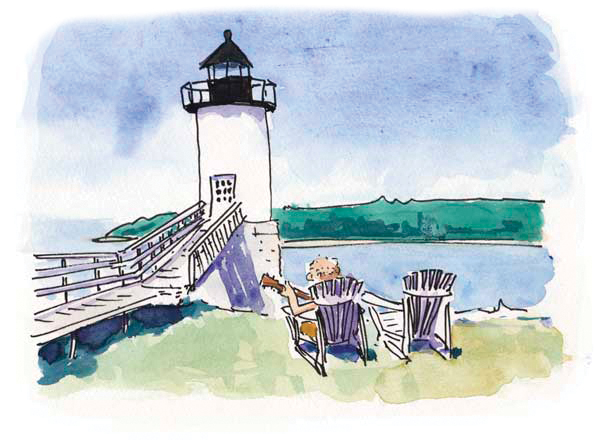 Illustration by Ted Walsh For decades horns have warned mariners about navigational hazards when other visual aids to navigation are obscured by fog. Back in the good old days lighthouse keepers activated these horns manually. Then when lighthouse beacons were automated, the horns were put on autopilot as well with special detectors that activated horns when they sensed moisture in the air. 
But these devices have gotten old and unreliable, so the Coast Guard is putting people back into the equation. Plans call for installing radio-activated sound signal devices at 17 Maine lighthouses over the next year. Boaters will be able to activate the horns via VHF radio.
The change is part of an initiative to replace all the so-called VM-100 moisture-sensing foghorn signals at lighthouses across northern New England and the rest of the United States. 
The new devices will allow mariners to activate the installed sound signal by keying a standard VHF-FM radio five times consecutively on VHF channel 83A. The signal will then sound for up to 60 minutes following each activation. The "devices will replace aging fog detectors that are prone to failure, expensive to maintain, and require specialized training to preserve," said Capt. Michael Baroody, Commander of Coast Guard Sector Northern New England. "We believe giving the mariner more control is an effective way to enhance the coastal aids-to-navigation system." 
The new system has already been installed in eight lighthouses in Maine and New Hampshire, including: Cuckolds Light in Boothbay Harbor; Wood Island Light in Biddeford; Pond Island Light in Phippsburg; and Nubble Light in York. 
The lighthouses scheduled to receive the new devices over the coming months include: Browns Head Light, Vinalhaven; Burnt Island Light, Boothbay Harbor; Cape Elizabeth Light, Cape Elizabeth; Dog Island Light, Eastport; Egg Rock Light, Frenchman's Bay; Fort Point Light, Stockton Springs; Goat Island Light, Cape Porpoise; Goose Rocks Light, North Haven; Heron Neck Light, Vinalhaven; Marshall Point Light, Port Clyde; Owls Head Light, Owls Head; Portland Head Light, Cape Elizabeth; Sequin Light, Sequin Island; Spring Point Ledge Light, South Portland; Two Bush Island Light, Spruce Head; West Quoddy Head Light, Lubec; and Whitehead Light, Penobscot Bay.
Once each conversion is completed, the Coast Guard plans a publicity campaign, including broadcasts, notices to mariners, and changes on nautical charts and the Coast Guard Light List.
And the winner is….
Speaking of awards, here at Maine Boats, Homes & Harbors we are proud to announce that we won gold and silver medals in the 2015 International Regional Magazine Association competition. Winning gold in the history category was a story by Janet Mendelsohn about Rock Rest in Kittery, Maine, and its role as a vacation destination that was run by an African American couple, who catered to other African Americans in the pre-civil rights era. Writer Richard King's essay about cormorants won silver for writing on nature and the environment. You can find these stories at our website: www.maineboats.com.     
Share this article:
2023 Maine Boat & Home Show

Join Us for the Maine Boat & Home Show!
Art, Artisans, Food, Fun & Boats, Boats, Boats
August 11 - 13, 2023 | On the waterfront, Rockland, Maine
Click here to pre-order your tickets.
Show is produced by Maine Boats, Homes & Harbors magazine.