Early Maine Apples
An edible journal of our rural past.
By Susannah Gage

Paula Red apples at Hope Orchard
Apples ripening, apples falling. Along meandering Maine back roads, and even scenic but traffic-challenged coastal Route One, spills of fallen apples mark untended trees whose inner rings may bear the imprint of meadows, despite encroaching asphalt. The fruit from these woody remnants and offspring of earlier homesteads—many self-seeded with the help of birds and animals—is an edible journal of Maine's rural past. Some of the tastiest entries of this living record are being revived by the efforts of apple lovers such as John Bunker, who has worked for Fedco Seeds of Waterville for nearly three decades. Bunker is Maine's unofficial, unpaid old-time-apple-tree identifier, nurturing a statewide renaissance of heirloom or heritage apples planted for flavor, juice, hardiness in cold, and other qualities. He's carrying on the endeavor of other native old-timers: Ira Glackens, Wendell Mosher, and Morris Towle (all three now deceased); Earland Goodhue of Sydney and Francis Fenton of Mercer (both 92); and others. Bunker told me these men—some farmers, some gardeners—realized that Maine's small-scale orchards were being cut down, "destroying perhaps forever a genetic and historic heritage." He heard of their living collections of grafted trees—apples do not grow true to seed—and went to visit and learn.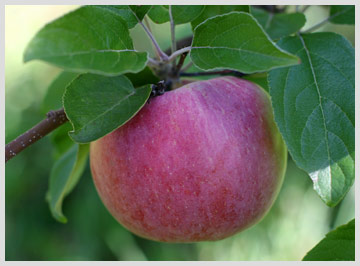 Northern Spy apple.
Heirloom names linger on the lips and roll off the tongue—vivid and crisp; sweet, playful, or sophisticated—like the apples themselves: Calville Blanc d'Hiver, Roxbury Russet, Duchess of Oldenburg, Black Oxford, Starkey, Northern Spy, Cox's Orange Pippin, Wealthy, Wolf River. These Maine-grown varieties, from Fedco's "Trees" catalog, are listed here in the order of their historical discovery, beginning with the French or German Calville "white of winter"—sixteenth century, European parentage unknown. Many apples made their way to what is now North America by boat. Noted food writer Waverly Root, in his delightful book
Food
, described early English settlers bringing their "familiar beloved apple," and apple seeds and cuttings in the Pilgrims' baggage. The Wolf River variety was discovered in Wisconsin in 1875. Fedco's beautifully illustrated catalog describes it as "perhaps the most famous old-time apple in Maine, likely due to its catchy name and its extremely large – even huge – round-oblate fruit." Wolf River "makes an excellent baked apple and a decent pie," and—though not very good eaten fresh—"good things happen when it's dried." Duchess of Oldenburg—Russia, seventeenth century, imported in 1835 by the Massachusetts Horticultural Society—a yellow early apple with crimson stripes and splashes, was available as I wrote this. Weary of fossil-fuel-guzzling imports, I purchased some. I eagerly bit into my first Maine-grown apple of 2007; the flesh was mushy. I asked Bunker about the mushy Duchess. He said Duchess is an excellent apple, "one of the best of all pie apples," and the one I ate must have been overripe. Early apples are at their prime picked ripe but still hard and eaten soon after, he advised. In contrast, some late-season apples taste better after a couple of months in storage. The texture improves, the flavors sweeten and intensify. Duchess is extremely hardy, surviving the coldest of winters, and "still quite popular" in the northeast, according to Fedco. I'll happily give it a second chance, perhaps in a pie.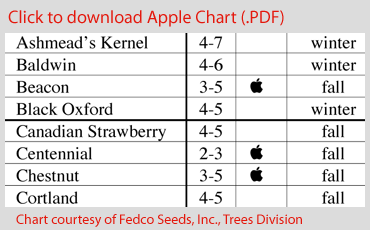 Click on the image to download a useful chart of
apple varieties found in Maine
Paula Red—found almost 50 years ago in Michigan—a popular early apple with a speckled or streaked rosy blush, is in local supermarkets by early September. It has crisp, juicy flesh with a sweet-tart flavor. The apple softens with keeping. Refrigeration briefly prolongs early apple crispness. Paula Red resembles Macintosh. Like a Mac, it's an all-purpose apple, good fresh and cooked. Bunker noted that some orchards begin picking Macs in mid-September, but it's too early. Perhaps an orchard in a sheltered microclimate would have Macs early in the season that don't taste "green."
Eating early apples
John Bunker and I share a liking for cooked apples with no added spices or sugar—the better to truly taste a variety. Most apples have a naturally sweet flavor if eaten lukewarm or cool. One of my favorite ways to prepare apples is to steam them—succulent essence of apple in minutes, elegant or down-home depending on presentation. Core a few and slice into 3/8-inch thick crescents with the peel. Stagger the crescents in a steamer basket or the top of a nested pot, so steam can circulate. Cook briefly, covered, until just tender (the time varies by variety). Overcooked, they'll fall apart easily but still taste good. Peel them after cooking if you prefer. (I eat the peel.) Bunker thinks the best way to eat early apples is as applesauce. He cooks sliced apples in a very little bit of water. Covered and simmered on a low heat, the apples soften, water evaporates, juices caramelize. Steamed slices and sauce are both lovely eaten on their own, warm or cold. Crème fraiche or vanilla ice cream on top wouldn't be bad, either.

Finding Maine Apples and Apple Trees

For pick-your-own orchards, farm stands and stores, farmers markets, and other sources of Maine apples, visit www.getrealmaine.com (a Maine Department of Agriculture site) and the Maine Organic Farmers and Gardeners Association (MOFGA) site, www.mofga.org.
For information on Fedco Seeds, Inc., and its divisions—trees, bulbs, seeds, and Moose Tubers/Organic Growers Supply—visit
www.fedcoseeds.com
Writer Susannah Gage was a natural foods chef, baker, and wedding caterer, made organic goat cheese in France, and has gardened organically for many years. She studied food anthropology, ecology, and sustainable agriculture, and has a master's degree in international nutrition.
Share this article:
2023 Maine Boat & Home Show

Join Us for the Maine Boat & Home Show!
Art, Artisans, Food, Fun & Boats, Boats, Boats
August 11 - 13, 2023 | On the waterfront, Rockland, Maine
Click here to pre-order your tickets.
Show is produced by Maine Boats, Homes & Harbors magazine.