Phippsburg
Poking Around the Peninsula
By Mimi Bigelow Steadman
You'd think a scenic Maine peninsula with a magnificent beach, a hidden hurricane hole ringed by a nature preserve, and a resort where mooring rental includes access to golf, dining, and a spa would be on everyone's cruising itinerary. Yet Phippsburg—a 14-mile-long chunk of the Midcoast that descends south from Bath between the New Meadows and Kennebec rivers—remains slightly off many boaters' radar.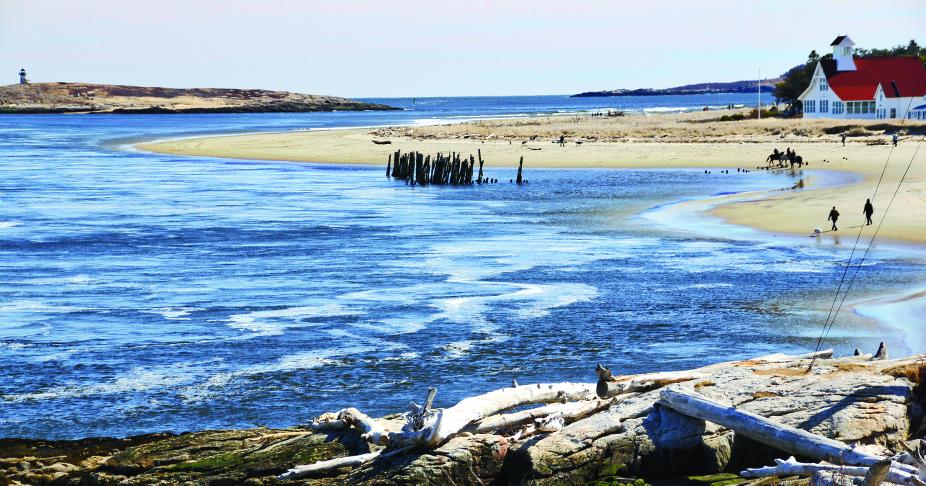 The long sandy crescent of Popham Beach State Park lies at the tip of the Phippsburg peninsula, with Pond Island Light just offshore. Photo by Rick Steadman
We discovered its charms when friends suggested the nearly landlocked hurricane hole as a rendezvous point between their homeport on the eastern edge of Casco Bay and ours on the Damariscotta River. Called the Basin, this serene hideout is reached via a skinny cut half way up Phippsburg's western shore, across the New Meadows River from Cundys Harbor. As the entrance channel curves to port, it narrows to about 75 feet; at low tide, it's only seven feet deep in the middle. "I advise people to pay close attention to their charts when going in at low water," Phippsburg's harbormaster, Doug Alexander, told me later. 
Once inside and securely anchored in the mud, we marveled at how the Basin felt more like a sheltered lake than a saltwater cove. The water is warm enough for swimming (by Maine standards), and the surrounding woodlands—nearly 2,000 acres owned by the Nature Conservancy—are laced with hiking trails (no dogs permitted). For some reason, few yachts overnight here, leaving those who do to enjoy the remarkable stillness. 
For livelier activities, head a couple of miles south along the peninsula to Sebasco Harbor and pick up one of 35 moorings ($40 per night) at Sebasco Harbor Resort. This low-key family resort encompasses a sprawl of charmingly old-fashioned cottages and other guest buildings. Amenities available with mooring rental (some for additional fees) include tennis courts, a saltwater pool, a nine-hole golf course, and a spa. The resort's restaurants offer everything from snacks to fine dining.
And what about Phippsburg's spectacular beach? At the eastern tip of the peninsula, Popham Beach State Park stretches in a broad, white-sand arc just to port of the mouth of the Kennebec River. Prepare for a bumpy ride near the river's entrance, especially on an incoming tide. 
"The water comes down the river all the way from Moosehead Lake," explained Alexander. "While it's rushing out, the tide is rushing in the other way. That area between Seguin Island and Indian Point is one of the roughest spots in the U.S." We could see the water's churning surface as we approached.
Not surprisingly, anchoring off the beach is unadvisable, so enter the river and turn to port into Atkins Bay, just beyond Hunnewell Point. The mud offers good holding, with slight exposure to winds blowing from the northeast or over low-lying land to the southwest. There are a couple of no-frills eateries within strolling distance, and Fort Popham stands sentinel on the point as it has since the Civil War.
Atkins Bay is steeped in history. In 1607, colonists arrived here to establish the Popham Colony, the first English settlement north of Jamestown. Unfortunately, by 1608 the group's leadership had disintegrated, and everyone sailed back to England aboard the 50-foot pinnace, Virginia of Sagadahoc. 
The vessel was the first to be built in the New World by Europeans, making her hull no. 1 in Maine's shipbuilding heritage. A replica is under construction in Bath (www.mfship.org).
It's curious that while the colonists chose this peninsula as the most favorable place to drop anchor, today's coastal explorers often pass Phippsburg by. This year, change course and follow in the wake of those long-ago visitors.      
---
Contributing Editor Mimi Bigelow Steadman lives on the Damariscotta River in Edgecomb.
Share this article:
2023 Maine Boat & Home Show

Join Us for the Maine Boat & Home Show!
Art, Artisans, Food, Fun & Boats, Boats, Boats
August 11 - 13, 2023 | On the waterfront, Rockland, Maine
Click here to pre-order your tickets.
Show is produced by Maine Boats, Homes & Harbors magazine.