Williams 38
A classic design gets an update
By Art Paine
The Stanley 38 is one of the prettiest downeast-style lobsteryachts I know of, but while good-looking and very comfortable, these boats never have been known for their speed.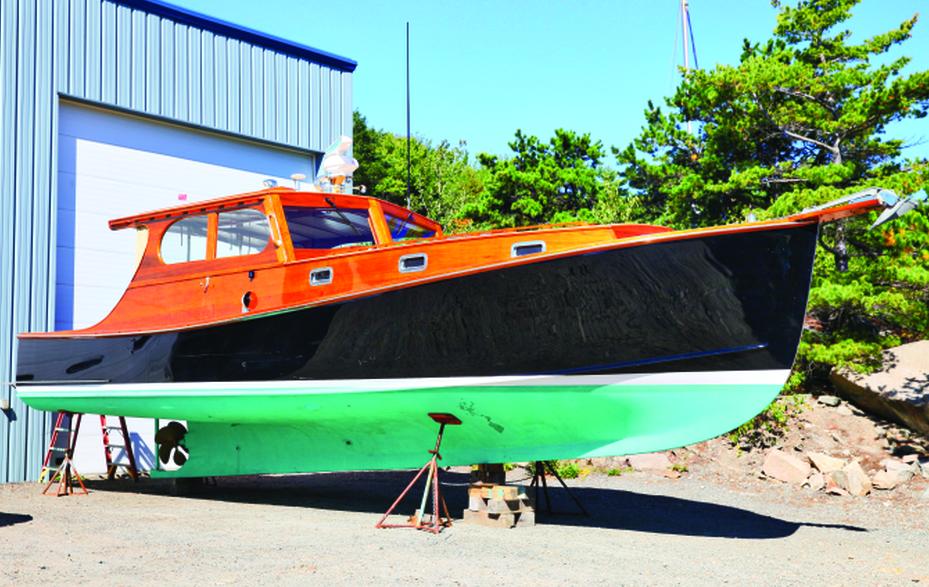 The Stanley 38, featuring a deep skeg and propeller and a gently rounded bottom, was designed by Lyford Stanley who worked by carving models for his boats. Photo by Art Paine That could be about to change, thanks to an interesting collaboration between the John Williams Boat Company and hotshot naval architect Doug Zurn. They have teamed up to build a boat that looks like a traditional Stanley above the waterline but has a modern V-shaped underbody and engineering designed to send it through the water at up to 40 knots.
The original Stanley 38 was designed decades ago by a self-taught builder and fisherman, Lyford Stanley. Stanley spent his early years on Egg Rock off Mt. Desert Island, where his father was the lighthouse keeper and later settled in Bass Harbor when his father took the job as keeper of that light. According to his lifelong friend and the president of the John Williams Boat Company, Jock Williams, the fact that Stanley probably never made it past eighth grade in school did nothing to stifle his creativity. He was a tinkerer who loved to make things. He even made false teeth and installed them in people, according to Williams. He also was part of a rock band that recorded a few 45s. He fished on and off over the years, but what he really loved was building boats.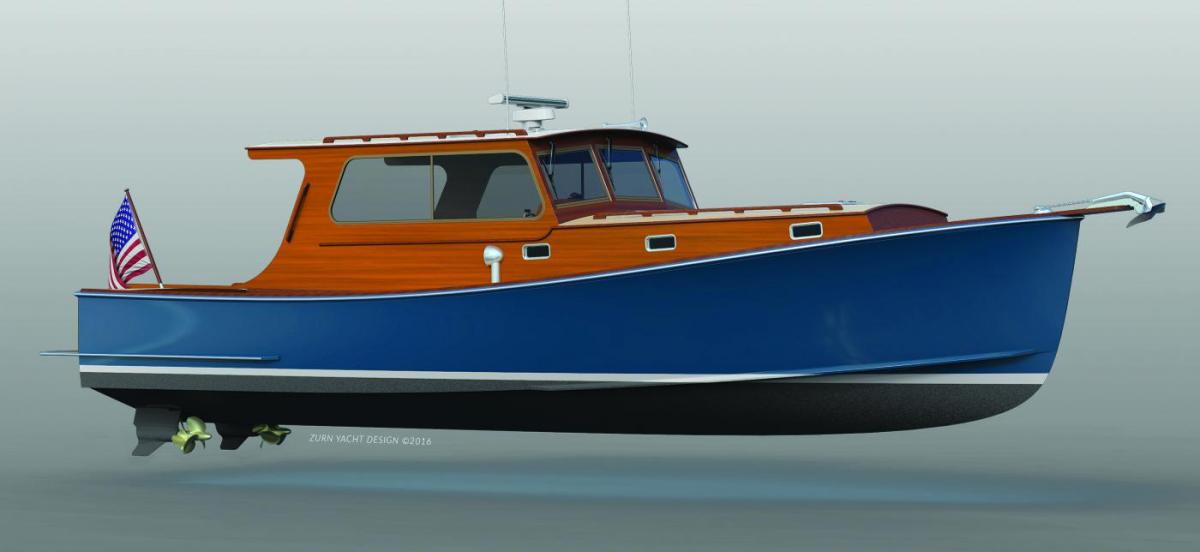 The new Williams 38 looks the same above the waterline, but below is a different story. Updates include two Volvo IPS units and no skeg. It was designed on a computer by Doug Zurn. Rendering courtesy Zurn Yacht Design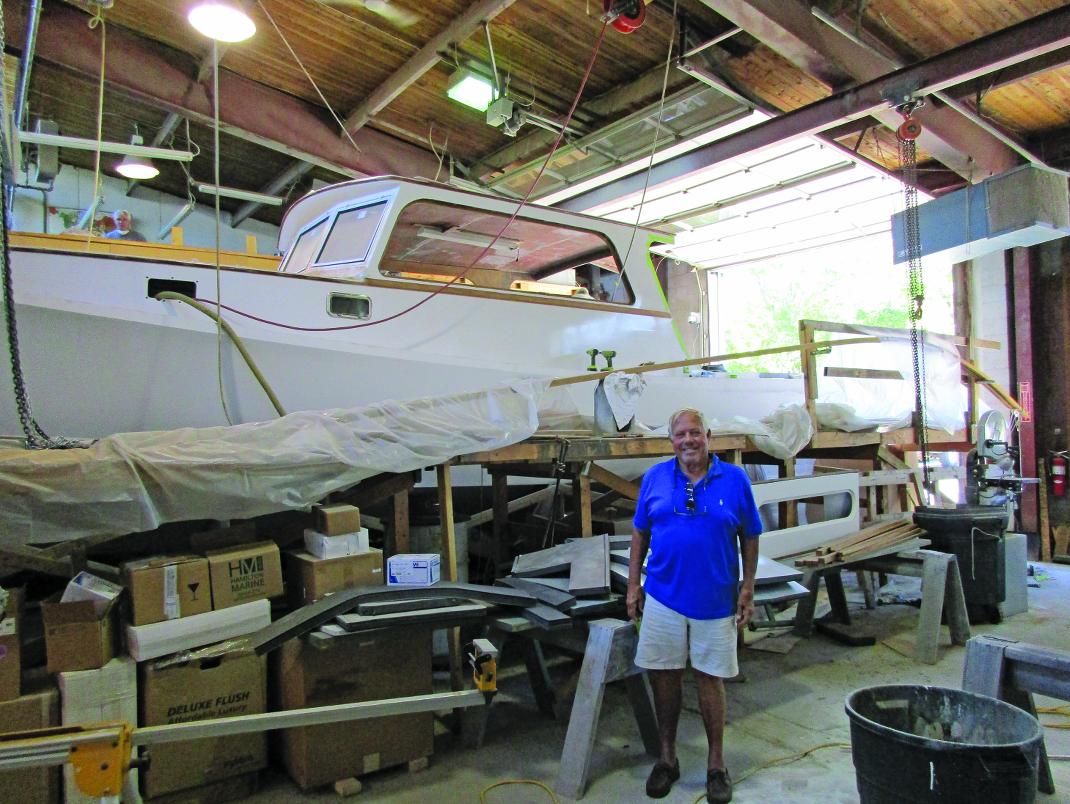 Jock Williams stands in front of the new Williams 38, which is due to be launched next spring. Photo courtesy John Williams Boat Company Stanley had been building wooden lobsterboats ranging from 20 feet to 36 feet for quite a few years when his wife, Norma, and Williams, who worked together in the fiberglass shop at the Hinckley Yacht Company, convinced him to try using fiberglass, which was then a cutting-edge medium. Williams and the Stanleys built their first mold for a 36-footer and completed their first boat in 1973. Williams, who by this time had quit his job at Hinckley, was working out of a shop in Manset. He moved the business to its current site in Halls Quarry later.
Stanley carved half models for his designs at a time when that was almost the universal way lobsterboats were conceived. Williams then took the lines from the models and gave them to John Letcher, a pioneer in computer-assisted design work, to do the full-scale lofting. (Letcher's company AeroHydro came up with the first practical surface modeling program to fair hull lines using just a computer.) The new fiberglass versions of Lyford Stanley's designs proved popular, and before long Williams's new company had orders for 16 boats. Over the next dozen years the company added a 28-footer, followed by 38, 39, and 44-foot models. They built more than 100 Stanleys for fishermen before switching to the pleasure boat market in the 1980s.
It wasn't just good looks that sold these boats. They had integrity. They were single-engine, solid-glass, semi-displacement hulls with big protective skegs, big props, and big rudders. With all the boatbuilding expertise at the shop, Williams expanded into service and storage work and a good deal of that involved sailboats, which was the world Jock Williams had occupied in his younger days.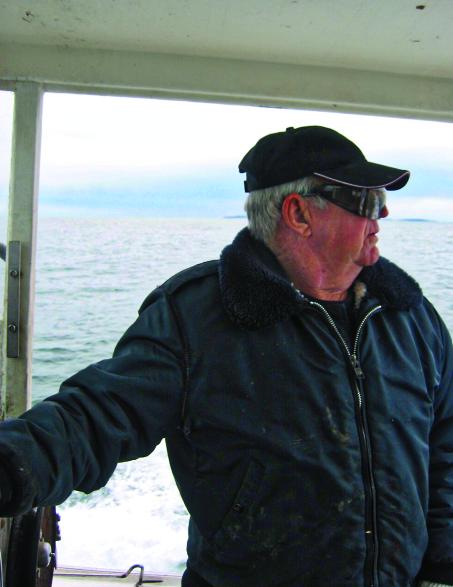 The late Lyford Stanley, seen here at the helm of his boat, was an innovator in his day. Photo by Janet Strong Lyford Stanley died in November 2007, at 82 years of age.
The yard had not built a new Stanley for a few years when a customer who'd been storing his International One Design sailboat there came to talk about a new powerboat. He wanted a Stanley and he wanted Williams to build it, only he wanted it to go between 40 and 50 knots.
"That blew me off my seat," said Williams. "So I called Doug Zurn and asked if he would take a look at the project."
Zurn, who has a degree from the Westlawn School of Yacht Design, is pehaps best known as the designer of the line of fast and fuel-efficient MJM powerboats. 
He came up with a design that did nothing to diminish the excellent looks of a Stanley 38, using Stanley's original lines for everything above the front spray rail height. Below that, however, is another story. Wide "flats" extend full length, and below them is a modified deep-V with constant 18-degree slope. There is no skeg—it would create too much resistance. According to Zurn, the full-length wedge of immersed hull will offer sufficient resistance to being pushed sideways. 
Most extreme of all is the propulsion system, which consists of two Volvo Integrated Pod System (IPS) units. These steerable pods are similar to outboard motor lower units. Each employs a pair of counter-rotating propellers of high pitch, facing forward. Eliminating the rotational losses of single props results in a gain of nearly 30 percent in efficiency. In plain engineering English, two 400-hp diesel engines will deliver about 738 actual shaft horsepower at the props, which is a very high amount of usable power for the weight of those powerplants.
But will the boat behave with the lovable manners of a lobsterboat? This is where modern magic comes into play. The popularity of downeast-style
luxury powerboats would be greatly diminished were it not for various inventions that simplify steering. Credit for this goes mostly to the Hinckley Company, which painstakingly researched and developed the joystick. This device takes over from helm and throttle at docking speed, and uses computer regimes to mix the various thrusts of steerable jets and bow thruster. The operator needs only to point the stick in the direction he or she would like to go.
The new Williams 38 does not have a bow thruster, which would have the advantage of direct sidewise push. Instead the Volvo IPS pods can be angled as far as 30 degrees and individually throttled. Fortunately with the tandem props, there is no shortage of "squirt" readily at hand. All the necessary formulae are programmed into the interface between pods and IPS joystick. And if all that isn't enough to give the conservative seaman pause, this entire process is grounded upon the position input from several satellites hundreds  of miles away, in geostational orbit.
When I first considered the extreme measures Zurn had taken to turn a gorgeous rugged Stanley lobsterboat into a rocket, I assumed that maybe Stanley would have been rolling over in his grave.  But not according to Williams, who knew him so well. "He would have loved this project because it is a challenge and he loved that," said Williams. "It would have been fun if he could have been a part of all this."      
---
Contributing Author Art Paine is a boat designer, fine artist, freelance writer, aesthete, and photographer who lives in Bernard.
---
Williams 38 specifications
    LOA  40'2"
    Beam  13'0"
    Draft  3'
    Hull Draft 12.5"
    Displ.  19,302 lbs.
    Main Engine  Twin Volvo IPS 600
    Fuel  300 US gallons
    Max Speed  40 knots
    Cruise Speed  33 knots
    Designer  
    Zurn Yacht Design
    2 Catherine Lane, Marblehead, MA
    781-639-0678; www.zurnyachts.com
    Builder  
    John Williams Boat Company
    17 Shipwright Lane, Mount Desert, ME
    207-244-7854; www.jwboatco.com    
Share this article:
2023 Maine Boat & Home Show

Join Us for the Maine Boat & Home Show!
Art, Artisans, Food, Fun & Boats, Boats, Boats
August 11 - 13, 2023 | On the waterfront, Rockland, Maine
Click here to pre-order your tickets.
Show is produced by Maine Boats, Homes & Harbors magazine.