Brooklin Boat Yard: Northern Rose
A small but capable sailing sloop
By Art Paine
"Covers" are versions of musical hits by other artists. Rarely does a cover in music outshine the original. Fortunately, this is not so with boats. A prime example is Northern Rose, recently launched by Brooklin Boat Yard.
The original ditty (the hit song, if you will) was Northern Crown, a stout North Sea double-ender designed by K. Aage Nielsen. The Neilsen double-enders were outstanding sea boats, supremely melodious to the eye and thus worthy subjects for improvisation. Designer/builder Joel White, at the time the proprietor of Brooklin Boat Yard, bought Northern Crown and enjoyed years of cruising in her. One of his very last designs was a smaller version of this boat he loved, drawn in 1986.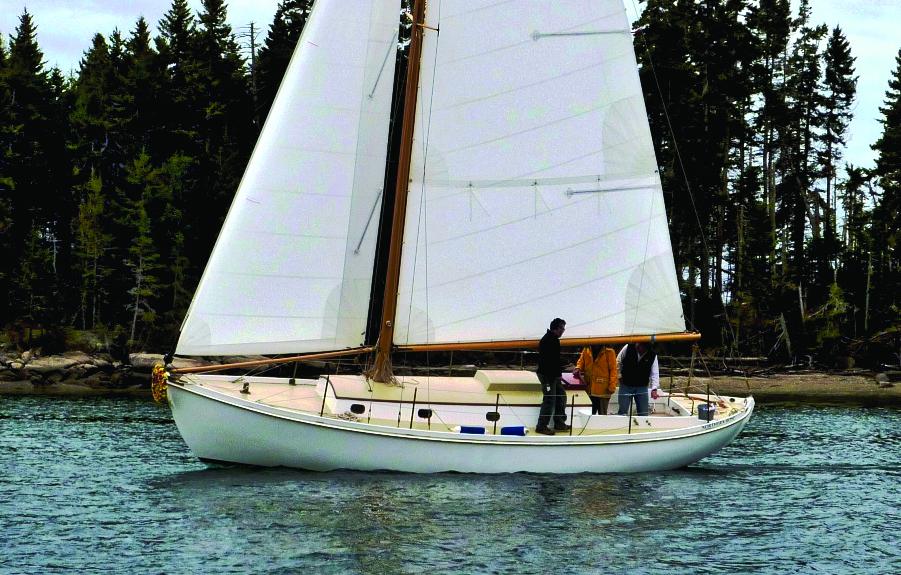 Northern Rose's rig makes for easy handling, but she still sails fast, even in light air. Photo courtesy Brooklin Boat Yard
The first and only boat built to this design so far, Northern Rose, was fittingly completed by Brooklin Boat Yard. That there has been just one built shocks me, because this boat has myriad fine attributes and is a testament to Joel White's creativity, inventiveness, and ability to conceive of really beneficial variations upon another maestro's theme. There ought to be dozens more in service. This may be among the most affordable boats that one could home-build and actually envision sailing over open water to Bermuda.  
The hull lines include nice hollows forward, busty topsides, practical flattish sides, and the sweetest of all possible sheers. It should be noted that Aage Nielsen's bulgy sterns and aptly termed "buttocks" are diminished in Joel's version, which I view as a modest improvement. All Joel claimed, being a modest person, was that his paean would be easier to plank than its inspiration.
The best yacht designers study boatbuilding, and none was ever better than Joel at blending the two trades. He wanted this boat to be the very smallest possible for its task, and, as always, the overriding factor became headroom. In considering this he was preternaturally clever. The wineglass shape down low was kept wide so as to depress the cabin floor. The cabintop is built without beams to bump one's head against. Tanks that are normally located below the cabin sole are relocated fore and aft. And the boat is strip-planked without any ribs where you could trip over them. I don't know if this is genius design or genius boatbuilding. Probably just genius genius.
This boat came into being in a scattershot manner. The hull, some spars, and fittings were built in Plainfield, Vermont, by a man named Jim Pearson, who died before completing the project. His widow advertised the incomplete boat for sale on Craigslist, and was in contact with a few Maine boat shops. Eventually the price dropped low enough for Steve White (Joel's son and current owner of Brooklin Boat Yard) to take the bait.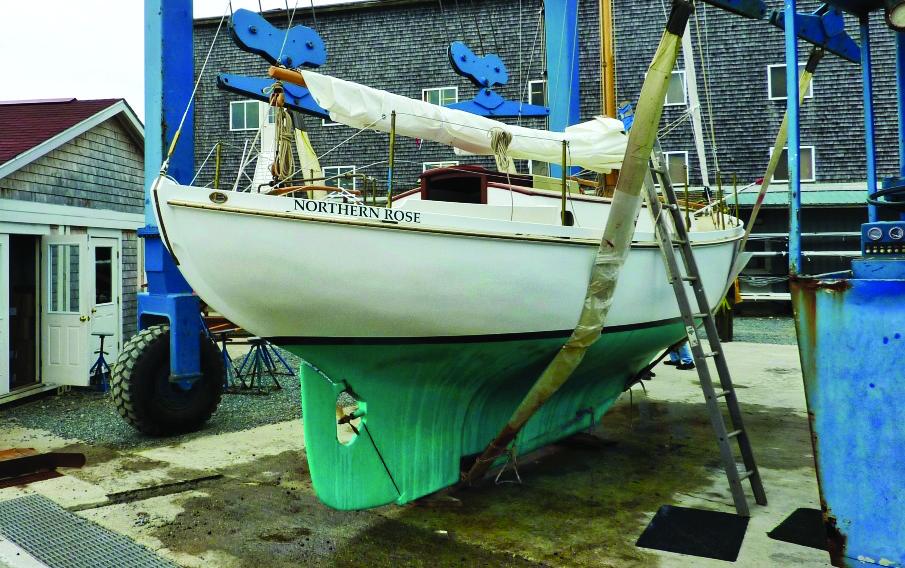 Work on Northern Rose began in Vermont, but when the original builder died, Brooklin Boat Yard took over and finished the boat. Photo courtesy Brooklin Boat Yard
Steve said he bought this nice example of his father's oeuvre knowing his yard could easily complete it. But never has he owned anything for so short a period of time. The boat sold almost right away, thanks to help from Steve's mother, Allene White. She knew that her neighbor Bob Johnson had just gotten a dog, and that while Johnson loved his Center Harbor 31, the dog expressed displeasure with such a swift and lively racing sloop. Steve picked up the phone and placed a very-short-distance call to Bob. Part of the sale deal was a proviso that BBY would complete construction. 
Reports indicate that both Johnson and his pet, Seamus, are chuffed with the cover that came to be named Northern Rose, and honestly, what man or beast wouldn't be? 
---
Contributing Author Art Paine is a boat designer, fine artist, freelance writer, aesthete, and photographer who lives in Bernard, Maine.
Northern Rose
LOA  29'4"
LWL  23'7"
Beam  9'2"
Draft  4'2"
Displ.  10,525 lbs.
Sail Area  430 sq. ft.
Designer: 
Joel White
Builder: 
Brooklin Boat Yard
Brooklin, ME
207-359-2236
Share this article:
2023 Maine Boat & Home Show

Join Us for the Maine Boat & Home Show!
Art, Artisans, Food, Fun & Boats, Boats, Boats
August 11 - 13, 2023 | On the waterfront, Rockland, Maine
Click here to pre-order your tickets.
Show is produced by Maine Boats, Homes & Harbors magazine.