Farrin's Boatshop
A Maine family legacy
By Ted Hugger
Nineteen seventy-one was the year. Bruce Farrin had just come off a 10-year stint at the famed Gamage Shipyard in South Bristol, where he'd become one of the yard's top finish carpenters. Gamage was making the shift to steel, and Farrin wanted none of that. So with the blessing and support of his wife, Judith, a contract to build a 36' lobsterboat for a local lobsterman, and a rented shop perched on stilts on Rutherford Island, Farrin hung out his shingle.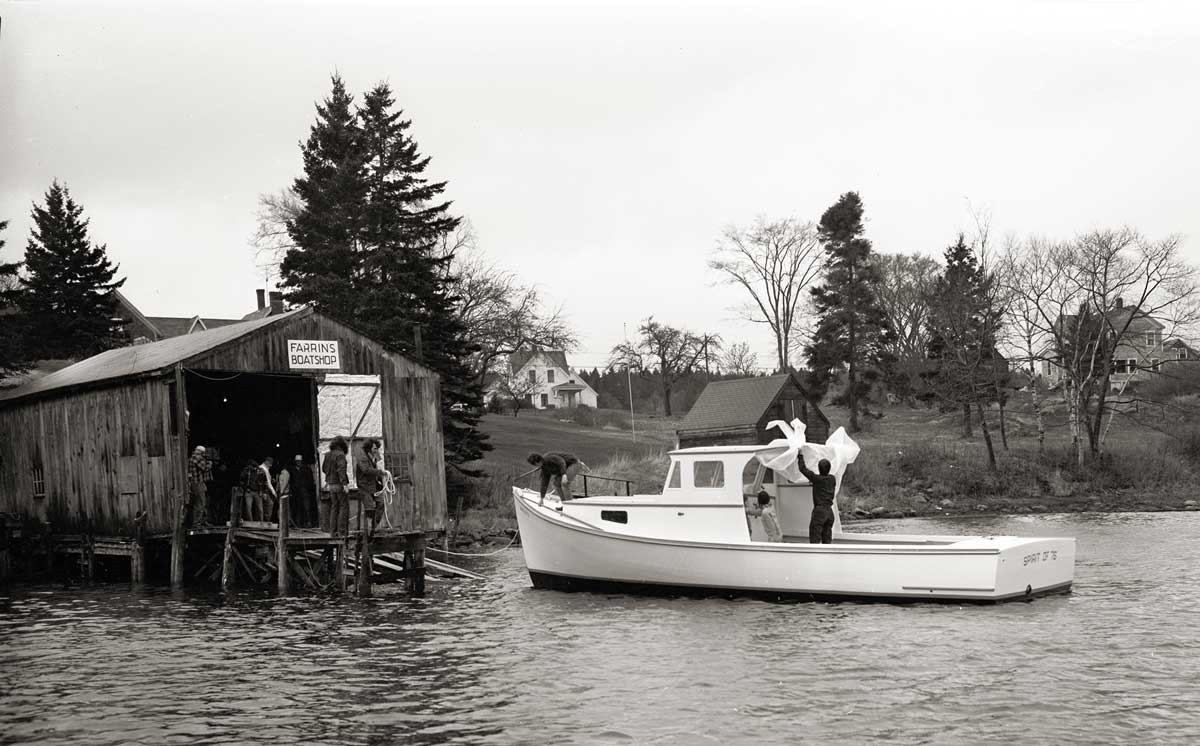 An early project was the 32' lobsterboat Spirit of '76, seen here in front of Farrin's first boatshop. The boat was built for an owner in Nantucket who neither met Bruce Farrin nor saw the boat until after the launching. He chose Farrin based purely on published reports about his work. Photo by Everett "Red" Boutilier, courtesy Penobscot Marine Museum
Husband and wife worked side-by-side to build the fledgling business. Ask Farrin about the early years, and the phrase "Judith and I" pops up at the beginning of nearly every story. "Judith and I, why she was right there with me. She was my right-hand helper," he said. Judith was ahead of her time; in those days, it was rare to find a woman working in a boatshop. "Matter of fact," Farrin recalled, "we had one customer who actually refused to let women work on his boat."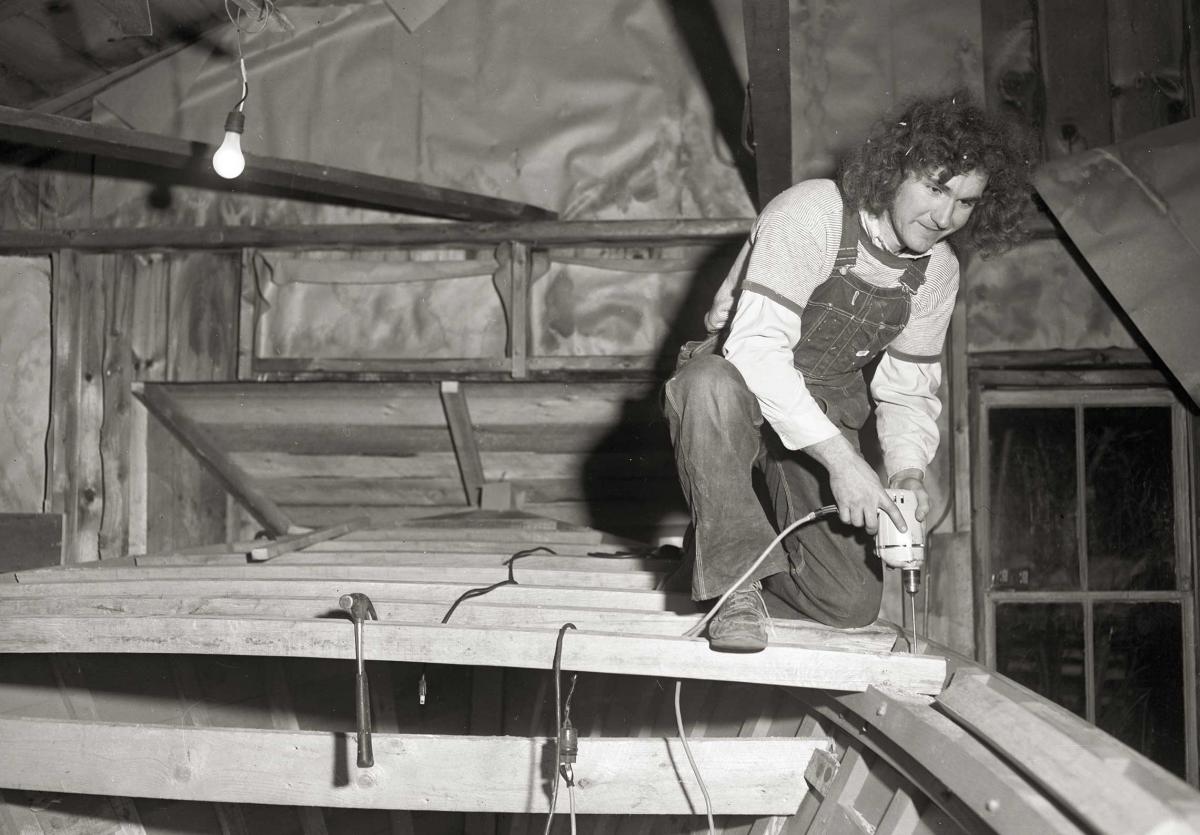 Here Bruce Farrin works on the first boat he built when he struck out on his own in 1971, the Beverly Ann II. Designed by Alvin Beal, she was 36' LOA, 11' wide, and drew 3 ½'. Photo by Everett "Red" Boutilier, courtesy Penobscot Marine Museum Stilts are probably not the best foundation on which to build a business, as Farrin eventually learned. The great blizzard of February 1978 included an exceptionally high tide, coupled with extreme ice build-up along the shore. The ice eventually lifted Farrin's shop off its stilts and carried the building and its contents—including a 33' wooden sportsfisherman under construction—to the middle of the cove and dumped it in the water. "We lost the boat. We lost the building," said Farrin.
The couple decided to rebuild on land they owned in Walpole. Fred Bates, a naval architect, helped design the new building. "Judith and I did 99 percent of the building construction, starting in April of that year," said Farrin. "By November, Judith and I had finished the shop and built and launched a 32' wooden lobsterboat, the RPJJ. She is still a working boat out of the South Bristol harbor."
Today, the couple's sons, Bruce Jr. and Brian, work in the family business alongside their father. They have been involved in the company since they could walk, Farrin said. "When we were working in the old shop, they could walk along under the wooden boats we were building and move clamps for me as we planked the boat."
Bruce Jr. supervises the back shop, building and refitting boats up to 45' in length. Brian supervises the front shop, building and refitting boats up to 42' in length. 
"They are both capable of taking over anytime I go to the happy boatbuilding place in the sky," Farrin said with a laugh, eyes twinkling in a visible expression of pride in his sons and what they've accomplished as a family.
In the past year, the front shop has seen the construction of a 42' gill-netter for a customer in Long Island, New York, a 40' Young Brothers rebuild project, and a 42' sportfisherman charter boat that will be based at a marina near the Statue of Liberty.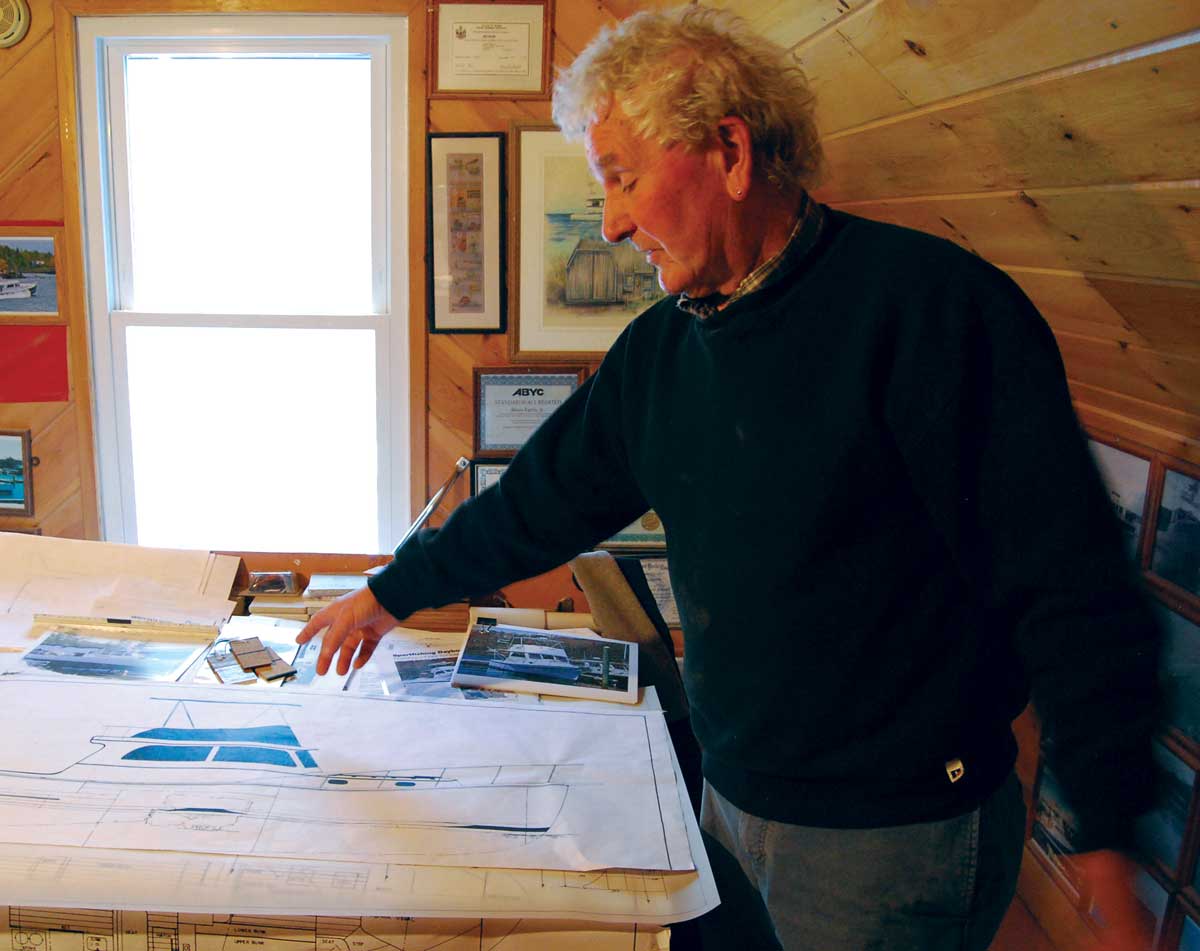 Bruce Farrin oversees the family's business from his office in a cozy loft above the shop floor. Photo by Ted Hugger In the back shop, Bruce Jr. is supervising the construction of a 43' Lowell Brothers high-end yacht complete with flybridge and a hard-top bimini. Scheduled for a summer of 2017 launch, the powerboat will be home-ported in the Florida Keys, although the owners are a Maine-based family.
As soon as the 43-footer is launched, the yard will start work on a 44' lobsterboat in the back shop. Next up for the front shop will be a 40' Young Brothers hull to be finished off as a lobsterboat for a local fisherman. And on the horizon is a pair of 38-footers being built for a local fisherman and his son. Both boats will be built at the same time and launched on the same day. These will be the third and fourth boats Farrin has built for this family.
Over the years, the company has built more than 235 boats, ranging in size from 8' tenders to 45' yachts and workboats. Today, 99 percent of their work is fiberglass. "People, unless they're really unique, don't want the maintenance of a wooden boat," Farrin said. "The last wooden boat we built was Red Jacket, a 40' trawler in 1986."
The shop does rebuilds, refits, repowers, rewiring, new drive trains, and new construction. "We do it all today with five steady employees, plus four subs," Farrin said. "What I strive for is the client who wants to put some of their personal ideas and thoughts into their project. We're small enough; we can listen to our customers and build their projects as they envision them. It takes us more time, but our clients like our family atmosphere, and the ability to come in and talk and be heard." 
As I was preparing to end the interview, Farrin pointed to a photo on the wall and chuckled. "I tell people I can't afford a new boat—mine's a 1908." The picture shows the 1921 launching of the Bowdoin. Alongside the schooner is an elegant 27' motorboat, built in East Boothbay by the Rice Brothers. Now named Doc's Pride, the launch is all original with the exception of her fourth engine. These days she is, in fact, Farrin's pride.          
---
Ted Hugger owns and operates the Cod Cove Inn in Edgecomb, Maine, with his wife Jill.
Farrin's Boatshop
19 Sproul Road, Walpole, ME
www.farrinsboatshop.com; 207-563-5510
Share this article:
Digital Edition Available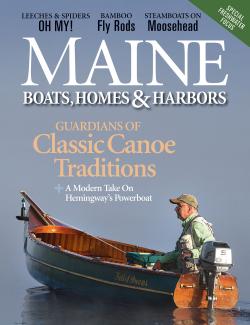 Can't get to the store to buy your magazine? We deliver the stories of Maine's coast right to your inbox. Sign up here for a digital edition.